Teaching your golden retriever training tricks is stimulating. Your pet will enjoy it, but it could be a tough thing to accomplish. The whole experience would a pleasant bonding experience and only consists of benefits with no disadvantages. Use the proper techniques, devote enough time, and your golden retriever will be able to show new cool things to your friends. Here's what we'll cover:

Golden retriever training age: when it's time to learn the first trick? 
Just a few decades ago, the general rule was that you have to start training your golden retriever as soon as the pup turns 6 months. But currently, with the advancement of training techniques and tools and the availability of the information, you can proceed with the training when your pup is as young as 8 weeks old.
 Golden retrievers are one of the most intelligent dog breeds out there. So don't worry that you'll exhaust your pet. He or she will soak up the new information as the sponge, will acquire all the right habits from the early puppyhood. And as an added bonus, the pet will enjoy the extra attention and more quality time with his family. 

How do I train my golden retriever? 
Dog training is a form of art. And it requires some time and practice to create a masterpiece. So be patient to yourself and to your pup.  The first step on the way of successful training is knowing your dog and making him feel safe around you.
To receive the most cooperation from your puppy, it is vital to be positive and patient. Instead of making your dog roll over or shake hands, make it more interesting for the pet to participate actively. Reward your dog with not just treats but also emotional praises and hugs.

Golden retriever tricks: what are the most common and valuable? 
Here are five most fun to watch and easy to teach tricks we will cover in this guide: 
The paw shake. A big hit amongst your friends and family who will get to interact with your golden retriever. And so easy that it's a perfect trick to teach a puppy.
Roll over. Fun to watch and also has lots of success amongst the audience.
Wave goodbye. Similar to the shake, but now your pup is actually waving!
Patience. Can be handy when it's about time to take a bath (if your pup is not a fan of it). 
Hug. For the cuteness overload. 
Like the article? Pin for later:

#1 the Pawshake, first trick to teach Golden retriever puppies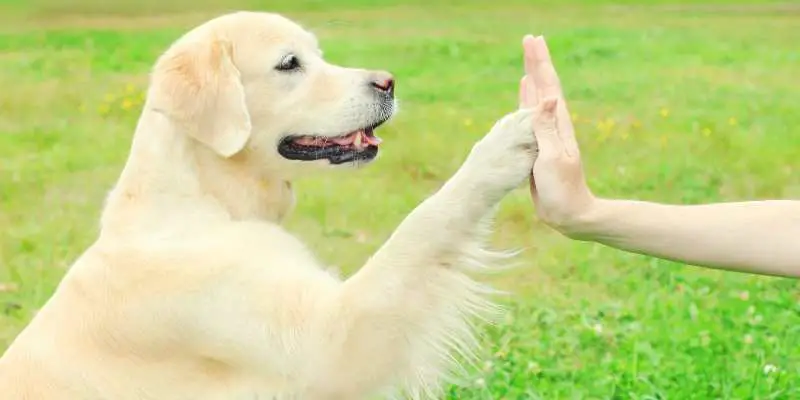 While this is one of the most common and basic tricks in the book, it's also quite fun and entertaining for both your pet and your surroundings. It is quite easy to teach your golden retriever how to do it.
Sit in front of your pet and ask to shake hands.
Meanwhile, you should reach behind one of its front paws and tickle his leg in the hollow part of the leg. This will trigger a reaction which will make your golden retriever lift his paw and seem as if he is shaking your hand.
Give him a treat afterward. Repeat until the pet does the trick on verbal command.

Golden retriever training trick #2: Roll Over
It is indeed the most popular in-between all golden retriever training tricks. The fact it is, it is actually quite hard to teach it to a dog.
Pick up a treat. We recommend this 100% chicken USA-made treats since it's perfect for training and golden retrievers, in particular, seem to like it a lot.
Circle the treat around the pup's head in the direction you want it to roll, meanwhile give him a verbal command.
You might have to assist your dog at first physically, but once he does the trick, don't forget to praise his accomplishment.

Golden retriever training trick #3: Wave Goodbye
Before you teach him how to say goodbye, you should teach him how to shake hands.
Make the verbal command for your dog to shake hands, as he reaches for your hand touch his paw underneath and move it away in the direction of your choosing.
He will continue to reach for your hand, this is where you connect the new verbal command.
Be aware that you should lift his paw a bit higher than in the previous trick so it would give him space to look like he is waving.

Golden retriever training trick #4: Patience
You have certainly seen a dog with a treat on his nose looking cute and sad at the same time but not reaching for the food nevertheless.
To teach it to it, the dog needs to know how to sit.
Once he sits, hold his chin up and place a treat on his nose while telling him to stay.
After a few seconds allowing him to eat the treat.
Prolong the duration with each new practice, and your dog will stay like that indefinitely.

Golden retriever training trick #5: Hug
The sweetest in the list of golden retriever training tricks. It teaches your dog to put its paw behind your back as if a person is hugging you.
You tell your dog to sit and lure him up with a treat.
Award him the treat for as long as it is needed to hold that position for a few seconds. 
Once the dog does that reach below its front paws and hug him. His paws will extend to behind your back.
Be sure to reward him with a treat at the end. Yes. Again.
And if you struggle with the choice – it most definitely should be something made of natural ingredients, low-cal, preferable safe for allergic and of course something, that your pup will love. 
We suggest this jerky sticks from Rocco and Roxy. Even dogs with a history of treats allergies and indigestions will appreciate this. And as one pet owner admit: he's seen his pet go wild for other treats but never like these.
You might also like:
Thanks for the blog graphics: Canva.com