Using a bike basket is one of the best and safest ways to take your dog with you wherever you want to go. Whether it's for a simple errand or for long a bicycle ride, your dog will be there with you. Bike baskets for dogs come in all shapes and sizes. They also differ in the material they're made from and how much security they provide for your dog. 
But some might be doing the opposite though. These might cost a fortune and end up not being that stable and secure for your pet. 
I spent dozens of hours researching the perfect bike basket for my friend's corgi a few weeks ago, and I thought all that time shouldn't be wasted. So I turned my findings into this article. And I hope you'll find it useful. 
If you are here for a quick suggestion, I'd say go for this option. It's sturdy, foldable, reasonably priced, and offers enough comfort and security when attached to the bike (although it won't work for larger breeds). 
If you have time, read on for more options along with some pros and cons. 
Do you have a specific question about picking the best bike baskets for dog? Then use the table of contents below to jump to the most relevant section. And you can always go back by clicking on the black arrow in the right bottom corner of the page. Also, please note that some of the links in this article may be affiliate links. For more details, check the Disclosure section at the bottom of the page. 
Best Bike Basket for Dog
This is a dog basket that is specifically designed for small to average-sized dogs. It's made out of durable material and has many additional nice features like the side pockets. It has a convenient design that is both lightweight and comfortable enough for your dog. Overall, this would be a sound option if you're looking to buy a dog basket.

Front-Mounted Dog Basket for Bike
This dog basket embraces a very practical design, as it is both lightweight and multifunctional. It is light enough that you can carry your dog around in it without any problems. You can also remove it from the bike and put it back on just as easily, so you can use it for other things like grocery as well if you want.
Heavy Duty Dog Basket for Bike
An overall appealing and convenient design, and it offers both safety and style. Moreover, it promises a very comfortable bike ride for your dog as it comes with some comfy cushions. It is also water-proof, so that offers you weather protection in case it starts raining unexpectedly.

Rear-Mounted Dog Basket for Bike
Whereas the rest of the bike basket was mostly for the front attachment, this is designed for rear attachment. It has some really comfortable padding that your dog is sure to appreciate. It also has some much-needed safety precautions for added security. So overall, this would be a good dog basket to invest in.

Bike Basket for a Smaller Dog
This bike basket cannot hold more weight than about 18lb as it is made for small dogs. It has enough space for your dog to be completely comfortable and doesn't weigh that much. So if you have a very small dog, then this would be the ideal bike basket for you.

Large Dog Basket for Bike
Now, this bike basket is made for large-sized dogs, so if you have a big dog, then this is the right one for you. This technically isn't a basket, but it serves the same purpose, so it has to be on the list. It's a bike-trailer that has to be attached to the bike's back and has a very nice design.

Wicker Basket for a dog on a bike
This basket is perfect for that aesthetic dog in a wicker bike-basket look. It looks really nice, but it also has a very sturdy construction. It can be attached both in the front and the back of the bike. And it is lightweight enough that you don't have to worry about additional weight.

Dog Bike Baskets FAQs
How to ride a bike with a dog in a basket?
The best way to do this is first getting a basket that holds your dog's weight, attaches to your bike, and is sturdy. Also, make sure it is comfortable enough for your dog to sit in for long periods. Then simply go for short bike rides with your furry friend inside the basket for some time. And then gradually increase the bike rides until it gets used to them.
How to secure your dog in a basket?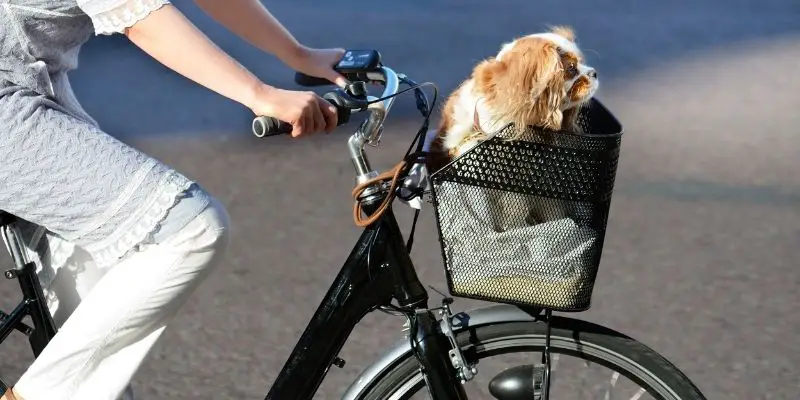 The best way to do this is to get a basket that is the right size for your bike and can be appropriately attached. This will add stability, and if the basket doesn't wobble or sway too much, then your dog feels much safer inside it. Another thing you can do is use the harness that typically comes with the basket. This adds additional security.
How to keep the dog in a bike basket?
If your dog is used to baskets, there should be no problem keeping him/her inside the basket. But if you have a fussy one on your hands, you can try training them to get used to them. And if that also doesn't work, then use a harness to safely secure your dog inside the basket. This will make sure your dog remains secure inside the basket at all times. And this way it's not likely to jump out the mid-bicycle ride. You can also try tying the leash to the basket at a very short length.
Thanks for the blog graphics: Canva.com