How often have you heard your dog's nails clicking on the floor and thinking to yourself: "Oh, no, it's trimming time again!" And you have to! Since long nails at times can cause joint and bone issues. And it's uncomfortable to walk around with those. And they can break, so you might even need a vet's help to deal with it.  
So maybe it's time to give a dog nail grinder a looksy. 
For many pet parents (and their furry babies too), the process of cutting those nails might be stressful. So much so that many of us will sign up for expensive grooming services just not to deal with it ever again. 
However, if your pup used to be extremely wiggly and all scared during the procedure, that's when the grinder can come to play.
It might not work for your pup, as every dog is unique in likes and dislikes. But thousands and thousands of parents have switched to this nifty little tool and are now enjoying more bonding with their pets while saving a lot of time and money. 
I've researched a bunch of options for any possible situation. For small dogs, for those who want to be extra careful, or for someone who strives for "professional" results, etc. 
And put it all together in this guide. Along with FAQ on nail grinding. I hope you'll find it helpful. Enjoy. 
Do you have a specific question about dog nail grinders? Then use the table of contents below to jump to the most relevant section. And you can always go back by clicking on the black arrow in the right bottom corner of the page. Also, please note that some of the links in this article may be affiliate links. For more details, check the Disclosure section at the bottom of the page. 
Dog nail grinders comparison

Best dog nail grinder: our top choice
This perfect little grinder by Casfuy comes with 2 speeds (and it's very easy to change the settings!) and 3 grinding ports that will work for pets and nails of different sizes and hardness. 
It's cordless, so it's easier to operate. And once you've charged it (takes about 3 hours), the battery will last for about 2 hours. For the record as soon as you and your pup will get used to this machine, it should take 10-15 minutes on average to be done with all the nail related procedures. Pretty much the best across the board! 

Best quiet dog nail grinder
This winner of a product by Peteast works like a charm. It has 2 speeds, 3 grinding ports of different sizes, and can last for up to 10-hours after a 2.5-hour charge. It works best on high speed, while still being as quiet as it's possible (lower than 40 DB). Excellent quality, and it feels sturdy and durable too. 

Best dog toenail grinder
This pet nail grinder comes with two files and a plastic covering that allows you to file large size animals' nails and the smallest one too (including the toenails). 
It has a lot of power but isn't too overwhelming to control, and it's quite small. It's equipped with built-in rechargeable batteries and a USB cable for a quick charge on the go. And it's low noise, low vibration too. 

Professional dog nail grinder
Super powerful nail grinder that works on 2 speeds: 7000 revolutions per minute (RPM) precise trimming, and 8000 RPM for quickly grinding. It works for ALL breeds and paws of all sizes. So you can even start your own mini-business with this little tool. For instance, you can offer nail trimming services to your pet-parent-friends who are not so thrilled about the procedure. 
It might be slightly noisy (it's within the 50db range) but still not too scary for your furry baby.

Best electric dog nail grinder
Lightweight and portable electric pet nail grinder by Boshel. The company claims that animal trainers, pet grooming professionals, and veterinarians swear by their product.
The device has a 2-speed 8000 RPM motor to ensure a quick and professional-grade grind. It also has two grinding ports. So this device must work well for most of the pets. The blade itself is sharp and grinds quickly. All in all, a perfect option. 

Dog nail grinder with guard
This Dremel dog nail grinder is equipped with a nail guard attachment. It will make you feel confident in getting the optimal nail trimming angle and dust collection. It features a 9 piece grooming accessory set for various grinding options. And it comes with a 4-volt Lithium-Ion battery and convenient USB charger. Fantastic value for money! 

Best small dog nail grinder
This little machine comes with 3 ports and 2 speeds. So technically, it has to be working for pups of all sizes, but yet it's not powerful enough to deal with extra long and thick nails.
But if you have a small dog – this grinder is right up your alley. It's whisper-quiet and produces very low vibration, so your pet will stay calm. You can charge it with computers, power banks, car chargers – anything with a USB port really. And the price is great for the quality you get. 


FAQ on dog nail grinders
Are nail grinders safe for dogs?
Absolutely. If you are using it properly. And if your dog has been trained to be calm and patient with the procedure. One benefit of grinding VS clipping is that you're taking off just a tiny bit at a time, so it's almost impossible to cut too much and hurt your dog. You can usually spot the point where you have to stop unless the canine has black nails. And it's so easy to finish the nail by polishing the edges.
One thing to remember, though, grinding can make the nails too hot. Make sure not to hold the tool against the nail for too long. But even with this somewhat slow method, grinding your pet's nails goes very quickly! 
Another word of warning: if your nail grinder is not equipped with a guard, make sure that the pet's hair does not get in the way. If you are using the device for the first time, start with the slowest speed until you and your pup are growing to be more comfortable with the tool.
Is it better to grind or clip dog nails?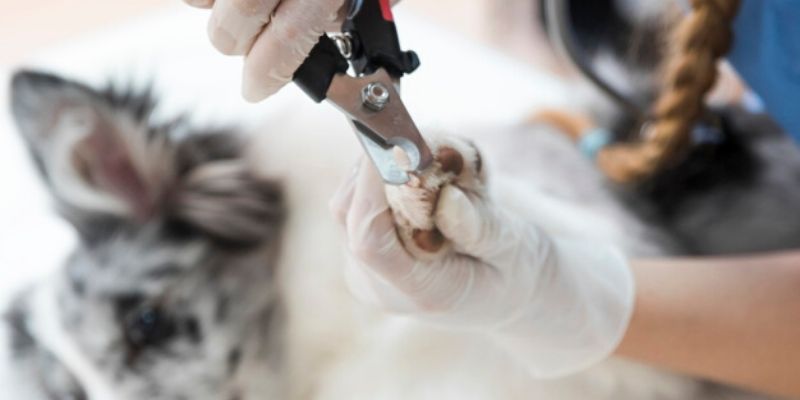 Both grinding and clipping are work to trim the dog's nails. Nail clipping is a fast process. It's cheaper. But It may end up in pain if you cut too much or squeeze pups paw too hard. And since many dogs might suffer from clipper anxiety, it doesn't make your life easier. 
Nail grinding works great better if your pet gets used to the procedure. It produces smooth and rounded nails. And with the right machine, it's easier to work on thick nails that are tough to clip.
But make sure you are going for a quite grinder if you want to give it a try. Thus you have a better chance that your pup won't be scared. And also, remember that most of the pet grinders will cause odor and dust. So you might want to use the mouth mask and cover your eyes for protection.
Does nail grinding hurt dogs?
Overall, no. One of the essential reasons why dog parents switch to grinder is because they can't hurt their dog. Nevertheless, if you are not careful, you can pinch your pup, and it will lead to discomfort and pain. 
How often should you grind your dog's nails?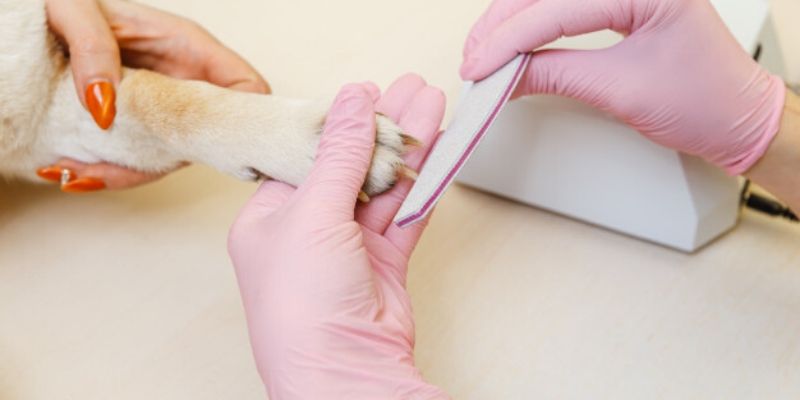 Generally, you'll have to cut your dog's nails every month or so. The sure sign that "it's time" is "clicking" noises when your pup is walking around in the house. Know that long nails can be painful for dogs. Your pup may even lose traction in their paws, and it's getting so much more challenging to stay on their fit and not to fall.  
 However, taking your dog out on walks outside can cut down on the number of clippings a dog requires. And you might also want to consider using nail trim mats. Those are basically doormats with a coarse surface that files the dog's nails each time he steps on it. Something like this one might work.  
[content-egg module=Amazon template=custom/image product="us-B077Y3YCTF"]
What to do if dog scared of nail grinder?
Fear of anything nail related is a very typical issue that many pup parents have to deal with. And from pooch to pooch, that fear can vary from a mild dislike to full-sized panic.
Dog nail grinders can be somewhat loud and can contribute to scaring off your pup even more. Particularly if they're not fond of harsh noises. So make sure your grinder is on the quiet side. 
Also, when you are first giving nail grinder a try, you might want to start with a little training session. Use good old treatos and the power of positive reinforcement. Continue pairing good behavior + grinder = food, several times until your pet gets excited whenever he hears that the machine is on.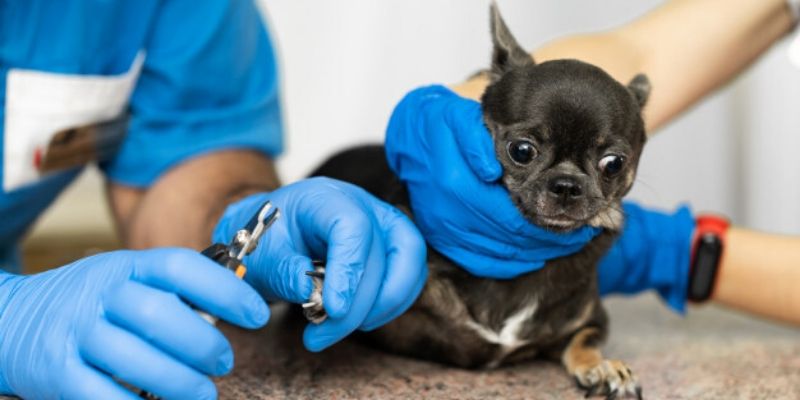 What speed is good for dog nail grinder?
It takes a while for both you and your pet to get used to the procedure. So start with the slowest speed setting. Once you get used to it, you may proceed to the higher speed. Even though the slow setting works perfectly fine.
For instance, if your dog is on the small side, from 7 to 13 lb, you can always go with a low speed. High speed will be necessary in case you are dealing with a larger dog and longer thicker nails.
Thanks for the blog graphics: Canva.com