What is Memory Foam and Who Invented It?
Memory foam was first invented in the mid-1960s by Charles Yost, an aeronautical engineer, as a way to keep test pilots cushioned during flight. Memory foam is a polyurethane material. And it's sensitive to both pressure-temperature allowing it to conform to a body and then spring back into its original shape.


Why Might You Want To Choose Memory Foam for Your Pup?
Memory foam is now being used in dog beds, and here is a look at the pros and cons of choosing it:
Pros
Since memory foam conforms to your pet's body it will allow your puppy to feel safe and secure allowing them to rest better 
Memory foam bed will keep your pet off the cold hard floor and may reduce or even prevent the onset of canine arthritis as they get older.
A memory foam bed gives you pet a place to go that is their very own when they are tired or simply want some alone time because they are feeling anxious or overwhelmed.
Cons
Sometimes, dogs may chew on the foam, which could cause some digestive problems. So maybe it makes sense to delay the introduction to memory foam bed till the moment they passed the chewing on everything stage.
Memory foam is expensive.

Best Memory Foam Dog Bed
10 new from $72.27
2 used from $64.07
Free shipping
as of January 26, 2021 6:37 pm
If you are sure that your pup deserves only the best bed, then this lounge sofa should fit the bill. Big, deep, soft, and comfortable is how one user described this dog bed. It comes in 4 sizes, so it is suitable for any size dog. And the removable cover comes in 4 neutral colors to match any décor. The bed has a water-resistant liner, and the foam is 4 inches thick. 
Large Memory Foam Dog Bed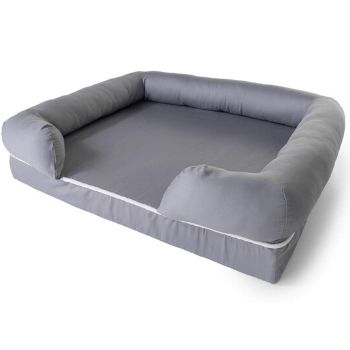 Perfect for larger dogs is the comment many purchasers have said regarding this lounge. This large bed is 44 inches long and 34 inches wide and features a washable cover, a waterproof foam liner, and a non-skid bottom to hold the piece in place. Bolsters on three sides even allow your canine companion to enjoy the comfort of a pillow.
Check more reviews for this bestseller on Paw.com.
Small Memory Foam Dog Bed
If you have a small dog, then this 24 inch by 18 inch Memory Foam Bed by Harmony may be a perfect choice. This bed is ideal for miniature dog breeds who like curling up. The bed features shredded memory foam, a plush and comfortable sleep surface, and extra high bolsters to make your pet feel safe and secure.
Best Memory Foam Dog Mattress
2 new from $38.99
7 used from $34.08
Free shipping
as of January 26, 2021 6:37 pm
If your dog doesn't like the hemmed-in feeling that bolstered dog bed provides, then this gem from Barkbox should do the trick.
This bed is more like a mattress than an actual bed, but it comes in 4 sizes suitable for most dog breeds as well as several cover colors. The covers are easy to clean and waterproof. Each bed has 3 inches of foam except for the Xlarge bed, which has 4 inches of foam.
Best Cheap Memory Foam Dog Bed
If you are looking for a cheap option, then this AmazonBasics Foam Pet Bed may be right up your alley (or check our guide for more cheap beds).
This inexpensive pet bed is perfect for crates and kennels and features a dense foam filling, plush polyester flannel surface, and comes in 4 different sizes and 5 colors sure to match any décor and most dog breeds.
Best Memory Foam Dog Mat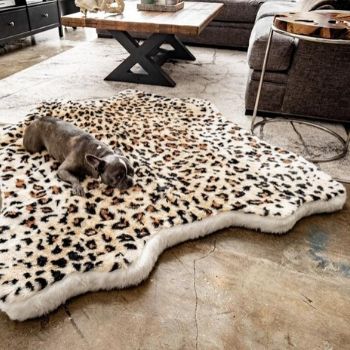 The PugRug is more of a large mat than a bed, but it is attractive and perfect for any size dog. This large memory foam mat has a removable and washable cover that comes in your choice of several different animal prints.
It has a waterproof foam cover, and the non-skid rubber bottom holds the mat in place on your floor. 
Check more reviews for this gorgeous mat on Paw.com
Orthopedic Memory Foam Dog Bed
2 new from $84.99
2 used from $46.98
Free shipping
as of January 26, 2021 6:37 pm
If a pup suffers from common joint-related diseases, like arthritis or hip dysplasia, it's better to invest in an orthopedic memory foam dog bed. So the dog may rest more comfortably.
The Orthopedic (and Ergonomic!) Lounger by Furhaven is just such a bed. This bed comes in 5 sizes and a host of different cover colors. The covers are machine washable, and there is a waterproof base panel to protect the foam from getting wet.
Credits: thanks for the cover photo to Canva.
Disclosure: At Doghint.com we only mention the products that we've researched and considered worthy. But it's important to note that we are a participant of several affiliate programs, including VigLink, ShareASale, Skimlinks, and Amazon Services LLC Associates Program, an affiliate advertising program designed to provide a mean for us to earn fees by linking to Amazon.com and affiliated sites. As an Amazon Associate Doghint.com earns from qualifying purchases.  Also, please note that Doghint.com does not intend to provide veterinary advice. All published articles are meant for informational purposes only. And this information should not be substituted for professional veterinary consultation.