Why must you know how to train a lab puppy? One simple answer is that it is not an easy task. One wrong move or mistake is enough to make your puppy tired and disappointed. It is a dilemma of Labrador owners that they seem in hurry of getting an obedient lab puppy. In their quest of bringing a toy out of their puppy, they often end up making him reluctant.
It is better to take some time out for learning to train a lab puppy. Otherwise, an owner would be left with no option but getting a frustrated, depressed and stressed out the animal.
Here we have got 5 ways of training a Labrador puppy like a pro.
After going through these rules, you wouldn't need to spend heavily on hiring a professional trainer.
  #1 Take your time and don't force you lab puppy
Labrador is an awesome breed of dogs that offers an unlimited fun to owner family. These dogs whether adult or puppies, love to play with kids. If you have kids and lab puppy, then there are great chances that both would mingle easily. Well, in order to achieve that ultimate fun goal, you need to make your puppy obedient. For this purpose, you need to know how to train a lab puppy.
In beginning, make sure you don't be harsh on him. If he doesn't follow you commands then don't punish him. Don't be in hurry of getting your lab puppy on track within days. Take your time and let him learn. Young puppies are very sensitive to control. They don't know how to control themselves and may not follow the commands accordingly. Policing a lab puppy may cause him to get tired.
A better approach is to not expect too much from a lab puppy. Just let him be enough frank with you.
#2 Use simple training task
In process of knowing how to train a lab puppy, you must be looking for tricks. Well, there are myriad of such techniques. The best approach is to use simple techniques. Asking your puppy to perform tough tasks is enough for putting him to exhaustion. Try to choose exercises that last merely for one to three minutes.
When it comes to training then don't choose tough tasks. You can start with few easy to handle games. For example, try to indulge your puppy with your kids. Do keep in mind one thing. Puppies have very little ability to be attentive. They can easily fall a prey to distractions. Don't try to teach your kid anything beyond the capacity. You would merely make things tough.
#3 How to train your lab puppy different tricks
What tricks should be taught to the dogs? This is the most important question. Things you train your puppy can differ. They can be basic as well as complex. For example, the very basic thing can be teaching your puppy to sit with your kids, may be for 2-3 minutes only. A complex task can be making your lab puppy to pick up a ball. Or you can ask him to put some stuff in a laundry basket.
Here are few of the easiest tasks that you can teach your puppy in the start.
Make him sit
Ask him to stay for a while.
Teach him how to crawl.
Take him how to roll over.
Finally, you can give him paw for purpose of fun.
Briefly, the beginning exercises must be simple and easy to follow tasks.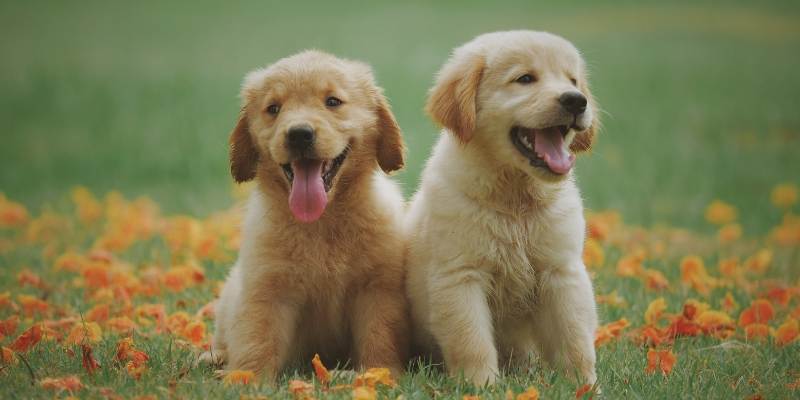 #4 Keep some treats for them
Reward based training always works in the best way in case of puppies. Ask pros how to train a lab puppy, and you would get this answer. "Make it worth for them, use some reward". These rewards can be pieces of food or any other such stuff. As mentioned above, making your puppy to do something complex can make him easily tired. Even that one minute, two minute or three-minute exercises-cum-games are not such easy for him. Help your puppy to gain enough interest on his part. Only this way you would be able to make him an obedient who is more like a friend.
#5 Additional training for your lab puppy
No wonders, that simple exercise are a great way of starting training of the dog. But a complete conversion to sub ordinate requires a mix of other pieces of training as well. Ask a pro how to train a lab puppy.
He would come up with a bit of advice related to following trainings:
Training your puppies to pick the food.
Doing their potty training and crate training.
Making them play games and indulge in other activities.
Teaching the dogs to perform different tasks for the owner.
Labradors are very intelligent animals. They have the ability to understand well, but according to their stamina. So, don't worry if your pup doesn't pay enough attention. Just start with simple training and you would reap the best benefits.
---
Thanks for the blog graphics: Canva.com