The golden retriever is one of the most popular breeds of dogs in the US. It is instantly recognizable. It's absolutely lovable, so it is no surprise that it is the third most popular breed in the country! Because of this, it's not uncommon to know someone who has a golden retriever or absolutely loves them.
There's a lot to love about these dogs and a lot to know too. Did you know that they originated from Scotland? Or did you know that they are one of the most popular breeds used as therapy or emotional support dogs? That's how friendly and gentle they are!
Do you know someone who's a super golden retriever fan and looking for gift ideas for this person? I've crawled Amazon for hours to compile this list. And I hope you will find at least one of the suggestions helpful. 
So, if you're ready, let's get into some great choices for golden retriever gifts!
Interested in a specific golden retriever gift? Then use the table of contents below to jump to the most relevant section. And you can always go back by clicking on the black arrow in the right bottom corner of the page. Also, please note that some of the links in this article may be affiliate links. For more details, check the Disclosure section at the bottom of the page. 
A pendant of a golden retriever is a lovely thing to have. But it just doesn't feel personal enough. If you want something that captures the exact dog, you can have a custom pendant made with its face etched into it. Just get a picture of it, and the rest will be handled! This golden retriever jewelry you get at the end of it is certainly worth it!
You know the saying "Life is golden"? Well, it truly is golden when you have a golden retriever pal by your side. This high-quality t-shirt makes a fantastic pun and drives it home with a lovely picture of a golden retriever right in the center. There's no way this won't put a smile on a dog lover's face!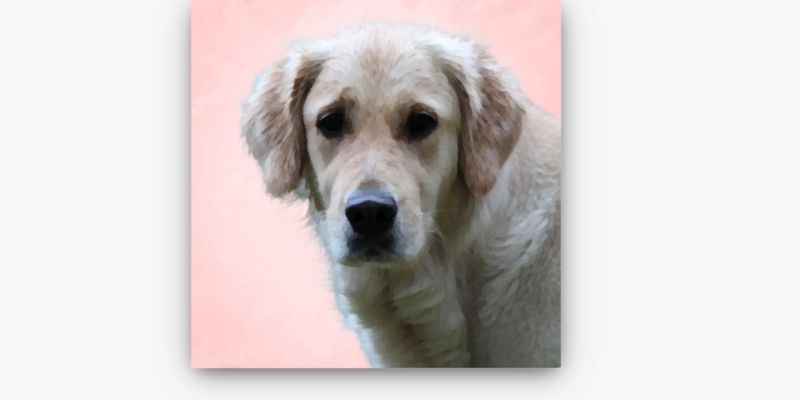 When looking for golden retriever lovers gifts, you may reach a point where you realize that you want to do something that is both grand and personal. It can be hard to figure that out on your own, but I have the answer for you on that one. A personalized portrait of their perfect pup. All you need is a photo, and this will do the rest. It is bound to be a barking hit!
Cozy and fluffy, just like your golden retriever friend! These slippers are super soft and have a whole lot of adorable golden retrievers printed all over them. They'll fit all women's sizes between 5 and 11, and you can easily toss them in the machine for a wash. These make some of the best golden retriever themed gifts!
In these days of the pandemic, a face mask is one of the best gifts you can get anyone. The fact that only one platform had 4 million people come for masks in just three months shows that these are a product in high demand. When you slap an adorable golden retriever on one, it makes it even better. It is comfy and easy to breathe in!
In the pursuit of great gifts for golden retriever lovers, a wine glass always makes a great choice. You can snuggle up with your golden retriever while taking a sip from this "golden hour" glass during the day's golden hour! That's how you make golden moments!
When it's time for bed, it's time to change into something comfier. This is where these pajama bottoms come in. They are made of cotton, and they'll feel as soft as having your golden retriever snuggle around your legs. It doesn't hurt that these bottoms have goldies printed all over either!
Even if your golden retriever is taking the day off at home, two things usually follow you everywhere. Your phone and your wallet. There's nothing better than a gift that follows you around, and even better when it is golden retriever stuff! This wallet is made of vegan leather, which can look just as good as real leather!
Who isn't familiar with Monopoly? Even if you have never played it before, you've surely heard of it. For a golden retriever lover, this makes a fantastic gift. It makes a fantastic game for game nights and to play with the family. Up to 6 people can have golden retriever fun!
The doormat is the first thing so many people see before they enter your home. It gives you the chance to show off your personality and give people a warm welcome. There's no warmer welcome you can get than one from a goldie. This doormat will make sure all your visitors are greeted with a golden retriever before they actually meet yours!
They say that even with the most formal of all the outfits, you should never feel shy about spicing it up with some fun socks. Fun socks are fun, and that's why we all love them. It makes it even better when you make those golden retriever socks. Don't be afraid to cross your legs and let those puppies show!
If you want a simple little silver pendant, then it'd be fantastic to get one in the shape of a golden retriever. Do you know what makes it even better? The fact that there is a tiny heart-shaped cutout. It is such an adorable touch on what is already such a cute pendant. You can even get it engraved with the name of the person you're buying it for or their dog's!
A golden retriever is soft and fluffy, and warm. Do you know what else is soft and warm? A pillow. Do you know what is twice as soft and fluffy? A pillow with a golden retriever on it! This giant pillow makes for one of those fantastic golden retriever gift ideas. The best part is that it is not only aesthetic. A couch piece like this provides comfort and support, which are essential in achieving a good night's sleep.
Did you know that coffee is the most popular beverage in the world? That's a fact, with more than 400 billion cups downed every year! It's not unusual to have a coffee-drinking friend who also loves golden retrievers. If you do have one just like that, then this 11-ounce golden retriever mug is a fantastic choice of gift! Show off your pride as a golden retriever mom!
Thanks for the blog graphics: Canva.com