One thing that all pet owners dread is getting the bill from their veterinarian. Taking care of a dog can be straightforward once you get used to it, but no matter how long you've had your canine buddy for, nothing prepares you for the expenses you'll encounter on a vet's bill. This remains true when it comes to the dental care of your dog. You can find yourself spending as high as $1200 in a typical case. Once things get more complicated, so does the pricing (and by the complicated price I mean its surging up). 
Finding a way to keep your dog's teeth clean does not only reap benefits when it comes to your pocket, though. When you opt to brush your dog's teeth at home, sure, you're saving money, but you're also keeping your pal's health as optimal as it can be. Poor dental health in dogs doesn't just lead to bad breath. It can cause tartar build-up on teeth, gingivitis, swollen gums, tumors, cysts, and more. Needless to say, treating these conditions tends to be more expensive than preventing them.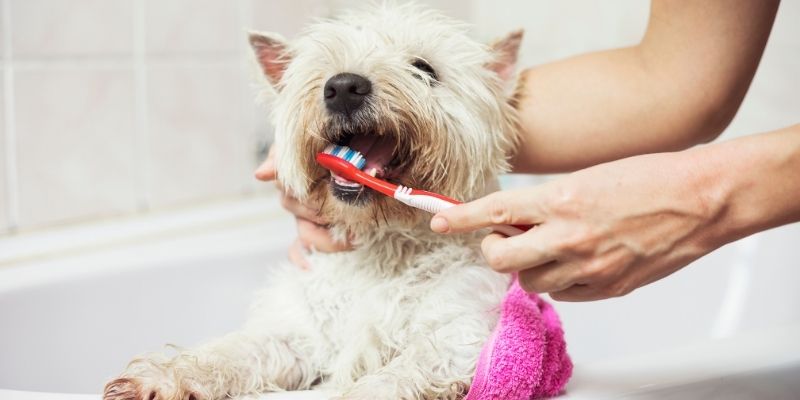 However, if you are brushing your dog's teeth at home, you'll require a toothbrush designed for dogs. This can look somewhat similar to a human toothbrush, or it can be a finger brush. This isn't complicated, though. Once you start trying to look for the best toothpaste for dogs, that's where it starts to get confusing, especially if you've never done it before. 
Don't worry. If this is your first time, I've got your back.
So, what is the best dog toothpaste you can buy? This one from Bluestem is my favorite. You don't need to worry about getting a brush because this is a starter kit. It comes with a double-ended brush and toothpaste that tastes like chicken (so your dog definitely won't complain).
It's completely safe, and it is antibacterial. It doesn't get better.  But there are more suggestions in this guide. So if you have time – read on. I spend about 8 hours researching the list below, so you don't have to. 
Do you have a specific question about choosing the best dog toothpaste for your furry baby? Then use the table of contents below to jump to the most relevant section. And you can always go back by clicking on the black arrow in the right bottom corner of the page. Also, please note that some of the links in this article may be affiliate links. For more details, check the Disclosure section at the bottom of the page. 
Best dog toothpaste
[content-egg module=Amazon template=custom/image product="us-B01MSDSS1C"]
Toothpaste for humans is minty fresh and easy to tolerate. However, the taste of your dog differs. This is why Bluestem offers this dog toothpaste in three flavors: chicken, poultry, and vanilla mint. These make cleaning your dog's teeth easier, and with its formula, it's effective at that job too. It's absolutely safe and is antibacterial for maximum cleaning. If you're just starting off with the teeth brushing, you'll find the included brush a considerate addition.
Enzymatic toothpaste for dogs
[content-egg module=Amazon template=custom/image product="us-B08778PKYW"]
Enzymatic kinds of toothpaste undergo chemical reactions that reduce bacteria in your dog's mouth, in turn, reducing the chance of tartar build-up. Waggletooth's formula incorporates that alongside probiotics, which keep your pet's oral flora healthy and its breath smelling clean. It is formulated with herbs, fruits, and oils, so it is a great natural toothpaste for dogs, if that is what you're in search of. 
Organic dog toothpaste
[content-egg module=Amazon template=custom/image product="us-B07CCMKP58″]
Being careful of what you give your dog is an important consideration, especially with substances known to be mostly synthetic, such as toothpaste. Luckily, the same way there's organic toothpaste for humans, there is a natural toothpaste for dogs.
Some might say that it doesn't have attractive flavors to make it easier for your pal to accept. Still, those are artificial, and this toothpaste is keeping it 100% organic. Most dogs will love it regardless! Buying this kit from RADIUS will get you a toothbrush included. And rest assured that this pet toothpaste is USDA Certified Organic, making it one of the best, if not the best natural dog toothpaste.
Safest dog toothpaste
[content-egg module=Amazon template=custom/image product="us-B07HBD23SC"]
The safest canine toothpaste is free of any chemicals or natural ingredients harmful to dogs. When you check through the ingredient list on this tube of RADIUS doggy toothpaste, you'll find that it is completely organic. So it's free of any synthetic components and is 100% non-toxic. And even though it is that safe to use for your pet, it still cleans great (which sometimes might not be the case of natural options).
Best dog toothpaste for bad breath
[content-egg module=Amazon template=custom/image product="us-B008796A0K"]
This oral care gel from TropiClean is like mouthwash for dogs. It helps to get rid of tartar and plaque, and just like the name states, it makes your pet's breath smell great. This is perfect for dogs with bad breath.
You don't need to brush when using this, but simply apply 2 drops of the gel to each side of your dog's mouth every day. In less than 30 days, you'll already start to see the teeth getting cleaner! This is great if your dog isn't comfortable with you brushing its teeth yet.
Best dog toothpaste for removing tartar
[content-egg module=Amazon template=custom/image product="us-B01BCPTVS8″]
Tartar is plaque that has hardened on the teeth, and it can be tough to get rid of naturally. Luckily, toothpaste like this one from Nylabone can help make that easy. It incorporates ingredients like Denta-C, which has been proven to reduce plaque. If you're looking for the best dog toothpaste to tackle plaque and tartar, this is the one.
Poultry-flavored dog toothpaste
[content-egg module=Amazon template=custom/image product="us-B083XHGSGQ"]
This pet toothpaste can be for either dogs or cats, and its great poultry flavors will make it attractive to any pet. Did I mention that it's made with real chicken? This is a brilliant way to brush your dog's teeth. You apply the toothpaste to the chew and let your dog go to work on it. It is as easy as that!
The tough chew and the holistic dog toothpaste will clean teeth, give fresh breath, and reduce plaque. It's a bit pricey, but the effective and hands-off cleaning action makes it completely worth it.
Best rated dog toothpaste
[content-egg module=Amazon template=custom/image product="us-B07J9NTLZ3″]
If you don't want any fancy bells and whistles but are simply looking for a toothpaste that you're guaranteed to be pleased with, then look over at Petsmile. They've made this toothpaste with two great flavors. It doesn't require a toothbrush and uses only safe, food-grade ingredients. Did I mention that it's the only toothpaste that has been awarded by the Veterinary Oral Health Council? Now you see why it's so highly rated.
Best antibacterial dog toothpaste
[content-egg module=Amazon template=custom/image product="us-B00OPCW5GG"]
Bacteria is the cause of gum and dental disease, so getting rid of those is a crucial step in keeping your furry buddy healthy. This professional toothpaste from Petsmile will reduce plaque growth, whiten the teeth, and make your doggy's breath smell great. Toothpaste for dogs is allowed to taste great, and the London Broil flavor definitely will.
Best brushless dog toothpaste
[content-egg module=Amazon template=custom/image product="us-B00A2WC1S0″]
If you find that your dog doesn't make it easy for you to give it its daily brushing session with a toothbrush, you might be searching for other options. This good dog toothpaste from Oxyfresh just needs to be rubbed against your dog's gum line, and it'll do the rest. It is entirely safe for your pet and will do a great job of cleaning.
Frequently Asked Questions
Can you use human toothpaste for dogs?
No! Don't use human toothpaste for dogs, as it can contain substances that are dangerous to your dog, such as xylitol, fluoride, and sodium lauryl sulfate. They also don't like the minty taste that we are so used to.
Is toothpaste safe for dogs?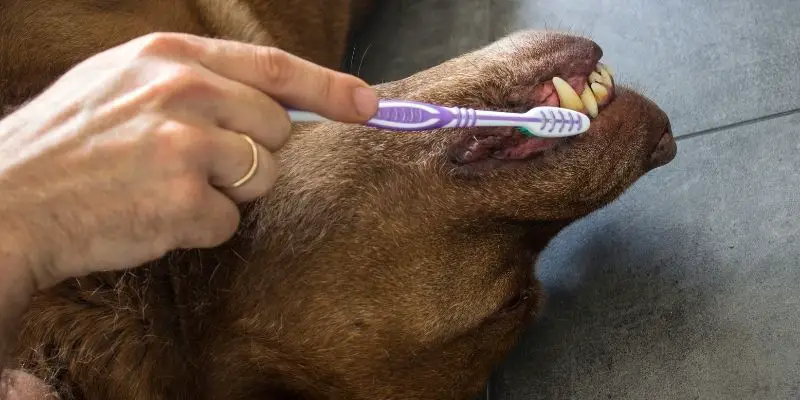 Toothpaste is entirely safe for dogs when it is designed for canine use. Never use human toothpaste for your furry friend. Dog toothpaste from established brands is a safe choice.
Does dog toothpaste work?
Dog toothpaste works just as well as human toothpaste does! You'll definitely notice a change in your dog's breath and teeth if you use a good canine toothpaste. Your veterinarian will surely approve.
How does enzymatic toothpaste work?
Enzymatic toothpaste works by using enzymes like glucose oxidase and lactoperoxidase. Glucose oxidase gets converted to hydrogen peroxidase, which kills all the germs. And the hydrogen peroxidase activates lactoperoxidase, which is a natural antibacterial.
What are the main dog toothpaste ingredients to look for?
You should look for dog toothpaste that has some of the following ingredients as those are safest and proven to be efficient:
Calcium
Phosphates
Sodium bicarbonate
Calprox
Denta-C
Enzymes: glucose oxidase, lactoperoxidase
Natural ingredients
Avoid anything that sounds too chemical and unfamiliar. 
Thanks for the blog graphics: Canva.com