Salami is a sort of cured meat that was preserved before it got to our tables. Salami is now sold everywhere, but it was originated in Italy. The most popular type you can purchase from grocery stores is hard salami made of beef, with a smoky flavor. Salami is a great complement to sandwiches, cheese bombs, and skewers, or it can be eaten as it is. But is it an appropriate treat for your animal?
So what's wrong with salami for dogs?
While salami is a delicious treat, it is undoubtedly among the worst processed meats. Processed foods, such as salami, topped the list of the worst meats of Dr. Phil Maffetone. Maffetone, a well-known clinician, had a reason to claim the processed meats has to be avoided by humans. These foods use a large number of preservatives and seasonings to maintain their lifespan. Salami is traditionally made of beef or pork, salt, garlic, salt, seasonings, herbs, vinegar, and wine. It has many aromas that most of us like to add in many dishes. When the meat has been ground, it can be ready for salting. Meat is a safe option for your puppy as long as it is straightforward. But the AKC warns pet owners against seasonings or add-ons.

And we will discuss the ones that can be found in salami below:
Salt. 1 740 mg of salt per 100 grams of cooked salami. Salt–1 740 mg of salt per 100 grams of cooked salami. If you intend to give your dog only a piece of salami -it's 214 mg of sodium already. This is more than two times the recommended daily intake of sodium for an average pup (30 pounds). Too much sodium, however, is toxic to dogs as it is for people. Dogs with heart and kidney problems should have a low salt diet. Too much salt is related to diarrhea, seizures, and abnormal body temperature.
Garlic. Salami is never perfect without garlic, as it helps keep the meat naturally preserved. It keeps bacteria away so that food could be safe to eat longer. But, you must be careful to give your dog any meat with garlic. The level of toxicity of garlic for dogs can go from moderate to severe, as per the

Pet Poison Helpline

. Dog breeds from Japan like Shiba Inu and Akita, like any others, are more vulnerable to garlic. Seek assistance from the vet if you notice odd behaviors such as drooling, weakness and vomiting after eating that garlic-y salami.
Herbs and spices. There are many sorts of salami, each of which may use various types of herbs. Read your label to ensure they include only the healthy spices for your pups. Some of the potentially dangerous options in salami might include turmeric, which causes skin problems for canines, and rosemary which is an unsafe option for epileptical dogs. That being said, if you plan to include salami (and herbs) in your dog's diet, it is best to consult a veterinarian first (although you might have a feeling of what he might say).
Red wine. A classic salami recipe utilizes one-third glass of red wine. The wine not only adds some aroma to the salami, but it also extends the meat's shelf life. As you probably know that alcohol is one of the "no-no" for your dog. Canines should not drink alcohol (or consume it in any other forms) due to the risk of heart diseases.  Only a little red wine is present in salami, but to be safe is still better than to regret later.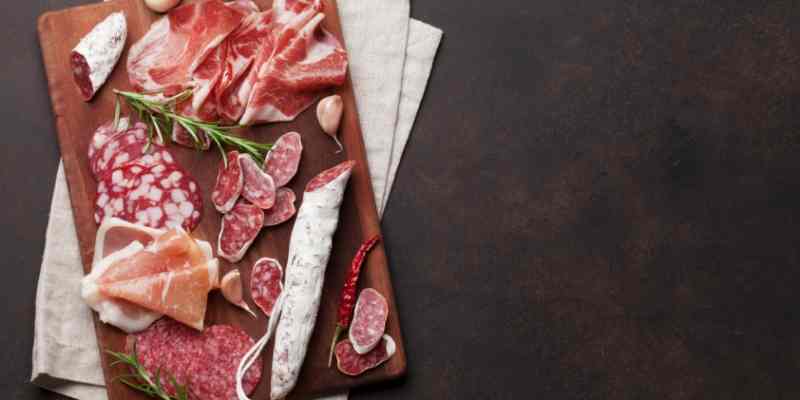 Like people, dogs have various energy requirements. For example, a puppy needs fewer carbs compared to an adult, unless that adult is not moving at all.  Salami has an average of about 336 calories per 100 grams. There is also one gram of sugar. After drying, Salami weighs approximately two-thirds of its original weight. The loss of water causes the weight of salami to decline. Dogs are vulnerable to numerous health risks like liver, kidney, heart, and urinary tract illnesses if eating dehydrated meat over prolonged periods of time.
Can dogs eat pepperoni or bologna?
Pepperoni ingredients might include pork, salt, water, spices, lactic acid starter culture, sodium nitrate and other flavorings and acids that help in the conservation process.
This meat contains approximately 500 calories per 100 g. Nearly half of this comes from fats (including 15 g saturated fats, 1.6 g trans, and 105 mg cholesterol). Of course, it is also high in sodium (1761 mg).
You might also like:
In Bologna, there are fewer calories (247 per 100 g), sodium (907 mg) and fat are present (20 g of fat, 7 g of saturated fats, 59 mg of cholesterol included). Some of the ingredients might include water, spices (mustard), altered maize starch, salt, potassium lactate, soy erythorbate,  soy protein isolate, sugar, sodium phosphate, etc.

Eating processed meat (including salami bologna or pepperoni) is linked to a higher risk of chronic diseases. High blood pressure (hypertension), stomach cancer, and more.

Studies show that those who eat processed meat are far more inclined to have these diseases, but it's not 100% proven yet that all those conditions were caused by processed meat. However, it is clear that the links are reliable and consistent. Studies in rats, for example, have shown that eating processed meat increases the risk of bowel cancer. There have not been so many dog studies, but the premise that processed food isn't healthy food for our four-legged friends won't be a huge exaggeration.
You might also like:
Salami and other processed meat for dogs. Summary
Even the small serving of processed meat, such as salami,  can cause your dog to vomit or get diarrhea. Processed meats like salami often contain additives of sulfite that can lead to thiamine deficiency and dog death. The digestion of your dog is not the same as yours, so your dog can't keep up with large quantities of bad fats. A diet that is too high in fat can lead to weight gains for your dog, obesity and heart issues. Therefore, it is probably better to completely avoid salami and other processed meat. You can always find alternatives that are more healthy and delicious, such as this dehydrated beef lungs by Pet'n'Shape. Good for both big and small dogs. Check more details about this option here.
---
Credits: thanks for the photo StockSnap from Pixabay and Canva.