Dog puzzles games are meant to mentally and physically challenge your pup. They keep the pooch busy and entertained. 
(And sometimes, as an added bonus, save your home from distraction and give you some time to rest too).    
The great news is, you don't have to buy it. As it's pretty easy to make several types of dog puzzles yourself. 
Are you interested in a particular DIY dog puzzle toy? Then use the table of contents below to jump to the most relevant section. And you can always go back by clicking on the black arrow in the right bottom corner of the page. Also, please note that some of the links in this article may be affiliate links. For more details, check the Disclosure section at the bottom of the page. 
The cost of dog puzzles, and why make it yourself?
You can find a wide variety of dog puzzles online or at your local pet store. The cost might vary from $10 to $100+. While you can make toys that will serve the same purpose yourself. I am sure you have all the materials needed for the challenge aimlessly scattered around your house. So let's try to save you some money and keep your pup entertained and educated.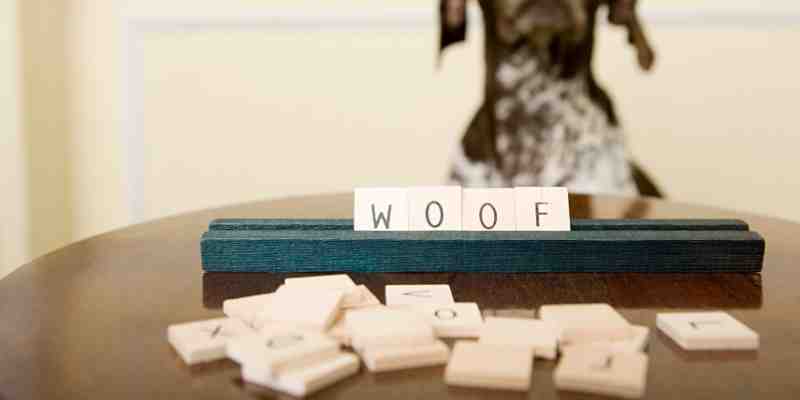 Types of puzzles for dogs
Different types of dog puzzles will keep your dog entertained and busy, like. Those include the following: 

Treat balls
With this type of toy, you will have to fill the bottom ball compartment with some treats and screw back it covers. Then you give it to your dog and watch how the pup plays with the ball to get the food out. 
Puzzle activity boards 
Puzzles of this type will have separate compartments and figures, like cones, knobs, and discs that hide treats. This will make your dog think well to find all the treats. And it's definitely more exciting than ball treat dispenser. 

Puzzle mazes
This is an excellent exercise in a mental situation that keeps your dog curious and requires your dog to maneuver the levers to reveal treats. (Again. Yes, pups love treats :)). 

DIY interactive dog toys
Below is a list of interactive dog toys you can do yourself with very little or no cost and will help to keep your dog away from boredom.
Dog brain games that you can make: flirt pole
To make this DIY interactive dog toy, you need a PVC pipe and also a bungee cord or rope and about 5 minutes of your time.  
Use the PVC pipe as the rod, get some bungee or rope at the hardwood store that is if you don't have at home.
Tie the bungee or rope through the PVC and then knot it at the end of the PVC so it won't fall out when it's been played with by the dog. 
Making this yourself will save you a few dollars you can use to get something else. And your pup will get an interactive game with lots of physical exercises. 
Dog brain games you can make: Food dispensing toy
These are any toy that contains food but not open for the dog to get the treats easily and quickly, it requires your dog working out a way to get the treats. It could be an old plastic bottle stuffed with treat covered at both ends and little openings around the body.
Give it to your dog to engage with, as it moves the toy around, the yummy bits will start coming out from the opening. This game stimulates your pup mentally. It enhances the dog's natural scavenging ability and problem-solving skills to find a way to get the treat out. 
DIY dog mental stimulation toys: muffin treat challenge
You have old muffin tins lying in your house, you can use that to create a toy to keep your dog's brain active instead of allowing do sleep stay lazy and bored stumbling around the house.
All you need to achieve this is an old muffin tin, few tennis balls, and dog treats. Get the dog treats, place them inside the muffin tin, and cover it with the balls.
Give it to your dog. And pup will start to look for a way to get to the treat out. Creating this challenge for your dog gives you time to focus on other things.
As your pooch get busy looking for a way to get to the treat. It will also help to keep your dog occupied with some constructive activities, away from unwanted behavior. It is a win-win situation for everyone. (Not to mention the huge savings!). 
Thanks for the blog graphics: Canva.com