If you have a dog, you would probably want to find the best dog food to ensure your pet leads a healthy life without nutrition deficiency. But, as a responsible pet owner, your main aim is probably to get affordable dog food that comes in different flavors and offers complete nutrition to your furry friend. Costco dog food is an excellent option as it matches all the desirable qualities. But, for many dog parents, the main concern is, "is Costco dog food good?" 
Well, you have some backup from here. Here you will get all the information related to Costco dog kibble and its nutritional values and quality to make an effective decision. 
Do you have a specific question about the quality of Costco dog food? Then use the table of contents below to jump to the most relevant section. And you can always go back by clicking on the black arrow in the right bottom corner of the page. Also, please note that some of the links in this article may be affiliate links. For more details, check the Disclosure section at the bottom of the page. 
How good is Costco dog food?
Costco-brand dog food is really good. Costco's signature dog food line is Kirkland Signature Super Premium dog food. Dog food is manufactured by Diamond Pet Foods Inc, which is one of the main dog food producers in the US. 
Many dog owners have given great ratings. They have also praised the ingredients of the items and how their dogs have loved the taste of the food. 
If you consider buying Costco Kirkland organic dog food, you can do so without hesitation. Your dog will get the best food that satisfies its palate. Costco brand Kirkland dog food comes as a filler-free dog kibble. It does not contain filler ingredients like soy, wheat, or corn in large quantities. 
On top of that, Costco dog food kibbles also are free of meat by-products and preservatives. Hence, your dog will get pure natural goodness by eating kibbles. 
Another good quality of Kirkland dog food is that it does not contain probiotics. Besides that, it contains chelated minerals. These minerals improve the nutrition absorption power in dogs. 
Ingredients of Costco dog food
The company assures its quality to perfection. Kirkland dog foods are made from organic meat and vegetable items enriched with nutrients and essential minerals. 
The best part about it is the enriched and complete formula of the Costco dog kibble varieties. It is made with organic whole grains like rice, brown rice, millet, and barley. These complex carbs are loaded with fibers, keeping your dog's gut health in check. 
For the protein needs of your pet dog, Kirkland kibbles have chicken, chicken meal and stew, pieces of real lamb, fish like salmon, etc. These ingredients offer nearly 3x more protein than raw protein options and are pasteurized to prevent allergic reactions.
Kirkland dog food also contains chicken fat as its primary source of fat. This is capable of providing your dog with the needed fatty acids. Besides that, dog food also has essential supplements like iron, calcium, potassium, magnesium, vitamins AD, B complex, E, and K to ensure your dog gets complete nutrition with each meal. 
A regular Kirkland organic dog food variety contains 29% protein, 45% healthy carbohydrates, and 18% fat. That means it is excellently balanced and offers everything your dog needs for a healthy life. So, if you are worried about nutrition quality, you can be assured. 
Does Costco dog food taste great?
For dog owners, often taste of the dry kibbles matter most. If the food does not taste great, your dog will probably not love to eat it. Costco dog food is good in taste. Many dog owners who have been using Kirkland dog kibbles for a long time have given positive reviews regarding the taste of the food. They said their dogs love the taste of the Kirkland dry food and eat it wholeheartedly. 
Is Costco dog food grain-free? 
Wondering if Costco dog food grain is free? The answer is- "Yes." You can always choose Costco grain-free dog food to feed your dog. Hence, no more issues related to grains and foods. 
Costco dog food guidance
Each packet or variation of dry food at Costco has specific guidelines for feeding the kibbles to your pet. Here is the recommended serving-
For puppy dogs
Age: 6 weeks to 4 months
For puppies of weight 3-5 lbs, the minute is ¾ cup to 1 cup. If your puppy is 5 to 10 lbs, give it 1 to 1 3/4 cup per day. In short, for each pound, you need to give ¼ pound of puppy food. 
Age 5 months to 1 year
The general guideline is to give ½ cup of kibbles for every 3 lbs of body weight if the puppy is 5-7 months old. If your puppy is 8-12 months old, you need to give 2/3 cups of kibble for every 5 lbs of body weight. For example, for a puppy weighing 20-30 lbs, the food measurement varies from 2-23/4 pounds (5-7 months) or 1 2/3 to 2 1/4 cups of kibbles (8-12 months age). 
Food does for adult dogs
Adult dogs
For adult dogs, the recommended minimum dose is ½ cup for every 5 lbs of body weight or 1/3 cup for every 3 lbs. For dogs weighing 10-20 pounds, the food is ¾-1.5 cups. For dogs of medium breeds or 20-40 pounds, you need to feed them 1.5-2.5 cups daily. Larger breeds weighing more than 60 pounds can give 3-4 1/3 cups of dog kibble daily. 
Is Costco dog food allergy free?
As a responsible pet owner, you might be worried about your dog's food allergies. Many dogs have specific food allergies and can face serious health issues and symptoms if they eat anything containing allergic food. 
In general, the Kirkland food kibbles do not contain items that are allergic to most dogs. But, a few varieties of Kirkland dog kibbles contain yeast as a nutritional supplement. Sensitive breeds can have mild allergic symptoms to yeast. But, there are a few varieties available without yeast. 
You can always check out the ingredients list if you find the ingredients of the kibbles. This will help you find the best Kirkland dog food for your dog. If you want, you can always consult the vet to know the best food items for your dog and what you need to provide them. 
Costco dog food recall history
Despite having a good reputation, Costco faced a few negative ratings for Kirkland dog food review that forced the company to recall some of its products. But as a responsible brand, Kirkland promptly recalled all of the food varieties that raised a few questions and offered improved formula with healthy and safe dog ingredients.
In 2007, canned Kirkland Signature Premium Dog 2-Flavor was recalled from stores due to possible contamination. Some people claimed that these foods had higher chances of melamine contamination. This canned pod item has been discontinued since.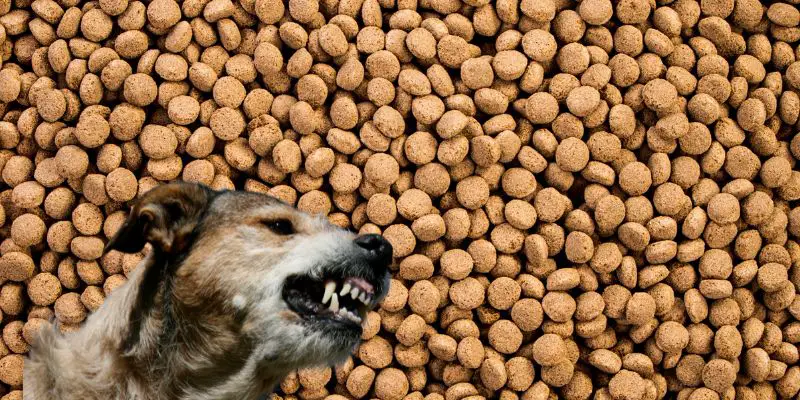 Again in 2012, wide varieties of dry dog food at Costco were recalled in large numbers. Many dog owners complained that their dogs suffered health issues and allergic reactions after eating the food. The brand recalled all of its products from stores. The high chance of salmonella contamination was the main reason behind it. The adult dog lamb and rice formula, super-premium adult dog chicken, rice, and vegetable formula were recalled from stores. Besides that, senior dog food item Super-premium mature dog chicken, rice, and egg formula was also taken out of shelves.
Costco recalled their Kirkland Super Premium Healthy Weight Dog Formulated with Chicken & Vegetables, a variant of Costco weight management dog food, for this same issue during the same year. On top of that, Nature's Domain Salmon Meal & Sweet Potato Formula for Dogs was also taken from the shelves for the same reason. 
After the massive recall, Diamond foods started new research to improve the quality of the dry kibbles. On top of that, they also excluded a few ingredients and ensured that the dog food was not contaminated during manufacturing. 
Costco dog food price
Costco brand Kirkland is known for its premium quality dog food options. In addition, it offers competitive pricing, making it quite popular among dog parents. 
Kirkland offers quality dog food with premium ingredients under an affordable budget tag. Hence, if you are looking for something lighter in your pocket that offers good nutrition to your dog, Kirkland dog kibbles may be a great idea. On top of that, their wide range of varieties makes them a good option for multiple dog owners. 
Where to buy Costco dog food?
Are you considering buying Costco dog food for your dog buddy? Then you can easily get it from any Costco store near your locality. Every Costco store has a separate pet food section where you will find the Kirkland dog food packets. You can choose from the available options to buy the best suitable one. 
Online shopping is also available if you do not want to visit the store. You can get the same Kirkland dog food packets from the official website of Costco. You can visit the website and select the Kirkland dog food variant you want to shop for. The food will get delivered to your home from the nearest Costco store. 
Costco dog kibbles or Kirkland dog food is one of the premium dog foods available in the US. You can buy the food kibbles for your dog as per their nutritional needs to help them lead a good life. 
It is an affordable premium dog kibble loaded with nutrients, minerals, and premium quality ingredients. Furthermore, the wide range of options makes choosing the best suitable option for your pet easier. 
But, before transitioning your dog with Kirkland dog kibbles, ensure your pet gets enough time to adjust to the new food and food habits. Then, slowly acquaint them with kibbles to help them adapt to their new food item. If you need some more guidance, you can always ask the vet to develop the food habits of your dog to ensure it can get maximum nutrition from dry dog food. 
Thanks for the blog graphics: Canva.com

Doghint.com is a participant of several affiliate programs. The list includes (but not limited to) the following: VigLink, Refersion, ShareASale, and Amazon Services LLC Associates Program, an affiliate advertising program designed to provide a mean for us to earn fees by linking to Amazon.com and affiliated sites. Doghint.com does not intend to provide veterinary advice. All published articles are meant for informational purposes only and not substitute the professional veterinary consultation.