Many people think that grooming your dog is purely an aesthetic thing, and that couldn't be further from the truth. Ensuring that your dog is well-groomed has its health benefits. In some cases, unkempt fur can lead to very serious health complications for dogs.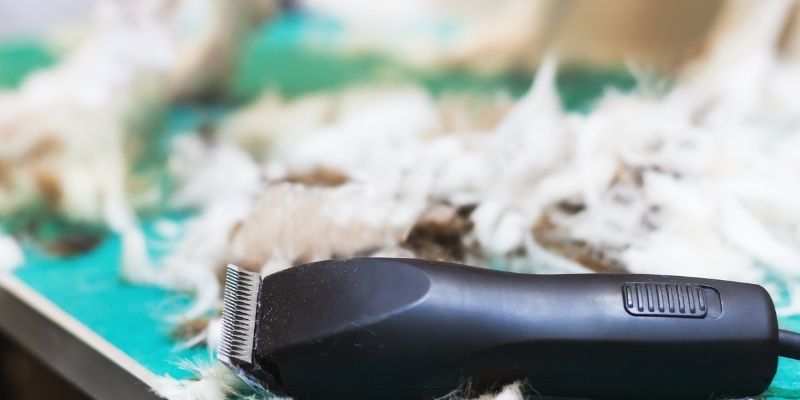 However, many pet salons and spas can seem like overkill, considering it can cost as much as $90 for a single session.  
Many people do their own grooming at home. If you can figure out the best dog clippers that can be a good fit for your pup and your budget, you'll save money in the long run, and it won't take long for you to get the hang of it. 
If these savings sound great to you, then you're probably ready to purchase dog hair clippers for your pet already.
If you are here for a quick suggestion, I can say that these cordless clippers from oneisall should be perfect. This is one of the best dog grooming tools you can get. It's wireless, and the battery lasts long, but even when it's at the end of its charge, you can plug it in and continue using it! It's quiet, so it won't scare your dog when grooming, and it comes with 6 different guard combs, so you can easily control the hair length when shaving. The blade can also be removed easily and cleaned.
If you have more time – go ahead and read further. I've spent more than 15 hours on research in an attempt to compile the list below. So I am sure you'll find some of the suggestions helpful. 
Do you have a specific question about the dog clippers? Then use the table of contents below to jump to the most relevant section. And you can always go back by clicking on the black arrow in the right bottom corner of the page. Also, please note that some of the links in this article may be affiliate links. For more details, check the Disclosure section at the bottom of the page. 
Professional dog clippers
[content-egg module=Amazon template=custom/image product="us-B0018KVI3Y"]
If you've never trimmed your dog's hair before, it is a good thing that this one comes with an instructional DVD. The Andis ProClip can operate at two speeds to give you the shearing performance that you require. It runs quiet, which is always appreciated as it keeps the animals calm. It is built for heavy-duty use, with a tough cable and shatter-proof housing, so even if your pet makes your drop it, it'll survive without a problem.
Best clippers for dogs
[content-egg module=Amazon template=custom/image product="us-B01HRSZRXM"]
These dog grooming clippers from oneisall is my top choice. It's so inexpensive that using this once has already saved you money over a salon visit. These cordless dog clippers are rechargeable with solid battery life and can be used plugged in as well. The blade cuts well and can be detached for easy cleaning or replacement. Did I mention that it's quiet too? No need to worry about a scared dog in the middle of a shave!
Heavy duty dog clippers
[content-egg module=Amazon template=custom/image product="us-B089NRGXHY"]
If you're looking for tough clippers that can handle anything you throw at them, then these are a perfect choice. The high-carbon blades stay sharp for longer, and they are clog-proof too, so it can shear through denser fur easily. The huge 2000mAh battery means you can use this for 3 hours straight. Or you can also plug it in when out of charge. It comes with some accessories like 4 guide combs, scissors, a metal comb, and a small brush to clean the blade.
Dog clippers for thick hair
[content-egg module=Amazon template=custom/image product="us-B07V2Y2K6Z"]
All dogs are different, and some have hair that is much thicker than others. Trying to cut through this hair with regular clippers can be very stressful, so it's a good thing these Hansprou clippers are built for that exact purpose. The blade is a titanium alloy with a ceramic moving blade, so it is sharp and strong. If you think your dog's hair is tough, these dog shears beg to differ.
Electric dog clippers
[content-egg module=Amazon template=custom/image product="us-B07VSMS5KC"]
Sometimes the big clippers cannot do an excellent job of trimming in more delicate regions. E.g., paws, around the face and ears. Thankfully, this trimmer comes with a narrow blade that lets you get into the places that require the most precision. It's quiet, too, so your pet won't fear when you're around those challenging spots.
Best rated dog clippers
[content-egg module=Amazon template=custom/image product="us-B089YSQXZ1″]
When it comes to the best pet clippers that everyone has something good to say about, you should look no further than PetKing Premium. This kit comes with all the things you'll need to groom your dog well. You have nail clippers, a nail file, 2 pairs of scissors, a metal comb, and 4 guard attachments in addition to the cordless clippers. These ones will definitely not disappoint with their quality.
Best dog clippers for small dogs
[content-egg module=Amazon template=custom/image product="us-B08CMZXGGG"]
When you've got a smaller dog, big standard clippers for dogs just aren't efficient. You'll end up wasting a lot of time trying to be delicate, and sometimes you'll just wish you went to the grooming salon instead. The answer is here, in these clippers built for smaller dogs. You don't need to use bulky clippers when you can just use these wireless ones that are small and won't frighten your pal.
Best dog clippers for beginners
[content-egg module=Amazon template=custom/image product="us-B0788RHBZY"]
If you're finally just breaking free of the hold of salons, and you want to get started on your own, this grooming kit has everything you'll need in one convenient package. Not only do you get dog clippers with 4 guide combs, but you get stainless steel comb and scissors, a nail cutter, and a nail file. It's rechargeable, too, so you don't need to be held down by wires when learning how to get the perfect cut.
Best dog clippers for double coat
[content-egg module=Amazon template=custom/image product="us-B081YDRZ17″]
A double coat means a dog has shorter hairs that make a wooly coat underneath the longer hairs on top, called guard hairs. Trimming these can be quite the task without the right equipment. These 3-speed clippers are what you're looking for. You have a 33-tooth titanium-ceramic blade that can easily work on the double coat. It's heavy-duty, and can last 3 hours at a go, which is more than enough time. 
Best inexpensive dog grooming clippers
[content-egg module=Amazon template=custom/image product="us-B07JGBC1RP"]
These nail clippers are so inexpensive that you won't even notice that the money is gone. If you're looking for a way to keep your dog's nails clean and trim, then these cheap dog clippers are the way to go. They even come with a nail file to work on the edges!
Best value dog clippers
[content-egg module=Amazon template=custom/image product="us-B01D8KIBYU"]
No matter the animal you have at home, you only need one device to keep them well-trimmed. These clippers can work for cats, dogs, and even horses. You get a whole kit of accessories so that you can give your pet the full salon treatment while only spending a fraction of the cost. These are definitely fantastic value for the price.
Best rechargeable dog clippers
[content-egg module=Amazon template=custom/image product="us-B082RL6D7Z"]
Grooming an animal is a challenging job because it is hard to keep them still sometimes. You don't need a cable adding to the stress. That's why these rechargeable clippers say goodbye to the cable and let you work completely wireless. It comes with a whopping 6 guide combs and other accessories. It can also be washed directly under the tap and charged with a USB cable.
Best quiet dog clippers
[content-egg module=Amazon template=custom/image product="us-B08DY1P2Y2″]
Your pets can get scared when you bring a humming, vibrating, sharp device near their bodies. The best way to keep them calm is to make as little noise as possible, and that's what these quiet dog clippers do. It operates at 50db, so it is quiet, and your pet will definitely not react in fear when it barely knows that it is there!
Frequently Asked Questions about dog clippers
Dog clippers vs. human clippers
Dog clippers tend to focus on low vibration and noise, as these can scare animals. They are quieter than human clippers. They are more frequently cordless, as well, as dogs can chew on the cord while you're working, and that can be extremely dangerous. Human clippers can also get clogged with hair relatively easily.
Can you use human clippers on dogs?
The answer to this is yes and no. You can, but you shouldn't. The blades are not built for fur, and the blades can get quite hot, which can cause minor burns or cause the dog to move. For some coats, the blade can get clogged with fur and stop operating. It is best to get dedicated dog clippers for your pet.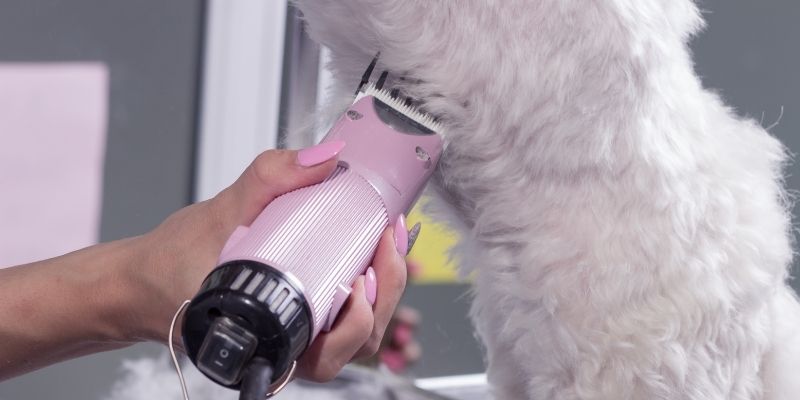 How much do good dog clippers cost?
You can get good dog clippers for nearly any price, to be honest. It really depends on exactly what you need the clippers to do. For the average pet owner, you can get a solid pair of clippers for $20 to $40, and they will do everything you need. However, you may need to spend over $250 to get "the professional" features (which, if to think about it, still comes up to just a few sessions at a fancy dog grooming spot). 
Tips for choosing the right clippers for your pup?
The size of your dog is one crucial factor to note. If your dog is small, you need to look for clippers with a smaller blade, as it is easier to groom with these. You must also consider a double coat, as regular dog clippers may not handle these cleanly or well. Whether your dog's hair is thick or not is an important consideration as well.
Thanks for the blog graphics: Canva.com