It's thought that every one out of seven dogs has fleas, which means it is a rather big problem.
Fleas aren't just a mere annoyance. They are painful, and they can predispose your dog to numerous health conditions. That's why it is best to get rid of them when you can, or even better, prevent them before they even show up.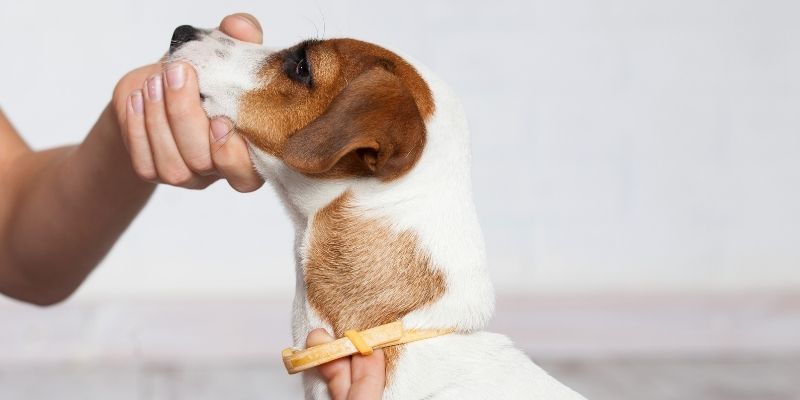 Prevention is relatively easy and can be cheaper than actually treating a flea infestation. By finding the best flea collar that works for your pup, you can get flea protection for months before it needs to be replaced. 
If you're asking, "what is the best flea collar for dogs?" and don't have time to read through this whole guide, I'd say this flea and tick collar from Craveit is a good choice. It'll last up to 8 months before it needs to be replaced, and it's very affordable. The waterproof design means you don't need to worry about it getting wet. There's no reason to leave your dog unprotected when this is an option that seems to be working for many dog parents. 
But if you want to stick around, read on. I spend 11 hours working on my research for this article, so you don't have to. 
Do you have a specific question picking the proper flea collar? Then use the table of contents below to jump to the most relevant section. And you can always go back by clicking on the black arrow in the right bottom corner of the page. Also, please note that some of the links in this article may be affiliate links. For more details, check the Disclosure section at the bottom of the page. 
Best flea and tick collar
[content-egg module=Amazon template=custom/image product="us-B08DCRKB8Z"]
This collar is inexpensive, yet it comes with 8-month protection, waterproof design, and natural plant extracts as its active ingredients. It's also safe for dogs with allergies and will keep ticks and fleas away. It's easy to see why it's our top choice.
Pros
Inexpensive
No strong scents
Waterproof
Long-lasting
Cons
Buckle sometimes does not hold firm
Most popular flea collars: Salvo vs. Seresto
Salvo and Seresto are the two biggest name brands when it comes to flea and tick collars. It's hard to go wrong with either of them, but there are few differences in their products. 
Considering that it's a two-pack, the price for these Salvo flea collars is rather good. Each one will last 6 months, but together, that's a year of protection for your dog. It uses natural oils on your dog's skin to keep pests away, and it can withstand water to stay effective. The specially designed triple clasp means that it'll fit on your dog comfortably and securely. Some users complain that the collar is flimsy, and it may break.
[content-egg module=Amazon template=custom/image product="us-B00B8CG602″]
On the other hand, Seresto collar will last longer, at 8 months per collar. However, it only comes with a single collar, and that's at a significantly higher price. This collar is expensive, and it'll be what stops most people. Nevertheless, the quality is evident in both killing and repelling power, as well as its build. It'll kill fleas and their larvae, ticks, lice, and mange.

Flea collar that works consistently
[content-egg module=Amazon template=custom/image product="us-B07L2ZP6MZ"]
If you need a flea collar that works as good the day you bought it for its whole advertised lifespan, then the Rolf Club 3D is the one. It'll work adequately for 6 months and protect your pup not only from fleas and ticks but flea larvae and mosquitoes. It's waterproof and odor-free, too, and will kill fleas without them having to bite.
Pros
Comes in three sizes
Odorless
Waterproof
Cons
Some dogs may react to the chemicals

Best flea collar for puppies
[content-egg module=Amazon template=custom/image product="us-B079G33BYB"]
Many collars are not made to fit dogs as small as puppies, but this Natural Care one is. It'll repel these pests for about 4 months and uses the natural oils from cedarwood and peppermint to keep parasites away.
Pros
Uses natural oils for action
Suitable for puppies
Very affordable
Cons
Doesn't last as long as competitors
Best dog flea collar that lasts
[content-egg module=Amazon template=custom/image product="us-B08C4MYRN8″]
While this comes at a price a bit higher than others, it's because it comes with a pair of collars, perfect for if you have more than one dog. It will last a whole 8 months, which is excellent, and this long-lasting flea collar will fit larger sizes of dogs. And protect from fleas, ticks, mosquitoes, lice, and their larvae too!
Pros
Lasts very long
Contains natural essential oils
Cons
Not the best choice for smaller dogs
Best flea collar for large dogs
[content-egg module=Amazon template=custom/image product="us-B07VPKC7YJ"]
It can be tough to find collars for bigger dogs, but they deserve as much protection from these pests as any other pups. It's a good thing that this SOBAKEN collar measures 25 inches and will fit the necks of even the biggest pets. It lasts a whole 8 months and works perfectly even after getting wet. It'll protect your dog from all sorts of pets, including their larvae.
Pros
Can fit almost any size of dog
Works for a very long time
Waterproof
Cons
The collar may not stay on well
Has a strong smell
Safest flea collar for dogs
[content-egg module=Amazon template=custom/image product="us-B00OKZMB8A"]
If you're on the lookout for a collar that your pet won't have any reactions to, this is one of the safest ones available. Using only natural ingredients like cinnamon, citronella, and geraniol, you still get great protection for your dog, lasting 4 months.
Pros
Natural ingredients make this safe for your dogs
Waterproof
Cons
Competitors last longer than this
Fitting the collar can be somewhat difficult
Best natural flea collar for dogs
[content-egg module=Amazon template=custom/image product="us-B00MP07C54″]
While chemicals can be useful for keeping pests away, some people want to know that they aren't exposing their pals to anything that could cause harm. Completely natural collars are the way to go in these cases. This one uses the oils from pennyroyal, eucalyptus, citronella, rue, and cedarwood for its protection. It'll protect your pal for three months.
Pros
Completely natural active ingredients
Very affordable
Has an option for smaller dogs like puppies
Cons
Can't fit larger dogs
3-month lifespan is very short
Not waterproof
Best flea collar for dogs with allergies
[content-egg module=Amazon template=custom/image product="us-B07V6TBXNJ"]
If your dog has allergies, or you've had it react to a flea collar before, you'll have to be careful when purchasing one. A flea collar like this one will keep your furry friend protected from those annoying pests and without aggravating allergies, thanks to natural ingredients. It's waterproof, and it'll last a whole 8 months. It also measures 26 inches, so it can fit the very largest of dogs.
Pros
Can fit larger dogs than most collars
Lasts for a long time
Natural ingredients make it hypoallergenic
Cons
The smell might be a bit strong for some people
Thanks for the blog graphics: Canva.com