No matter how hard you try, there's almost a 100% guarantee that you'll have to treat your pup for fleas. These pesky parasites can attack your pet all year round but are especially common in the summertime – the optimal environment for fleas to thrive.
And while there are plenty of ways to fix the problem, some tools might be too harsh for your pet's well-being. That's when it makes sense to look for that best flea shampoo for dogs since there are so many natural and organic formulas that will do a great job without hurting your pup.
Do you have a specific question about dog flea shampoos? Then use the table of contents below to jump to the most relevant section. And you can always go back by clicking on the black arrow in the right bottom corner of the page. Also, please note that some of the links in this article may be affiliate links. For more details, check the Disclosure section at the bottom of the page. 
Compare best flea shampoos for dogs 
[content-egg-block template=offers_list]

Best flea shampoo for dogs: out top choice
[content-egg module=Amazon template=custom/image product="us-B01L9HE4KE"]
Natural dog shampoo with colloidal oatmeal By Honeydew. Check more reviews here.
Great formula designed to be hypoallergenic and soothing for your dog's flaky, dry skin using natural ingredients such as jojoba. The company uses high-quality ingredients for an extra-strength cleanse and odor removal.
And your pup won't shed even one tear when you are washing pet's fur with this product. It also includes Lavender essential oil, one of the most potent natural anti-flea ingredients.
And if you prefer a quality product with no strong chemicals and pesticides included – Honeydew is perfect. It works better in combination with other anti-flea products, like collars, once the infestation is strong.
But if your pup is cleared up, this product most likely to be enough to safely deter fleas when your pet plays outside. 

Best over the counter flea shampoo for dogs
[content-egg module=Amazon template=custom/image product="us-B01EUMTKLS"]
Natural flea and tick shampoo by TropiClean. Check more reviews here. 
This shampoo will not disappoint you! It smells like citrus and kills fleas. Just leave it in for a few minutes, and if there are some, they are dead after.
The formula contains no pyrethrins or permethrin – which is great. And it's efficiency comes from 5 EPA-approved natural essential oils – clove oil, lemongrass oil, cedarwood oil, cinnamon oil, and sesame seed oil – for a pleasant citrus aroma.
 Even though the formula is natural, it can leave the coat a bit dried out. So you might use a conditioner for your pup after. But it varies from dog to dog, so you may have to test and see for yourself.
The bottle is really big and will probably be good to use many and many times. Depending on the breed of your dog and his or her tendencies to get all muddy. 

Flea shampoo for dogs with sensitive skin
[content-egg module=Amazon template=custom/image product="us-B018FGSTT4″]
Oatmeal shampoo plus conditioner by Pro Pet Works. Check more reviews here. 

This shampoo (+conditioner) is formulated with dogs allergic to food, grass, and flea bites in mind. It balances a dog's sensitive skin pH. It is made with natural ingredients with no harsh chemicals, alcohol, sulfates, or any of that.
It's enriched with aloe, almond oil, and vitamins A, D & E that won't irritate your dog's eyes and keep the fur and skin healthy. 
If using this product, make sure to use a generous amount and maybe even bathe your pup several times. Or you might also try combining this shampoo with flea medication combing.
Thus you'll increase your chances of getting rid of those pesky insects and help your dog with any scratches, allergies, and the rash for fleas he or she might have. Pro
Pet Works leaves no dandruff, smells great, and keeps pup's fur super soft too. The company also has super-friendly customer service in case you have any problems with their products.

Organic flea shampoo for dogs
[content-egg module=Amazon template=custom/image product="us-B011ESJXRW"]
Certified organic aloe and lemongrass flea shampoo by 4Legger. Check more reviews here. 

Great hypoallergenic shampoo highly praised by holistic vets and pup parents who are opt-in to all-natural, organic ingredients.  

It contains zero toxic chemicals or artificial thickeners. And the company claims that it is even safe to use for newborn pups. The core ingredients are a blend of oils (coconut, olive, and jojoba), rosemary, lemongrass, and organic aloe vera. 
It smells good, it stops any itching and scratching and has no dangerous cancerous ingredients. Also, you don't need a magnifying glass to look at our ingredients. In essence, those are all organic and proudly display on the bottle. It's even marked as human-grade, so you can use it on yourself too. 

And since rosemary and lemongrass help with fleas, the shampoo is working (without doing any harm). Just massage the shampoo on your dog and observe the insects sitting on top of your pet dying.
A word of caution, though – since the product is all-natural with the focus on overall pup's health, it's not a flea-killing machine. So you might want to combine the remedy with wearing a flea collar and thorough combing too. 

Flea shampoo for puppies
[content-egg module=Amazon template=custom/image product="us-B06WV6TZQW"]
Flea and tick shampoo for dogs and puppies by Arava. Check more reviews here. 

The very effective natural formula includes the whole range of plants known for its anti-flea properties: lemongrass, peppermint, cinnamon, thyme, clove, castor, eastern red cedar, geranium, citronella, rosemary, and more. 

This stuff smells fantastic. And your puppy will appreciate the fact that it's a plant-based formula, so it's ok to use it as it leaves no adverse effects like scratching or irritations. One bottle is enough to use for months. Yes, it might seem like a pricey product. But please take into consideration that this shampoo was developed to last. 

Best flea and tick shampoo for dogs
[content-egg module=Amazon template=custom/image product="us-B0020LPJEE"]
Flea and tick oatmeal shampoo by Zodiac. Check more reviews here. 

This formula is for pet parents that are too impatient to get results with natural remedies. The active ingredients of Zodiac's treatment are (S)-Methoprene, Pyrethrins, and Piperonyl Butoxide. 
Those all are way more powerful in killing fleas, ticks, and lice. 
Methoprene is an insect growth regulator that will keep fleas at bay. As it makes any larvae unable to turn into adult fleas, thus breaking the flea life cycle. It's capable of killing flea eggs for up to 28 days. While there are some studies about this ingredient and none of them indicates that it's deadly for your pet.
However, small traces of methoprene can be stored in the body, in the blood, kidney, liver, etc. And we are yet to figure out what it means long term. 
The product also contains aloe, lanolin, oatmeal, and coconut extract for a healthy coat. And while it does an excellent job of quickly killing off any annoying insects, you might still want to consider more natural remedies. There's a lot to contemplate on. 


Dog flea shampoo FAQ
Do flea shampoos work?
Flea shampoos definitely work. And depending on the formula, you might expect the different grades of efficiency. But let's talk about other options too. 

Once you've found that your dog has fleas, there are a few options to help you get rid of them. For instance, tablets and spot-on treatments, that are known to be the most powerful since they will contain chemicals that will help to disrupt the flea life cycle. 

While those types of treatment are effective, they may have too many side effects and sometimes even affect your pet's overall health long-term.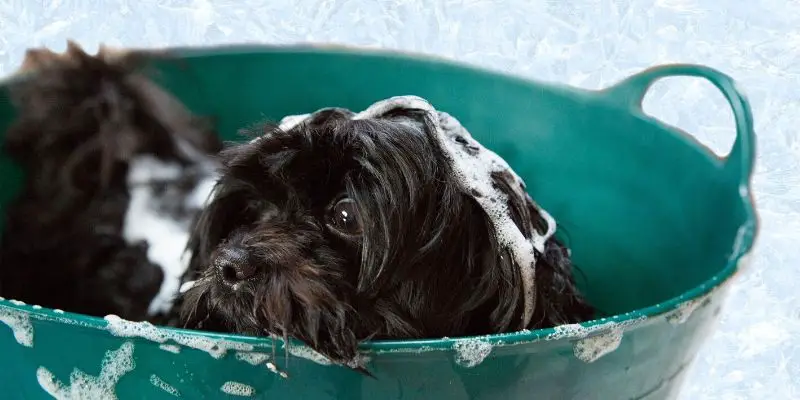 Shampoos are mild alternatives to flea medication, and those can be just as effective as the more chemically enhanced treatments. 

 Many of these shampoos contain natural ingredients, capable of destroying fleas without side effects like other, more potent chemical options.  
What are the most effective ingredients of dogs' flea shampoos?
According to my research, a good flea shampoo will contain powerful natural ingredients combo or even something more strong – like pyrethrins – as an active ingredient. 
While Pyrethrins are not necessarily mild, those are one of the safest of all "more chemical" anti-flea ingredients. Those come from the chrysanthemum flower. This powerful insecticide leads to dysfunction in the flea's nervous system and not as toxic as synthetic pyrethroids.
Some studies proved the correlation between pyrethrins and increased illnesses in cats. However, pyrethrin based shampoos were marked as completely safe for dogs.

As for more natural ingredients: peppermint, cedar, lavender, and, neem, rose geranium, lemongrass oils will work well. But those have to be diluted in water or a carrier oil like olive or sweet almond oil before application.

And which ingredients to avoid? 
Some ingredients of flea shampoos are associated with health hazards in dogs. Here's some of them you want to avoid:

Dimethyl phthalate
Anise oil
Boric acid
Sodium cresylate
Benzethonium chloride
Naphthalene
Depentene
Benzene hexachloride
Menthols
Chloranil
Sodium arsenite
Xylene
So make sure you are aware of what you are buying and read the labels carefully or better yet opt-in for more natural and organic formulas.  
Can humans use flea shampoo for dogs?
It actually might be safe. Especially if you are going for a gentle, organic formula, like this human-grade recipe by 4Legger.  
Human skin is more acidic than the dog's skin. But you won't mess up your scalp's pH by using a dog shampoo a few times.

Will dog flea shampoo kill lice and tick too?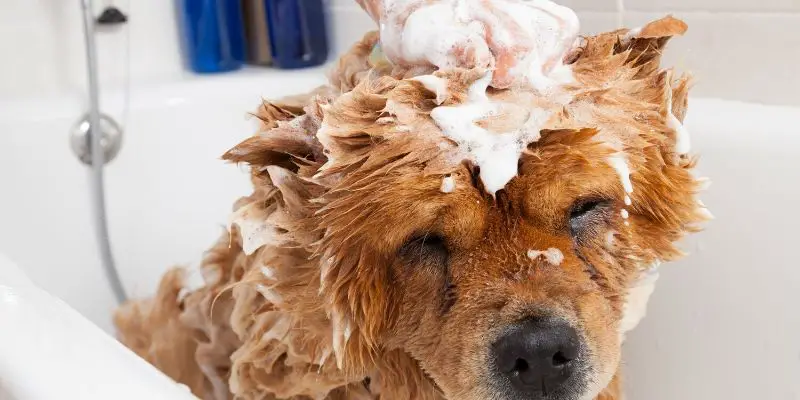 Pyrethrins are a natural and safe form of pest control for dogs. Those are capable of killing flea, lice, and tick eggs for up to 28 days. So formulas containing it are quite powerful. 

But even though pyrethrin is natural, it still can be harmful if overused or ingested. Avoid getting them in your nose, eyes, nose, or throat. And if you are noticing any troubling symptoms after using these products, please see a doctor immediately.   
Are flea shampoos safe for dogs?
A lot of shampoos have dangerous pesticides and strong chemicals, and using it too much, leaving foam for too long, or not rinsing thoroughly, may lead to real health risks for your pet. Read all the directions and learn side effects to make sure the shampoo doesn't hurt your pet.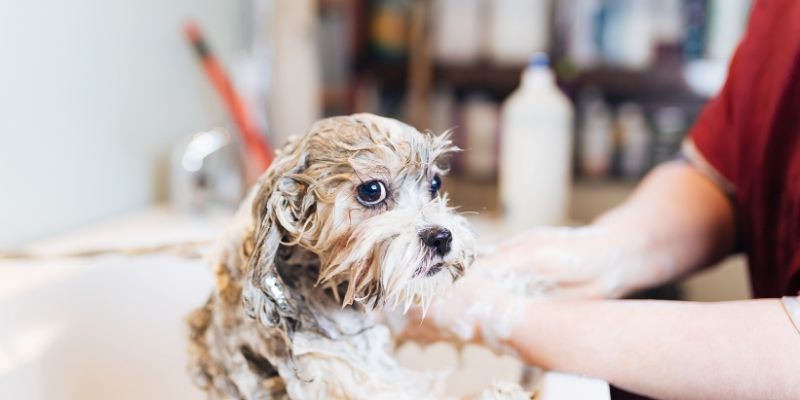 That's why you've probably noticed that groomers always need to wear gloves for safety. 
But if you're going to go for a more natural solution with powerful plant-based ingredients like lavender and lemongrass, your pup will definitely be safe.
How to make dog shampoo for fleas at home?
Check more reviews for Dawn. 
Fleas can float in water. But if you can create a surface tension that will eliminate fleas' floating superpowers, you'll make them sink. It's easy to achieve with the soap, like Dawn. 
To make this remedy, just mix 1/2 cup of water, 1/4 cup of Dawn dish liquid, and 1/4 cup of distilled white vinegar. Apply this homemade shampoo to a wet dog's hair generously, let it sit for 3-4 minutes, and rinse it thoroughly. 
After this procedure, your pup won't have fleas anymore. But it's important to notice that although Dawn kills adult fleas, it doesn't repel them or prevent infestations. (Unlike traditional anti-flea shampoos with flea repellent ingredients). 
Also, most veterinarians are not big fans of Dawn's fleas shampoo, as it might cause many skin-related issues.

Choosing the best dog anti-flea shampoo. Conclusion 
Flea shampoo is effective in killing most of the fleas on your dog. And while those might be very efficient, you can't compromise your dog's long-term health by saving a little bit of time while fighting those fleas.
Opt-in for more natural ingredients and be on the lookout of the dangerous ones. And remember that manufacturer can sometimes change the formula, so even if you bought the shampoo before, always double-check the labels.

Thanks for the blog graphics: Canva.com