There is no shortage of various dog products on the market, including houses and crates. 
However, you might agree, when it comes to custom issues and particular situations, you often can't find a perfect fit for YOUR pet. 
And that's the case of giant breed owners. You came across hundreds of dog houses, and there are only 5 that your pup might get into. But the reviews are not great. 
Can you relate? 
I spent several hours trying to figure out the best large dog house options that might work for different scenarios. So that you won't have to. 
Do you have a specific question about the best dog house for a large dog? Then use the table of contents below to jump to the most relevant section. And you can always go back by clicking on the black arrow in the right bottom corner of the page. Also, please note that some of the links in this article may be affiliate links. For more details, check the Disclosure section at the bottom of the page. 
How large should a dog house be in the first place?
You want your dog house to have ample room for your dog to stretch out and relax. The rule of thumb seems to be that your dog house should be 25% larger both in length and width than your dog when you have measured him from the tip of the nose to the base of the tail. Keep those numbers in mind when choosing a proper house for your big furry boy or girl. 

Cheap Dog House for Large Dogs
[content-egg module=Amazon template=custom/image product="us-B07LB4TNFH"]
It can be a complicated task to find an affordable large dog house of decent quality. And Amazon's own brand does a good job here. You get an airy dog house that is quite roomy.
The larger one measures 43″ X 35″ X 30″ and is made from oxford fabric and mesh cloth for better breathability. This is A frame-shaped dog house with an elevated sleeping platform, sleep opening, and flapped mesh top for air. Pretty basic, but get the job done and very well worth the money. 


Waterproof dog house for Large Dogs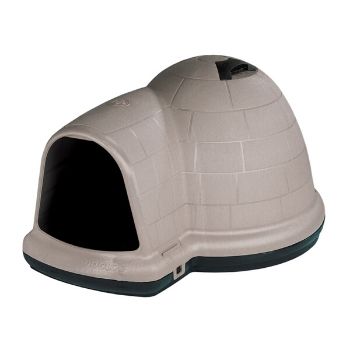 Keeping a large dog that spends a good deal of time outdoors dry when the weather is wet can be a huge task. To keep your dog when the weather outside is damp, you need a dog house that is made from the right type of material and in the right shape.
This one by Petmate has the right build for the perfect waterproof dog house. It's shaped like igloo so that water and snow slide right off the side. The doorway is offset, helping to prevent rain and wind from reaching inside the dog house. In contrast, the raised floor and side moats keep any water that does enter draining away from the area where the dog lies.
This dog house measures 51″ X 39.3″ X30″ and has the added features of an air vent and a simple snap-together assembly.


Best Large dog house: My Top Choice
[content-egg module=Amazon template=custom/image product="us-B08528RV1F"]
Large dogs need to spend time outdoors to get some exercise and enjoy a bit of fresh air. That's why it can be handy to have that special place where your pup can hang out and feel cozy while being out.
However, finding a spacious enough permanent dog house that can remain outdoors through all the seasons while still looking good and won't break a bank isn't easy. But this option seems like a good deal. 
This dog house is easy to assemble since you just fold it out, and the house is made from stain-resistant wood and has real asphalt shingles and an elevated base. The legs will lift the house off the ground keeping the inside drier.
And those are adjustable, making it easy to even it out. It has a lovely large doorway and a hinged roof for easy cleaning of the inside of the house.

You might also like:

Big Wooden dog house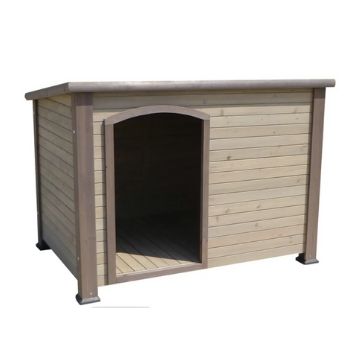 If you are into natural materials like wood, that's a good call. This log cabin is specifically designed for those larger breed dogs of 100 pounds or more. It measures 45.5″ X 33″ X 32.8."
It's made from solid wood construction and assembles in just 3 simple steps. The product has a slant roof to keep your dog drier, an arch doorway, and adjustable feet to keep the dog house leveled.


Insulated Dog Houses for Extra Large Dogs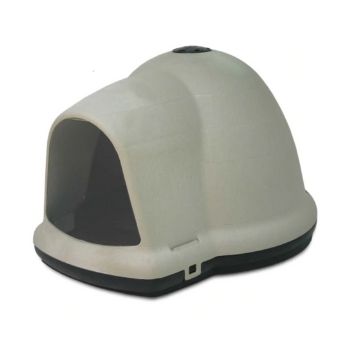 If you and your pup are living in a place where winters are cold, you might want that dog house not only to be large and sturdy enough but also extra warm. So simple wood or plastic won't do. The insulated Aspen Pet Dogloo II dog house has an additional layer of insulation, which will keep your dog from the worst of the cold winter wind and snow. And (surprise-surprise!) insulation will also help keep your dog cooler during warmer weather.
This house is designed in a way that allows rain and snow to sled easily from the roof. The raised floor and side moats help drain water from where your dog lies, and the all-plastic construction makes this dog's house quite durable. The largest version of this dog house measures 47″ X 39″ X 29.75."


Large Luxury Dog House
If you are one of those who have spent a lot of time and money making your home and yards as beautiful as possible, then you aren't going to want an eyesore of a dog house. This option is a large luxury dog house that will look perfect on the most elegant property. Adding to your home and yard class rather than being detracted from it.
It looks like a real house complete with a large porch and front window. It is made of solid painted wood and has an asphalt roof. 


Plastic dog houses for Large Dogs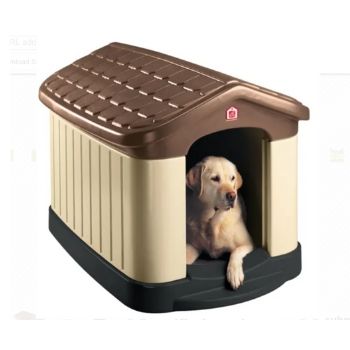 If you are looking for a relatively inexpensive durable dog house for a larger dog than plastic option might fit the bill. This Tuff-N-Rugged dog house is designed to accommodate dogs up to 125 pounds, and it features double-wall construction. The roof of this dog house lifts off for easy cleaning. Although this dog house is said to be suitable for all-weather, it is not insulated. The house measures 43″ X 31″ X 31."

Thanks for the blog graphics: Canva.com