It's always tricky to find the perfect gift for the dog aficionado in your life. It should be something *actually* useful. It should make the pup jump with joy. For any dog lover who treats their four-legged friend like their own child – a gift for their dog trumps their birthday present! 

In this article, we break down a list of dream gifts for dog lovers, whether you are looking for something special for yourself or your friends and family members. 
Want to scan all gifts ideas quickly? Then use the table of contents below to jump to the most relevant section. And you can always go back by clicking on the black arrow in the right bottom corner of the page. Also, please note that some of the links in this article may be affiliate links. For more details, check the Disclosure section at the bottom of the page. 
Dog GPS tracker with no extra fees
[content-egg module=Amazon template=custom/image product="us-B07WSZJCHY"]
A pet will always find countless ways to get lost. And it happens when one least expects it! New dog parents who aren't fully aware of this issue can benefit massively from a GPS tracker.
A GPS tracker like Petfon will notify you within minutes of your dog escaping. What's more – Petfon offers real-time tracking and charges no monthly fee (which is a common downside of most other options). With a GPS tracker, they have the chance to take action immediately and avoid any tragic situation with their pup. 

Dog parent journal
Simple and simply brilliant gift idea for a dedicated pet parent. This colorful journal will help to track all the precious memories related to a furry family member. Very unique and affordable present.

Dog's mom t-shirt
Well this t-shirt says it all. Pretty straightforward gift for any dog's mom. I found this simple design on Zazzle – but they have pretty much anything you might want (from mugs and totes to leggins and aprons) with this or any other design in the similar vein.

T-shirt for dog's dad
Dog's dad might use a new t-shirt too! Although this particular design might work for dog's mom too in case she is a fan of Al Pacino's work. All and all, great cotton t-shirt featuring quirky design. I discovered this one on Redbubble and they too have TONS of options for t-shirts or anything else dog's dad wants. With tons of funny and relevant prints too.

Custom dog toy 
Dog parents are obsessed with their pups. How could you let them obsess alone?! Help take their infatuation to the next level with a gift from Petsies. These are fun, creatively customized twins of your favorite pup. You can get everything from stuffed toys to pet pillows accessories and other super-cute pet gifts.
What's more: all the stuff is high quality and durable while also being reasonably priced. So, get an affectionate pup parent something that makes him jump with joy. Just make sure that you have the cutest photo or video of a pup to make the magic happen.


Dog garden sculptures
These zen sculptures are a big hit. These are handcrafted with the sealed cement and add some serious doggy charm to the owners' yard. The piece is low-maintenance and real-dog proof. An amazing doggy garden statement that will make the receiver smile at all times.

Customizable dog nose necklace
It might not be the cheapest gift option. But absolutely worth every penny since it will be a true dog lover's favorite accessory for years to come. Here's how it works: the company will send you the kit with the silicon mold to take a print of a pup's nose. Then you mail it back, and in a few weeks, the team will create a handcrafted necklace with YOUR pet's nose. It makes a remarkable gift. 

Oh, dog habits funny tumblers
These are SO adorable! Let's face it, our dogs do have some tricks up their sleeves. And with this tumblers anyone will be able to learn the most underrated pieces of dog's wisdom. Anything functional that makes people laugh is a win. And that's exactly what those glasses are all about.

Dog bottle opener
Even though it's probably the cheapest item on this list it doesn't make it less awesome. This wooden doggy not only has a steel insights to handle any bottle. It also comes with the magnetic mouth so any cap will be fetched. Great conversation started. Solid and sturdy.

Best fresh dog food subscription 
Here's the thing: despite all those wholesome dog advertisements we've seen on TV, commercially produced dog food can be unhealthy and even dangerous for dogs. Pet food companies are mostly interested in maximizing their profits and often use ingredients that are subpar and low quality.
This is why a gift of dog food subscription, like Nom Nom supposed to make any dog parent to the roof. This is a balanced (works well for all life stages), complete home-cooked diet for the dog. It's also nutrient-rich and super easy to digest for the pup. All the recipes are created by vet nutritionists, and each meal cooked fresh by a professional chef. 
And they even have super affordable starters options. For instance, you can try their variety pack just for $15 (at the moment of writing). Such a set includes four recipes of 150 grams each. Each serving is enough to feed small to medium-sized pups. For larger breeds, you will have to top it up with a regular kibble. And the package also includes free samples of their famous jerky treats (regular price is $13 per small 2oz bag).
All in all, it's an excellent gift for any health-conscious pet-parent. 


Embark dog DNA test
Why are dog DNA tests important? Because they can identify breeds as well as specific health issues that may be important to the happiness and well-being of a dog. Embark to the rescue! All that's needed is one simple cheek swab!
You can ask the dog owners to hand the results of the test to a veterinarian, and then use them to come up with nutrition, training, or long-term healthcare plan. Embark is the only company out there that uses a DNA genotyping platform. It has been developed at the Cornell University College of Veterinary Medicine after years of research by industry-leading scientists. That little swab is in safe hands here, y'all.

The most beautiful memory foam dog bed
Surprise the dog lover in your life with an awesome gift. Make their dog feel like he's sleeping on the clouds (while also being and interior's focal point)..….get a PupRug Bed! If you've ever slept on memory foam yourself, you already know how *incredibly* comfy it is. The pup won't feel any different!
There's a bunch of reasons to consider getting a memory foam bed for a dog. It helps relieve pressure from achy joints or muscles and gives him a comfortable, supportive place to sleep on. For older dogs who are more susceptible to arthritis, this can be especially helpful. In fact, all dogs can benefit from this bed-cum-heaven, especially if they're snoozing up to 12-24 hours a day.
Better sleep = happier, healthier dog! And the rug looks so cool too, with multiple options available.


The piece of dog art
We all have that one person in our lives who can't get enough of their dog. Give them some dog art to gaze over! There's a kicker though. A pet parent has to create this art first!
 My Paint By Numbers is making very affordable cute yet tasteful dog art sets that make for an exquisite gift. Those come with all the necessary tools and guidelines to create a unique and extraordinary piece of art.
Help your creative pet lovers express their undying love for their pup with these sets. Expect to see anything from a super-abstract art piece to an awww-inspiring portrait of a smiling dog. Whatever suits you or your pet parent friends more! 
You might also like:

Custom dog bed
Every dog deserves a good night's sleep after a whole day of running after their parents. Luckily, Majestic Pet is making fully customizable bagel beds that help with just that! These beds are the perfect combo of functionality, style, and comfort. And those are 100% customizable – from size and color to personalized embroidery. 
They're also made with a spine-support bolster and express your personal style. No more dog beds that clash with the home furniture! What's more, the beds are machine washable, so any spills, stains, dirt can be taken care of with ease. The beds are also made with a waterproof denier base for any unwanted accidents. It's a 10/10 in all departments!


Waterproof rechargeable dog collar
[content-egg module=Amazon template=custom/image product="us-B075FV9Z6B"]
A dog collar can save a dog's life. Literally! According to the National Council on Pet Population Study and Policy (NCPPSP), less than 20% of lost dogs are ever returned to their parents. For any responsible pet guardian, placing identification on their dog is a necessary task.
Yet, so many dogs will get lost in the absence of a collar and identification tag to safely bring them back home.
Thankfully, this collar from Dog Care is making waterproof, rechargeable dog collars with a training collar integrated technology. The collars are made with very low voltage, so the gentle static will never hurt your pet. Gift your dog-parent friends one ASAP! 


The most customizable dog subscription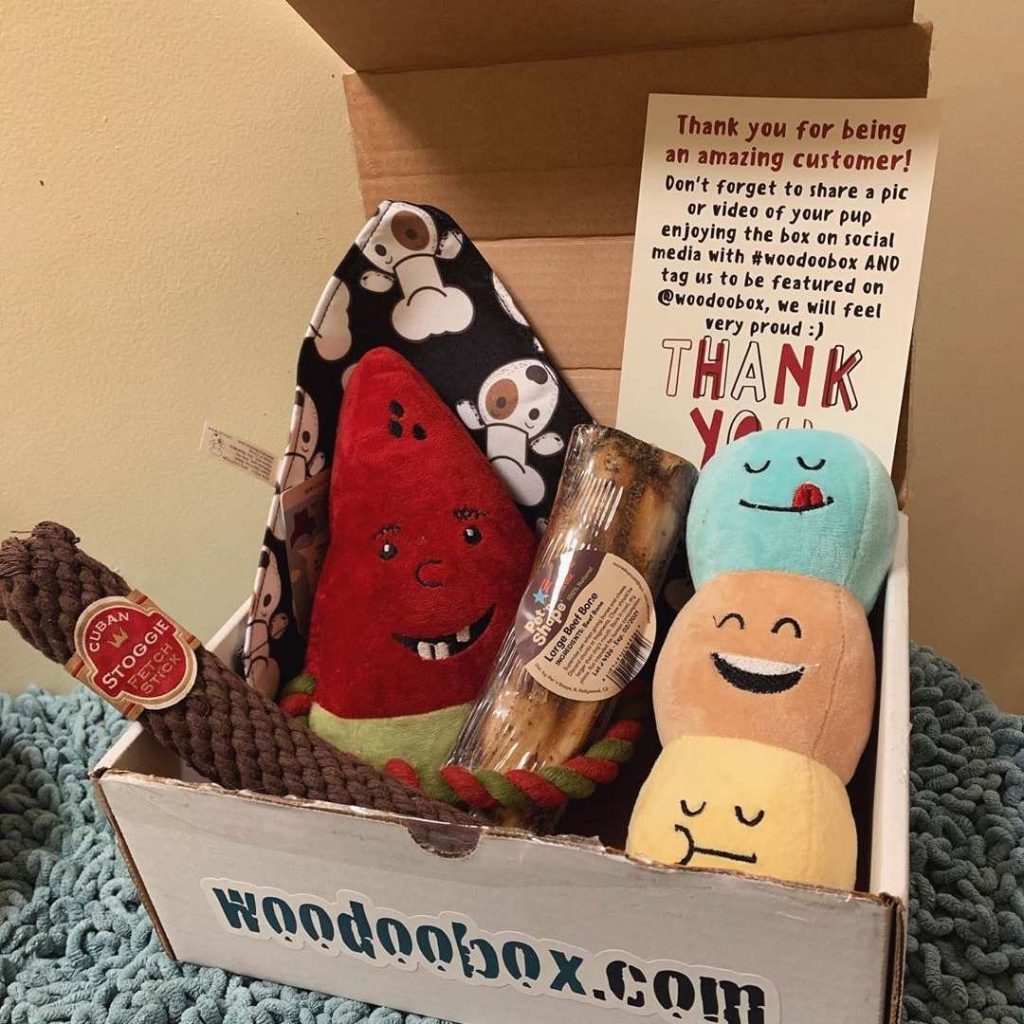 Dog subscription boxes are all the rage today. They're super convenient, they're updated with the latest dog products, and they're (usually) delivered automatically to one's doorstep.
When you start searching for the perfect Dog Subscription Box for the dog lover in your life – you'll be overwhelmed with a plethora of options. But these guys were absolute winners in out research of all dog subscription boxes options. 

Woodoo Box is making fully customizable (like REALLY customizable, all possible allergens and personality traits included) dog boxes. Those will cater to your pup's preferences, for as little as $2 per month.
Although, in that case, you'll have to pay delivery fees on top, but it's still the cheapest dog subscription possible. What's more: if the pup doesn't like any items in the box, they promise to replace the items for free within 15 days. How cool is that?!
Thanks for the blog graphics: Canva.com