Cranberries are antioxidant-rich fruits that may help to boost the immune system and reduce inflammation. They are high in vitamin C, fiber, and potassium, and low in calories, so they can be a healthy snack not only for humans but also for dogs. But let's try to source more facts to come to the final conclusions.
Dogs and cranberries. Input from the scientists
These red sour berries are exploding with nutrients and vitamins. The healthy fiber contained in cranberries helps reduce the risk of developing heart disease, stroke, diabetes, and a lot of gastrointestinal disorders.

One study investigating the effect of Cranberry Extract on the frequency of Bacteriuria in Dog even tracked a connection between ingredient's capability to lower the risk of E. coli bacteria in canines. 

Are cranberries toxic to dogs?
Although cranberries aren't poisonous, you still want to make sure your dog consumes it in smaller quantities. If your pup eats too many cranberries, he or she will most likely end up with the upset stomach. 

Can dogs eat cranberries for UTI? 
According to this research, there is not so much proof to support the hypothesis that cranberry may prevent recurrent urinary tract illnesses (UTI) in veterinary medicine. 

However, I dug a bit deeper and found this research investigating the impact of cranberry on cats with kidney disease. Scientists have found that adding cranberries to the diet of cats with chronic kidney disease improves essential health indicators.
For instance, urinary protein concentration and urine color score.  
Another earlier study that explored the same subject  found that Cranberry juice improves antioxidant levels in rats suffering from some severe (but hardly pronounceable) disease.  

Key takeaway: the issue of dogs, cranberries, and UTI may not be carefully studied, but there is unquestionable proof that cranberries are beneficial for rats, humans, and cats. 

And yes, those cats were suffering from chronic kidney disease, which is actually a complication from a Kidney infection (pyelonephritis) which is a type of UTI… 

So if cranberries work to enhance conditions that are much worse than UTI, why not give it a shot. All in all, it's healthier than tablets and antibiotics, and if the serving size is right, it definitely won't hurt your pup.

Can dogs eat cranberries sauce?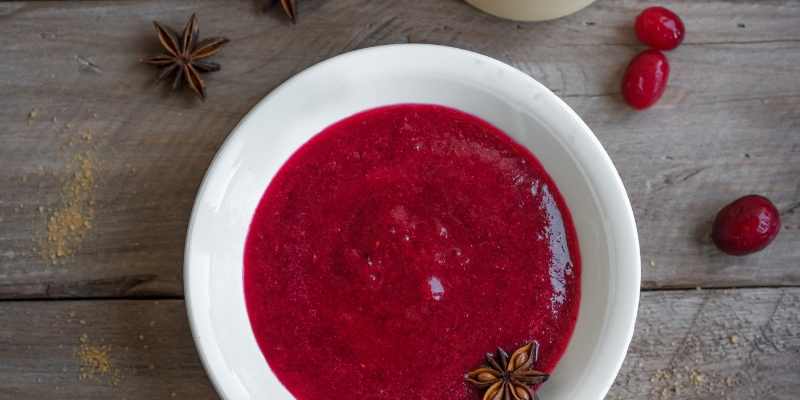 Cranberry sauce is high in sugar. And some of the recipes even include some other dubious ingredients, like grapes, raisins, or currants. All of those are poisonous to dogs and can cause gastrointestinal distress in no time. 
With that being said it's better to prevent sharing cranberry sauce with your four-legged buddy.

Are cranberries good for dogs? 
In small quantities, these berries can be potentially very healthy for canines. Among the possible benefits of cranberries for dogs: 
These berries provide your dog with quality dietary fiber, which can assist in improving pup's bowel movements. 
These have phytochemicals that can slow down pet's aging processes. 
Cranberries might help improve a dog's vision.
And can possibly enhance the good cholesterol (HDL) levels in your pet and lower the bad cholesterol (LDL) levels.
Cranberries are known to help resist plaque formation on your dog's teeth, thus preventing any dental decay. And that's just to name a few.
You might also like:

Are cranberries bad for dogs?
Cranberries can cause some severe belly upset in your dog if consumed in significant amounts. Additionally, these berries are incredibly acidic. And if your dog overeats of highly acidic food, it can change their urine contents and possibly lead to kidney stones! 
Ask your vet for advice, and stick with the recommendation. Be especially cautious if you have a toy breed. 

Can dogs eat dried cranberries (craisins)?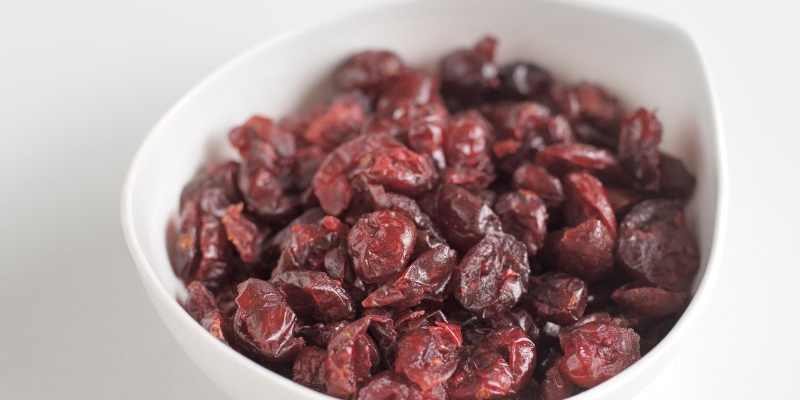 If you give your dog dried cranberries, it's better to skip the most sugary products in favor of pure or slightly sweetened varieties. Sometimes commercial brands may even add a sugar substitute in their craisins, including super dog-toxic xylitol. Just read the labels carefully.  A few low-sugar dried cranberries are perfectly fine for your dog to eat, but it won't be the best-recommended snack. 

How many mg of cranberry to give dog? 
Just a few. If you're about to share fresh cranberries with your pup, top pet's kibble with a couple of berries.  Feeding dogs with large amounts of cranberries can cause an upset stomach. So, again, it would probably be the best idea to talk to your vet first and discuss how many cranberries your dog should be given.

Dog food with cranberries 
We now know that cranberries are a great source of antioxidants that help the organism of your pup to fight inflammation and potentially improve the cardiovascular system and immune system. So it's not shocking that there is an increasing number of carefully developed dog foods, vitamins, and treat formulas with cranberries.
 I've picked up the best options you might want to check out if you think your pup might benefit from this powerful ingredient. Some products on the list are truly miraculous, according to my research.
Lamb, Sweet Potato and Cranberry Recipe 
Facts and numbers: protein – 30%, fat – 18%, fiber – 4%, calories – 455 kcal/cup
Main ingredients: Lamb, Ocean Fish Meal, Pea Protein, Sweet Potatoes, Chickpeas, Chicken Fat, Cranberries, Flaxseed, Dried Egg, Salmon Oil, Carrots, Pumpkin, Parsley, Apples, Blueberries, Lettuce, Celery, Beets, Watercress, Spinach, Dried Chicory Root, Broccoli, Spearmint, Almond Oil, etc. 
Ideal for sensitive stomachs: it contains easy-to-digest grass-fed lamb, fiber-rich sweet potatoes and rich in antioxidants cranberries to support healthy digestion. Patented probiotics that remain alive and viable until consumed are also added to the mix. 
The product is made in San Diego in the United States. And the company actually gives facility tours to anyone curious enough. You can watch how an actual product is created and make sure that the factory is immaculate. Wrapping it up: dry dog food of good quality with cranberries.
Read more reviews and check the current price

HERE
.

Turkey stew with cranberries and sweet potato
Facts and numbers: protein – 9.5%, fat – 5%, fiber – 1%, calories –  348kcal/per 13oz can
Main ingredients: Turkey, Turkey Broth, Vegetable Broth, Turkey Liver, Peas, Agar-Agar, Beef Pizzle, Sweet Potatoes, Dandelion Greens, Parsley, Cranberries + minerals and nutrients.
This all-natural, grain-free RedBarn recipe has a lot of turkey sauce and little cubes of meat. It's not a stiff pate or a runny stew, it's a dense stew, so you feel it's a value. The list of ingredients is quite impressive, and the brand is consistent with the quality.
Added superfoods, such as cranberries and tons of vitamins, support the overall health of your pup. And considering the value, the price is quite affordable.
Read more reviews and check the current price

HERE
.

Immune health dog food topper with cranberries
Facts and numbers: protein – 36%, fat – 30%, fiber – 15%, calories –  288kcal/cup
Main ingredients:  Chicken (including Ground Chicken Bone), Chicken Liver, Pumpkin seeds, Chicken Heart, Beets, Ground Flaxseed, Dried Kelp, Salmon Oil, Blueberries, Cranberries, Mixed Tocopherols (for freshness), Rosemary Extract.
OK, technically it's not a cranberry dog food. It's a dog food immune system boosting topper with cranberries. It provides natural nutrients such as selenium and vitamins A and E to help maintain your pup strong and healthy. 
Made of ingredients that are minimally processed from real meat and whole food. Just top dry pup's kibble with this and see the magic happens as it works wonders, especially with picky eaters.

Read more reviews and check the current price
HERE
.

Best cranberry dog treats
Baked Dog  Pumpkin & Cranberry Treats 
Facts and numbers: protein – 7%, fat – 6%, fiber – 8%, calories –  8 kcal per treat 
Main ingredients: Pumpkin, Ground Oats, Barley, Potatoes, Sunflower Oil, Molasses, Cinnamon, Cranberry Pomace, etc.
Read more reviews and check the current price

HERE
.

Dog treats with turkey liver and cranberries
Facts and numbers: protein – 18%, fat – 3%, fiber – 5%, calories –  2.9 kcal per treat
Main ingredients:  Wheat Flour, Turkey Liver, Cranberries, Salt (2 Tablespoons Per 100 Pounds), Garlic Powder.
I was shocked when I found out that the treats contain garlic powder. Any responsible dog parent knows that garlic is one of the most toxic ingredients for canines. 
However, surprisingly, even concerned dog owners agreed in one thing after some passionate discussion.  Yes, this ingredient is weird, but their pets seemed to enjoy the treat and never had any issues with it. 
Overall, those are super low-cal treats, and most of the time it's a big hit among all kinds of pups. They are small enough that you can give many without exceeding the healthy calorie intake and also cheaper than some of the competitors. It also doesn't leave your hands stinky, sticky, or greasy. To me, it seems cranberry-perfect.

Read more reviews and check the current price

HERE
.

Turkey, sweet potato and cranberries grain free crunchy dog treats
Facts and numbers: protein – 22%, fat – 5%, fiber – 3%, calories –  2 kcal per treat
Main ingredients:  Peas, Chickpeas, Dehydrated Turkey, Potato Flour, Dried Whole Eggs, Sweet Potato Powder, Dried Cranberries, Palm Oil, Cinnamon, Mixed Tocopherols (To Preserve Freshness).
Another amazing grain-free, high in protein, non-smelly delicious treat recipe by  Charlee Bear. Moreover, the flavor of turkey and cranberry does not agitate the dogs with food allergies. The treats are super crunchy, low-calorie, and very generously priced.
Read more reviews and check the current price
HERE
.

Best cranberry supplements for dogs
Cranberry extract for dogs
Bioactive Cranberry Extract Supplement by Nutramax
Facts and numbers: active ingredient – Cranberry Extract vaccinium macrocarpon (93 mg)
This supplement supports the urinary tract by stopping bacteria from entering the urine and flushing it out. And as some buyers reported, YOU ABSOLUTELY need it, especially if your dog has multiple UTIs.
Of course, you always have to consult with your vet first.  But if you're looking for an easy-to-feed supplement to help support urinary health, I'd recommend checking out this product.

Read more reviews and check the current price

HERE
.

Cranberry chews for dogs
Cranberry chews by Amazing Nutritionals
Facts and numbers: made in the USA in an organic certified facility. Each chew contains 150 mg of Cranberry Extract and 50 mg of Apple Cider Vinegar. Bacon Flavored.
This product seems to be an excellent help for dogs with urinary leakage, urinary tract infections, or bladders that do not allow complete drainage. And let's face it, those are much better for your pup than going heavy on antibiotics for bladder infections.
Easy to give, small tablet, bacon flavored, and smells like cranberry. Overall, pet owners reported that those works and most pups seem to like it.
Read more reviews and check the current price

HERE
.

Cranberry powder for dogs
Dual-Action Cranberry powder supplement by Nusentia
Main ingredients: D-Mannose 125 mg, Cranberry (vaccinium macrocarpon) (Fruit) 125 mg, cellulose, raw liver powder (beef), silica.
This one works well in cases where your pup can uncover any pill in no time. The cranberry powder in the dog's food is much easier to camouflage.
As the research of the manufacturer shows, the powder helps to reduce the attachment of pathogenic bacteria in the urinary tract by 90%. That's quite an impressive claim considering that this supplement is much safer than any antibiotic.

Read more reviews and check the current price

HERE
.

Cranberry tablets for dogs
Doggy Naturals Cranberry chicken liver chewable tablets 
Facts and numbers: active ingredients are Cranberry Extract (100mg), D-Mannose (150mg), 
This dog's cranberry pills are amazing, and they work fast. Although some pups were reportedly outraged by the taste of the medicines. As the product manufacturer claimed: "Cranberry clinically proven to flush bad bacteria & promote bladder & urinary health." And that's what these tablets do, based on the shared experience of pet owners.
Read more reviews and check the current price

HERE
.

So can dog have cranberries?
Cranberries can improve the health of your dog's bladder, reduce tartar and plaque build-up, fight bacteria, and help prevent cancer, among other benefits.
 However, feeding dogs with large amounts of cranberries can cause an upset stomach. To all the risks related to cranberry consumption by your pup, pet owners should always chat with vets first. And make sure it's OK to add this new product to pup's diet. Or perhaps, even better, to stick with the dog products with added cranberries to be on the safe side and allow your pet to experience all the health benefits of these awesome little berries.

Still on the fence about going full-cranberry for ingredient's potential benefits? We'd like to the last tip, picky dog owners' cranberry secret weapon: these cranberry bites.
These treats are the right size, and for small dogs, you can easily split into thirds, making them very economical. And on top of cranberries, the product also contains organic marshmallow root and astragalus, that are known to help flush toxin build-ups from the kidney and bladder for comfortable urination.
Thanks for the blog graphics: Canva.com