Diane Orenchuk, a certified professional dog behaviorist, in her comment to Petmd says that a dog house plays an important role in gradually introducing your dog to the outdoors. Just take care of involving your dog in fun activities and positive reinforcements along the way.
So having a proper dog house is not a luxury, rather something essential for your pup's healthy development. And those houses can come with the hefty price tags sometimes.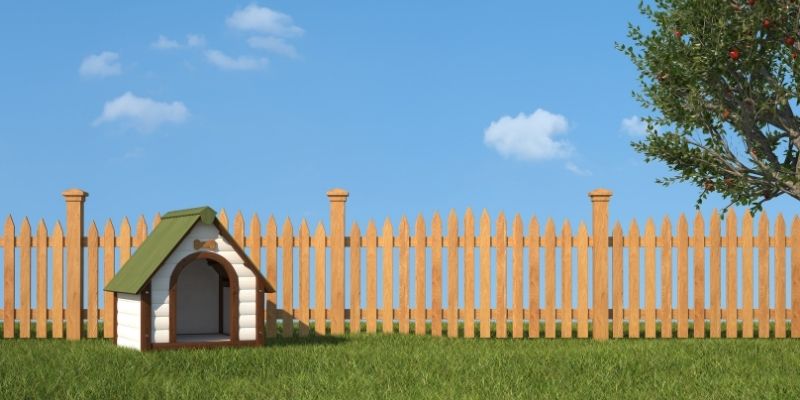 That's why I've decided to crawl the market and find decent but cheap dog houses that will serve its purpose in your pet's life while not forcing you to rob a bank. 
If you are in a hurry, the best option worth considering would be this one by PetBarn. The price/quality ratio is practically unbeatable. The company's customer service is outstanding (if something ever goes wrong with your purchase). And those dog houses come in many sizes too. 
But if you have some time, read on for more suggestions. I've spent quite some time putting together this list. So I am pretty sure I can save you at least a few minutes of research (and a few $$$ too). 
Do you have a specific question about cheap dog houses? Then use the table of contents below to jump to the most relevant section. And you can always go back by clicking on the black arrow in the right bottom corner of the page. Also, please note that some of the links in this article may be affiliate links. For more details, check the Disclosure section at the bottom of the page. 
Cheap plastic dog house
[content-egg module=Amazon template=custom/image product="us-B0149I2YMK"]
The name for the indoor-outdoor, all-weather puppy shelter says it all. It is a small plastic dog house with a raised floor and plenty of space for a small puppy. It can even be used for a cat. You don't need the whole toolkit to assemble it. The roof extends a bit outwards from the walls, keeping the elements out and protecting your pet from getting wet in rain or snow. It also has ventilation screens.
With just a few DIY modifications, you can turn this into an even more comfy and cozy home for your little furry friend. If you are on a budget and want something you can assemble quickly, this is the dog house of choice for you.


Best cheap dog house
[content-egg module=Amazon template=custom/image product="us-B0012X3D5S"]
Aspen PetBarn 3 is a pocket-friendly, easy to assemble (no tools required), lightweight house for pets. It has a ventilation system at the back, and the extended roof keeps out elements. The raised floor keeps pets dry, the sturdy plastic is durable and long-lasting. The latches snap together to join the two halves.
Perfect for small dogs. The best part about these low price houses is that they leave enough budget for you to make some cool DIY changes to fit your and your pet's exact needs.


Cheap igloo dog house
[content-egg module=Amazon template=custom/image product="us-B07CZGRM1D"]
The IRIS USA igloo dog house doesn't need any tools. The two halves can simply be placed and snapped together with clips. It is made of sturdy plastic that won't give in to your pet's scratching paws that easily. The airflow can be regulated with the ventilation cap on top. The plastic makes it easy to be cleaned. Although some large dogs might fit in it, it's mostly for medium-sized dogs and gives them space to move around. The small entrance opens into a wide space in the back, which gives your dog space to play.


Large cheap dog house
[content-egg module=Amazon template=custom/image product="us-B07LB3K36H"]
This is a lightweight, portable shelter with elevation and comes with a 1-year warranty. The tent is easy to assemble, sturdy, and firm, so you might need some strength while putting it together. The tent material is waterproof and easy to clean with a damp cloth but also ensures good ventilation. The shelter is cozy and can fit a large-sized breed and can be used both indoors or outdoors.


Cheap luxurious dog house
[content-egg module=Amazon template=custom/image product="us-B07DG4FFNK"]
Just because you're on a budget, it does not mean you cannot have luxuries or give luxuries to your furry friend. If you're looking for an affordable, cozy corner for your pet, this is it for you. It has wooden poles with canvas cloth on top that can be removed, and machine washed. The fabric is flame-retardant and non-flammable. The teepee also comes with a cushion for added comfort and coziness. It is lightweight and can be placed anywhere, inside or out.


Cheap wooden dog house
[content-egg module=Amazon template=custom/image product="us-B077MJJJPR"]
This wooden dog house with two layers is the perfect outdoor kennel for a playful dog or a cat. It gives them enough space inside to sleep in their private room and a balcony to sunbath. The material used for the kennel is furniture grade wood, which helps to keep away insects. The kennel is quite easy to assemble with the instructions provided.


Cheap waterproof dog house
[content-egg module=Amazon template=custom/image product="us-B07D9CCP6G"]
If you want a portable, lightweight, compact, UV, and waterproof tent for your pet that also fits your budget, consider this option by Lifeunion. It is dustproof, moisture-proof, and made of polyester with fiberglass poles. It also comes with a carry bag. It can fit medium or small-sized pets. The set up is pretty easy with the umbrella pop up mechanism.

Thanks for the blog graphics: Canva.com