We all love to have our furry pals have the best of everything. That's why dog houses are popular. But sometimes, the kennel might be the only option, and if it doesn't have a fancy roof, at least you might look for the best and most comfortable dog kennel flooring.  
If your dog stays in a kennel, it is important to make sure that its living conditions are safe and hygienic. If you simply place your kennel on the ground you already have available, it will likely be either grass or concrete. The problem with grass is that the soil can contain canine parasites such as hookworms or giardia. Concrete is very hard, and continuous movement and running on concrete can cause joint and skeletal problems for dogs or puppies.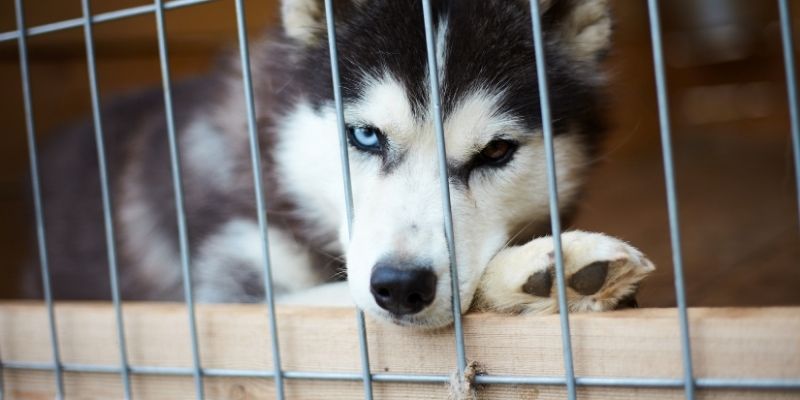 This is why dog kennel flooring is a critical consideration for your dog. Not only will it provide your dog with comfort, but it will keep it safe and healthy as well. Depending on the type of kennel flooring you get, you may also benefit from some other advantages.
If you simply need the best kennel flooring for your pal and you want to cut straight to the chase, then this Kennel Deck Revival is your best choice. This kennel flooring comes in essentially large tiles or pallets of 2 by 4 feet that can easily be placed side by side to cover larger spaces. It is made of dense plastic resin, so its durability is not in question while being comfortable and sanitary.
Now, this article will let you in on different dog kennel flooring ideas and give you the advantages of other materials used to make a dog's kennel floor.
Do you have a specific question about choosing the best dog kennel flooring? Then use the table of contents below to jump to the most relevant section. And you can always go back by clicking on the black arrow in the right bottom corner of the page. Also, please note that some of the links in this article may be affiliate links. For more details, check the Disclosure section at the bottom of the page. 
Dog Kennel Flooring Ideas
If you need dog kennel flooring ideas, then you have come to the right place. You may be wondering what to use for dog kennel flooring. Fortunately, there are different materials and products that you can put to play to get the ideal flooring for dog pens. In fact, you can put different types together to give rooms or sections to your dog's space. Some of the ideas you can implement include the following:
Wood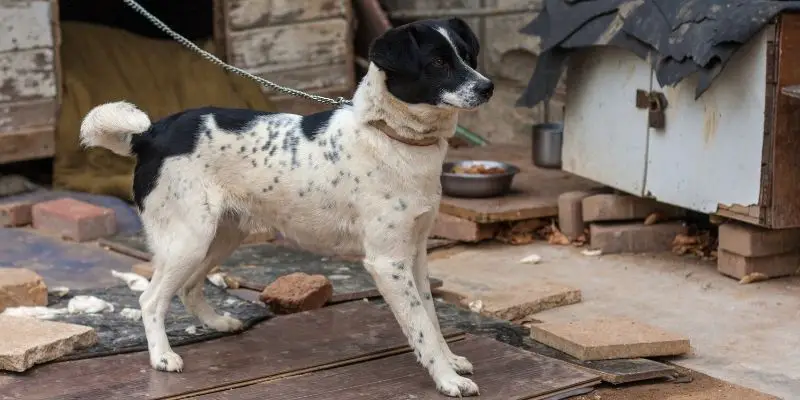 This is an excellent choice for dog kennel flooring. Wood does not conduct heat well, is not as hard as concrete, and is easy to work with. This makes it a wonderful option for dog pen flooring. By making pallets or wooden platforms with the wood, you can elevate it above the dirt and grass under the kennel.
This keeps your dog away from the soil where parasites may be. And providing aeration by letting the wind pass beneath. Ensure that the wood for the dog crate flooring is not treated, as the chemicals involved in the process can be toxic to your dog.
Plastic
Coming in many forms due to how easy it is to work with, plastic dog pen flooring is a great overall choice. It is cheap, soft, light, and resistant. Plastic flooring should almost definitely last you for years thanks to its ruggedness. It might be the best material for a dog kennel floor.
Rubber
Soft and easy to set up, rubber is another of the best kennel floor options. It can come in different shapes, such as mats, which can simply be laid or tiled on the kennel floor. Most rubber options are waterproof and very easy to clean. Thinner mats are easy to chew, however. If you have any lying around from a home gym or the sort, you can even use horse mats for dog kennel.

Best Flooring for Dog Kennel
[content-egg module=Amazon template=custom/image product="us-B005U7109S"]
This flooring for the dog kennel is my top choice for your dog's living space. It is easy to work with, is made up of panels measuring 2 by 4 feet, which are 2 inches thick. They can easily be moved around and laid next to each other to build the dog crate flooring. It provides a little bit of a boost above the ground, allowing for ventilation and additional safety. This also allows for easy drainage of waste. Thanks to its plastic build, it is easy to clean too.

Outdoor Kennel Flooring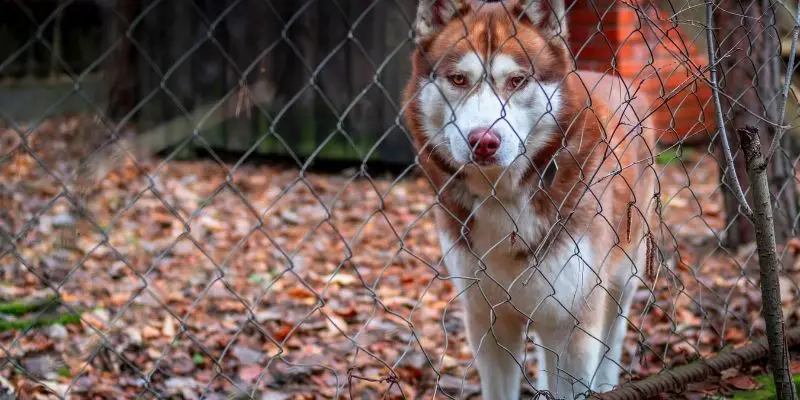 When attempting to choose the best kennel flooring for outdoors, you need to think hard about the type of material you are using. If you're wondering what to put in the outside dog kennel, I have the answer. The best materials to build outdoor dog kennel flooring with is either plastic or wood.
Both of these are strong and durable. They won't change temperature too drastically when directly in sunlight, making them comfortable for most seasons. Plastic may experience discoloration after months in the sun, but it doesn't affect functionality.

Dog Kennel Composite Flooring
When it comes to outdoor dog kennel flooring options, composite flooring is one of the least visited. This is flooring that combines multiple materials, many times being wood and plastic or resin. This is a viable option, with advantages that either plastic or wood alone don't have, but it presents some disadvantages. The major one is that it is pricey and can get hot under the sun. However, it is easy to clean and is not as porous as wood alone.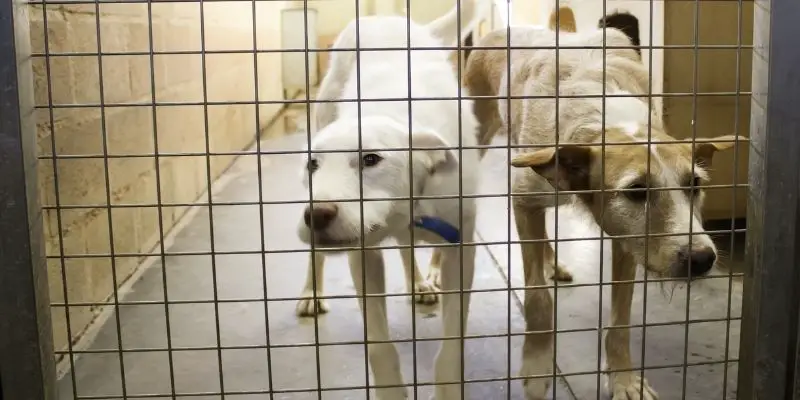 Raised Kennel Flooring
If you can opt for it, raised flooring for a dog kennel is optimal. It allows an array of benefits. Pretty much any material can be used to construct above ground dog kennel flooring, likely except rubber, which needs to be flat on the ground. This will provide ventilation, easy drainage of waste, and less possibility of damage to the kennel floors by your pet.

Rubber Mat for Dog Kennel
Rubber mats are highly flexible, so they can be comfortable to lie on. Rubber kennel flooring can get hot when exposed to direct sunlight but won't get too cold in the winter. This makes it a good choice in colder climates.
Most rubber is waterproof, which means it won't get stained quickly, but also means that any moisture such as pee won't drain away. This makes it a poor option for outdoor dog kennel flooring. If you're indoors, however, this is definitely preferred. No one wants pee leaking into the house!

Plastic Flooring for Dog Kennel
Humans have figured out how to turn plastic into all sorts of shapes. This means you can get a wide array of kennel floor options when you're dealing with plastic. Whether tiles, planks, raised platforms, or perforated sheets, there are many options. This makes it the right choice for indoors or outdoors.
Its durability also means that it can resist the weather well, making it suitable for all seasons. It is waterproof, hard to stain, and can withstand the chewing and scratching of your dog. Plastic can discolor when under the sun for a long time, but this doesn't affect the functionality.

Best Wooden Dog Kennel Flooring
If you have your mindset on using wood for your dog's kennel, ensuring some things will make this one of the best kennel floor options. Wood is best used when raised. It should also be untreated, so your dog does not get sick.
You can apply non-toxic paint to protect the wood and deter your dog from eating it. If possible, allow the flooring to have narrow spaces between it, and put sand or sawdust underneath it to take care of any droppings or liquid. Sloped flooring can also allow for easy drainage of any liquids.

Best Insulated Flooring for Dog Kennel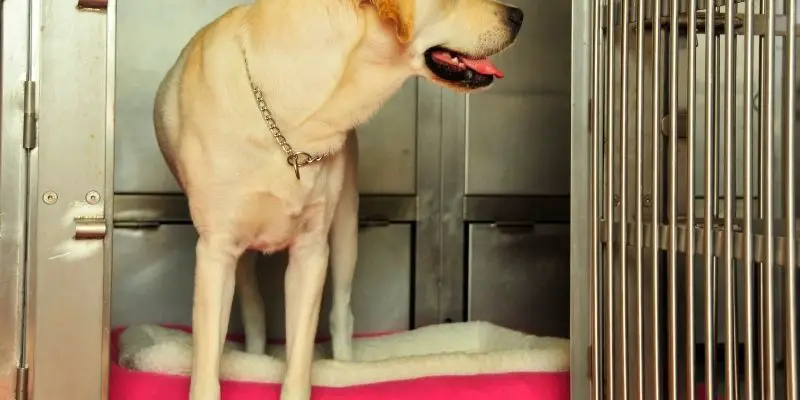 Insulated flooring comes in handy for a dog kennel. As the seasons change, it will help keep your dog's floor colder in the summer and warmer in the winter. It is also convenient when the temperature changes significantly between day and night. Insulated flooring is excellent whether your dog's kennel is indoors or outdoors. It is an easy way to keep your dog as comfortable as possible.

Cheap Dog Kennel Flooring Ideas
There are some inexpensive flooring options that can easily be put together without much toll on the wallet. These include:
Gravel or sand
If you want to lay your kennel floors with gravel or sand, you'll find it has pros and cons. You don't need to buy it. You can literally go outside and get gravel or sand for free. But if you don't live in an area where these are readily available, purchasing is still inexpensive.
It looks pretty good too, and it won't hold moisture either, which means that your dog's waste won't be too much of a problem to it. This is one of those outdoor dog kennel flooring options that seems like a win all around, but it isn't so. Sand and gravel can get hot in the summer and cold in the winter, so it's getting uncomfortable to lie against them. They can also be somewhat abrasive and sharp, which means they won't be a pleasure for your dog's paws.
Washable Dog Kennel Flooring
So, before you settle on a material, you may be wondering how to clean dog kennel flooring. With wood and porous rubber, cleaning can be a chore. Pee or droppings can stain the material and seep past the surface. This means odors can linger and be hard to wash away. The best options are plastic and waterproof rubber for flooring for dog pens. Simply hit them with soapy water and rinse, and it should be good to go.
Waterproof Dog Kennel Flooring
[content-egg module=Amazon template=custom/image product="us-B087965NWZ"]
Suppose you'd want something that resembles a traditional outdoor experience for a kennel floor (being cheap too). In that case, artificial grass like this one is a good option. It is waterproof, which makes it an excellent choice for indoors. It comes in different sizes and can easily be trimmed to fit whichever space you want it to rest in. The fact that it is soft and comfy makes it a great choice, whether outside or indoors.
Thanks for the blog graphics: Canva.com