Whether you are a proud owner or a puppy or an older dog, it may be dangerous for your pet's joints to jump around on bed and couches in both cases. Even if your dog doesn't have any apparent medical condition like arthritis, you better make sure that getting into your family van is easy. High jumps might potentially cause back injuries in the future. 
And in case you set up your intention on getting a dog ramp for bed or a car, there are still lots of things to consider. Some might have good reviews but, in fact, be very flimsy and unstable. Some might falsely claim that they work for large dogs. And the list goes on. 
If you don't feel like reading and looking for a quick suggestion, I'd say look at this dog ramp by WeatherTech. It's easy to assemble, stable, foldable, and works for dogs of practically all the sizes and ages. It works for indoor and outdoor purposes as well—all in all, a solid investment.
Otherwise, keep reading. I've spent a good 10 hours trying to find the best dog ramp for any potential situation, and I hope you'll find this list useful. 
Do you have a specific question about finding a perfect dog ramp? Then use the table of contents below to jump to the most relevant section. And you can always go back by clicking on the black arrow in the right bottom corner of the page. Also, please note that some of the links in this article may be affiliate links. For more details, check the Disclosure section at the bottom of the page. 
Best dog ramp for couch
[content-egg module=Amazon template=custom/image product="us-B006I8LLGK"]
This is a very reliable and sturdy pet ramp that can support your pet's weight without wobbling or needing an attachment to a car, chair, or bed. And it looks nice too. 
It is designed in a shape that allows your pet to easily reach sofas, beds, etc. 
It features a cotton thread that enables your pet to have a firm grip while moving up the trail. The carpet thread is easy to remove and can be washed with a machine. Interestingly, fixing it together requires no tools as it snaps together easily, while still being sturdy. 

Outdoor dog ramp
[content-egg module=Amazon template=custom/image product="us-B00JKEW9DI"]
This ramp gives your pup the help they need to reach the back of the car when you are about to embark on a new adventure or an outdoor seating space for a continued cuddle. 
It is built with a decorative cherry finish wood that enhances the beauty of the home. It's 25″ tall and sturdy to support your pet's weight up to 120 pounds. Its surface is covered with a heavy-duty carpet that gives your pet a good grip to walk on the ramp without a slip.

Portable dog ramp
[content-egg module=Amazon template=custom/image product="us-B07RGN1VKL"]
These upgraded dog stairs are foldable, and this makes it easy to carry about. It opens up into a stairway and is adjustable to different height and angle for different dog sizes. It is built with a thick board and durable metal to support up to 150lbs weight.
It is manufactured with rustproof metal and as such more durable and stable than previous editions. So you are free to use it both indoors or outdoors. 

Dog stairs for tall beds
[content-egg module=Amazon template=custom/image product="us-B07HXBHQYK"]
This pet ladder makes moving up and down your bed (favorite cuddling spot of most pups) so easy! And you don't have to worry about hurting or dislocating pet's joints. 
These stairs are made with high-density comfort foam and come in different sizes. So it will work for dogs of various breeds and ages. It features a removable and washable comfort cover that is a breeze to wash.

Best dog ramp: my top choice
[content-egg module=Amazon template=custom/image product="us-B07JLRF5ZW"]
This high traction and foldable pet ramp are highly suitable for pets of all ages and sizes to access elevated locations without injuring themselves. It easily unfolds into position when it's time to use. Its rubber feet give it a good grip on the ground and prevent wobbling when your furry friend is on it. The surface is slid-proofed with specialized skid pads that are molded directly into the ramp. Very versatile, and I believe it's a great investment in your pup's back and joint health. 

Best pet ramp for large dogs
[content-egg module=Amazon template=custom/image product="us-B00IYWBWNA"]
This ramp features a gentle steep, and it's quite long too. So it will work for a dog of different sizes and ages. Even though it's lightweight (only 10lbs) and easy to move around, it can support a large dog as heavy as 200lbs. This 62″ pet ramp is made with a non-slip surface and plastic material. It is durable, foldable, and easy to store.

Foldable dog stairs
[content-egg module=Amazon template=custom/image product="us-B07HCXV4X5″]
These pet stairs are very comfy and made of mattress-grade cushioning to remove pressure on joints and paws. It is portable, lightweight, and easy to store and move about. The stairs cover is removable and easy to wash. And you can fold it too, so storing would get even easier! 

Dog ramp FAQ
Are ramps bad for dogs?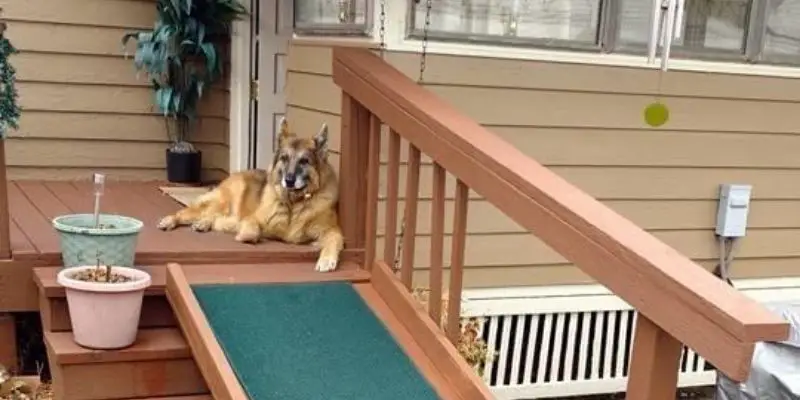 If you are asking if ramps are bad for your dogs, the answer is NO. Instead, they make mobility more comfortable and keep them in good shape.
It is important to know that a pet ramp is to make ascending and descending heights easy for your pets. Jumping elevated positions for prolonged periods might be bad for your dog because it can lead to physical illness. For older dogs with arthritis issues, ramps help them maneuver climbing heights.
How steep can a dog ramp be?
A dog ramp should be long enough to make the decline gradual and convenient for your dogs to ascend and descend heights. A common suggestion is a 1:12 slope; this means that every inch of vertical rise requires at least 1 (12″) of ramp length, which is five degrees of incline.
Your dog ramp should be steep enough that descending the height looks like gliding down a small hill.
Are ramps or stairs better for dogs?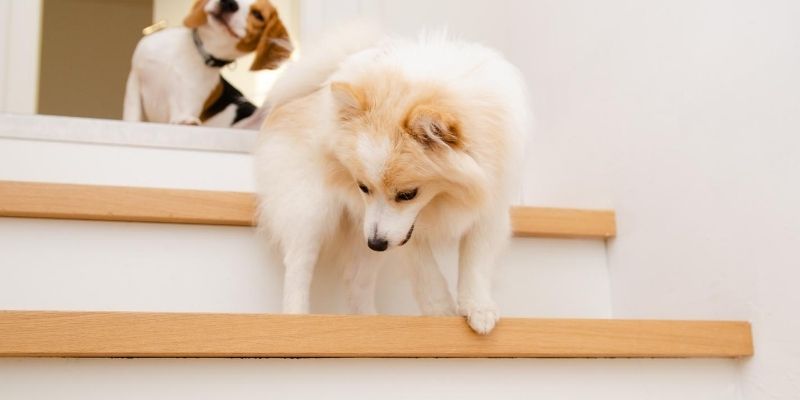 It's important to know that some dogs might be unwilling or unable to climb stairs. Also, your dog's health condition must be put into considerations in deciding whether to get a ramp or stairs.
If your pup doesn't mind stairs and doesn't have any illnesses making climbing challenging, stairs are a good choice. These are very portable, usually cheaper and take up less space. Ramps, on the other hand, take more space and might not be advisable for dogs that don't have agility and balance.
Thanks for the blog graphics: Canva.com