If you have ever caught yourself worrying that your pup must be freezing in his house outside, you were absolutely right to be anxious about it. Continuous exposure to cold temperatures in some severe cases may lead to hypothermia, and this condition can be even fatal. 
Making sure your pet has a warm place to hang out is not a luxury but a bare necessity and a sign that you are acting as a responsible pet parent. A proper dog house heater is one of the most efficient options to make sure your pet stays healthy and warm, but the choice can be overwhelming. 
There are many ways and tools to keep your furry friend toasty outside, even when it's freezing. And in this guide, I'll try to cover most of them.
But if you're looking for a quick suggestion, check my personal favorite: this heater by Akoma. It's safe enough for your dog. It works like magic to keep it warm inside the pup's house even when it's freezing cold outside and is reasonably priced. 
But if you have time, read on! 
I've spent hours putting this guide together, so I really hope you will find it helpful. 
Do you have a specific question about the best dog house heater? Then use the table of contents below to jump to the most relevant section. And you can always go back by clicking on the black arrow in the right bottom corner of the page. Also, please note that some of the links in this article may be affiliate links. For more details, check the Disclosure section at the bottom of the page. 
Best way to heat a dog house
Before you head on and read about the products, here's a little info on how you can keep your pet's house warm and heated.
Dog house heaters
Dog heaters are one of the most convenient options available. These small portable machines are capable of heating the entire dog house. And these work all night long, making sure your dog isn't shivering from the cold. The safest option among these is the electric-powered ones. Electric heaters are not only cheaper but also very affordable to manage long-term.
Heating pads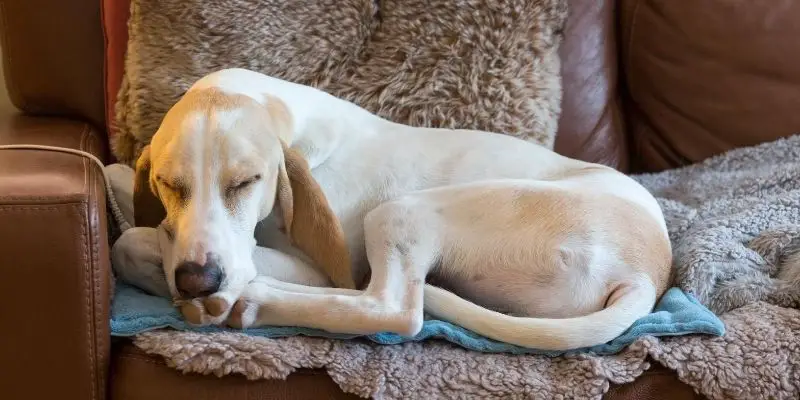 Heating pads are another excellent option to keep your pet warm. These are a cheaper option than dog heaters, and they also don't offer as much heat. But the right quality heating pad could go a long way in keeping your pet warm. Another great thing about them is that they're also a much safer option to use as a heater for your dog.
Insulated dog houses
This is another way you can keep your dog warm during cold nights. These dog houses are built to prevent the outside weather from touching the inside of the house. So these are a great option to have not only in winter but also in summer. As they'll protect your pet from both cold and hot weather. You can either invest in a ready-made insulated dog house or go with a more inconvenient option and insulate it yourself. 

Best dog house heater: top choice
This is a portable heater that works great for small dog houses. It has a great design as it has no sharp or exposed edges that could potentially hurt your dog. The cables and wire are protected, so there won't be any danger of getting singed accidentally. And it works like a charm all the time!

Best outdoor dog house heater  
This dog house is wonderful for outdoor spaces, as it comes with added security that will help protect it from the elements. It also has protected cords that keep your pup from getting burned and are strong enough to resist any damage. This dog house is capable of running all night, heating your dog while it sleeps.

Best dog house with heater
This is an insulated dog house capable of keeping out any cold air from getting inside the dog house while your pet is snuggled up and sleeping. This dog house is the best as practically acts as a heater itself, so you won't need to purchase anything else to do that.

Safest dog house heater
This self-warming pad has a design that allows it to absorb the heat your pet gives off and then return it back. This design makes it one of the safest ways of keeping your dog warm as it requires no electrical connection. Apart from that, it comes with an easily washable and super comfortable blanket.

Best cheap dog house heater
This is another self-warming heating pad that is one of the safest and most affordable options on this list. This heating pad is an outstanding non-electrical option if you're looking for extra safety. Another great thing about this pad is that it can be used as a sleeping mat and is very transportable. So you can take it with you wherever you want.

Best dog house heating pad
This heating pad is a good option as it offers many useful features. It can be used as a heater for your dog's house, but it can be used as a comfortable warming pad, especially if you have an aging, pregnant or sick dog. It also has an automatic command that shuts it off after about twelve hours. Apart from that, it has reliable cables that your pet won't be able to chew through. These cables also have added seven layers of protection that will prevent your pup from getting burned or singed.

How to choose the best dog house heater?
Here are some of the things you should look for while buying a heater for your dog's house:
Safety
One of the first things you need to look for while buying a heater for a dog house is its safety. If it is non-electric then, it might be relatively safe, but if it requires some sort of power to run it, then there are some things you need to check beforehand. Like if it offers protection form keeping your dog from getting burned or sturdy wires that your dugs won't be able to chew through.
Space
Another thing to consider is the amount of space it takes up inside the dog house. Some heating pads come with very thick paddings that could make the dog house stuffy for your pet. Likewise, with heaters, make sure you invest in one that won't take up a lot of space inside the dog house as that will make it uncomfortable for your pet. There are plenty of portable heaters that don't take up that much space at all.
Price
A good electric heater can be available at an affordable price, but a heating pad would cost you much less. Your budget will decide how much you're willing to invest in a proper heater for your dog.
Quality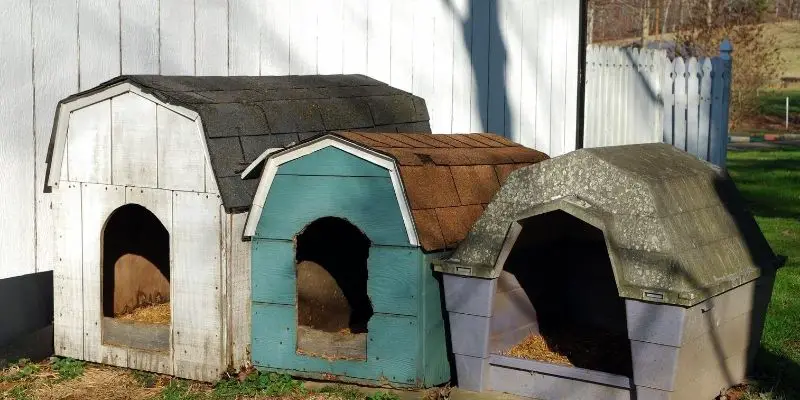 While looking for a heater, make sure you pay attention to its quality. Buying from a quality manufacturer will ensure that it is good quality and won't break down on you a week later. This is a crucial step because there's no point buying a heater that will stop working after a few months of use. Might as well invest in one that will last you a long time.
Durability
As mentioned before, quality is an important feature to look for while shopping for a dog house to make sure it is long-lasting. In the same order, you should also look for durability. And by that, I mean making sure the wire and materials it made out of won't be easily damaged by the weather and elements or even by your dog.
Thanks for the blog graphics: Canva.com