Our beloved pet often gets attracted to our food, and as dog owners, we can't keep driving our dog away anytime they attempt to taste our meal. We know that some human foods are very harmful to our pets. Well, is ramen noodles one of those? 

Are you interested in a particular topic about dogs and ramen? Then use the table of contents below to jump to the most relevant section. And you can always go back by clicking on the black arrow in the right bottom corner of the page. Also, please note that some of the links in this article may be affiliate links. For more details, check the Disclosure section at the bottom of the page. 
Are ramen noodles bad for dogs?
[content-egg module=Amazon template=item product="us-B00778B90S" disable_features=1 ]
No, ramen noodles aren't bad for your dog. Eating a small quantity of well-cooked noodles( without onion and garlic) would not be harmful enough for your furry friend. As long as you do not make ramen a staple of your pup's nutrition. Large quantities of noodles, however, may result in several health issues. E.g., heart problems, weight gain, high blood pressure, pancreatitis, diarrhea, and will simply make your pup uncomfortable. 
Another thing to mention, ramen can be considered as a non-perishable. So it manufactured with many preservatives. Some of which might be indeed dangerous for your pup even in small quantities. So, make sure you are buying more "natural" options. Especially if there's a chance that you are going to share a bit of noodle with your pet.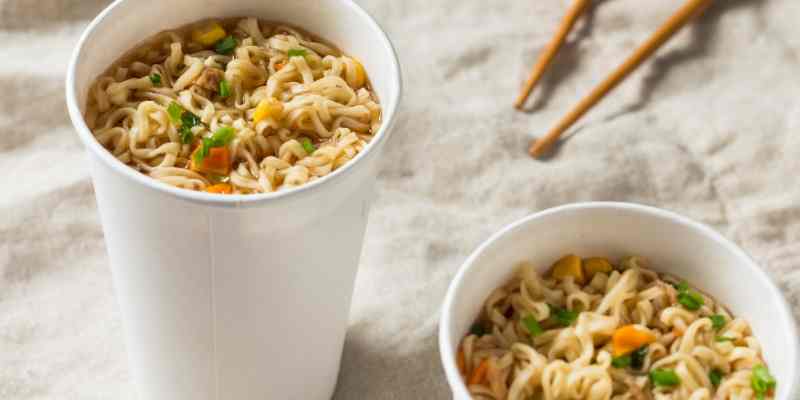 Are noodles good for dogs?
Though noodles may not be that healthy for your dog, they will neither kill them nor harm them. 
According to the USDA (United States Department of Agriculture) Food Database, the 100g serving of noodle soup (made mostly with noodles) contains 67 calories, 1.55g of protein, 9.17g of carbs, including 0.4g of fiber and 2.68g of fat, including 1.25g of saturated fats. 
On top of that, it has some vitamins and minerals: 5 mg of Magnesium, 28 mg of Potassium, 3.5 mg of Selenium, 0.74 mg of Niacin, and much more. On the downside, it's a bit heavy on Sodium (286 mg). So some recipes indeed have a balanced nutritional profile with lots of minerals and vitamins. 
You might also like:

Can puppies eat noodles?
Technically puppies can eat noodles, though there is nothing toxic in most ramen recipes that can harm the dog. But it is ideal to avoid feeding little ones with human food at all. 

Can dogs eat dry ramen?
Your dog shouldn't eat uncooked ramen. It will be challenging for your pup to digest such a treat. So it will do more harm at the end. 

Dogs and Ramen. Summary
Overall it's reasonably safe to feed your dog a tiny portion of the ramen if it doesn't contain any potentially toxic ingredients. E.g., garlic and not too heavy on Sodium and artificial preservatives. However, that definitely not a decent food choice for your dog. So, it's better to avoid it to keep things simple.  
Thanks for the blog graphics: Canva.com