First of all, thank you so much for clicking through and being on this page! I'll do my best to deliver all the content you might expect to find and answer all the possible related questions. 

Your time is super important, so let me quickly explain what is covered in this guide and how to navigate it. 

Quick Summary
If you are here just to find the best dog subscription box, then Doghint's choice would be (surprise!) BarkBox – based on the true value / per $$$ and impeccable customer support. And if you read till the end I've found a little trick that can still help you to save big time and get yourself a full size box for $10, $5, or even $1.

Keep reading, I've got a lot for you to process.
You can use the table of contents below to jump to the most relevant section quickly.
I put 50 hours of research while working on this piece, so I really hope it will be helpful. 
Another thing to mention: please be aware that some of the links in this article may be affiliate links. For more details, check the Disclosure section at the bottom of the page. 
Dog subscribtion boxes: 5 reasons to give it a try 

#1 It's a time saver 
With so many options available and new products for your pup launching every single day, it's easy to waste hours and hours of looking for the perfect treat for your picky eater. At the right price, with great reviews, made of healthy ingredients, etc. With subscription boxes, you don't have to spend any time on the research.
And having items delivered each month automatically also means that you don't have to spend time on placing those orders too. And you always have just one company to deal with if something isn't quite right.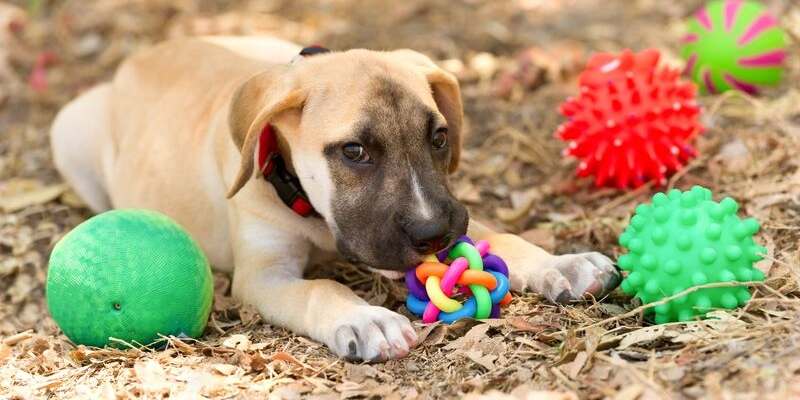 #2 Dog subscription box is tailored to your (and your pup's) needs
Treats and toys you'll receive each month will be carefully selected and vetted based on the information you've provided about your pet. (At least that's how it's supposed to be functioning with that perfect subscription box).
You will just spend 10 minutes setting your account with your first order, and that's pretty much it. No need to worry that those toys will be shredded into small pieces or treats will contain ingredients your doggo is intolerant to.
There was even the research by McKinsey, where they tried to understand why people keep being so crazy about subscription services. And 28% of participants admitted that customization was the most important of all reasons.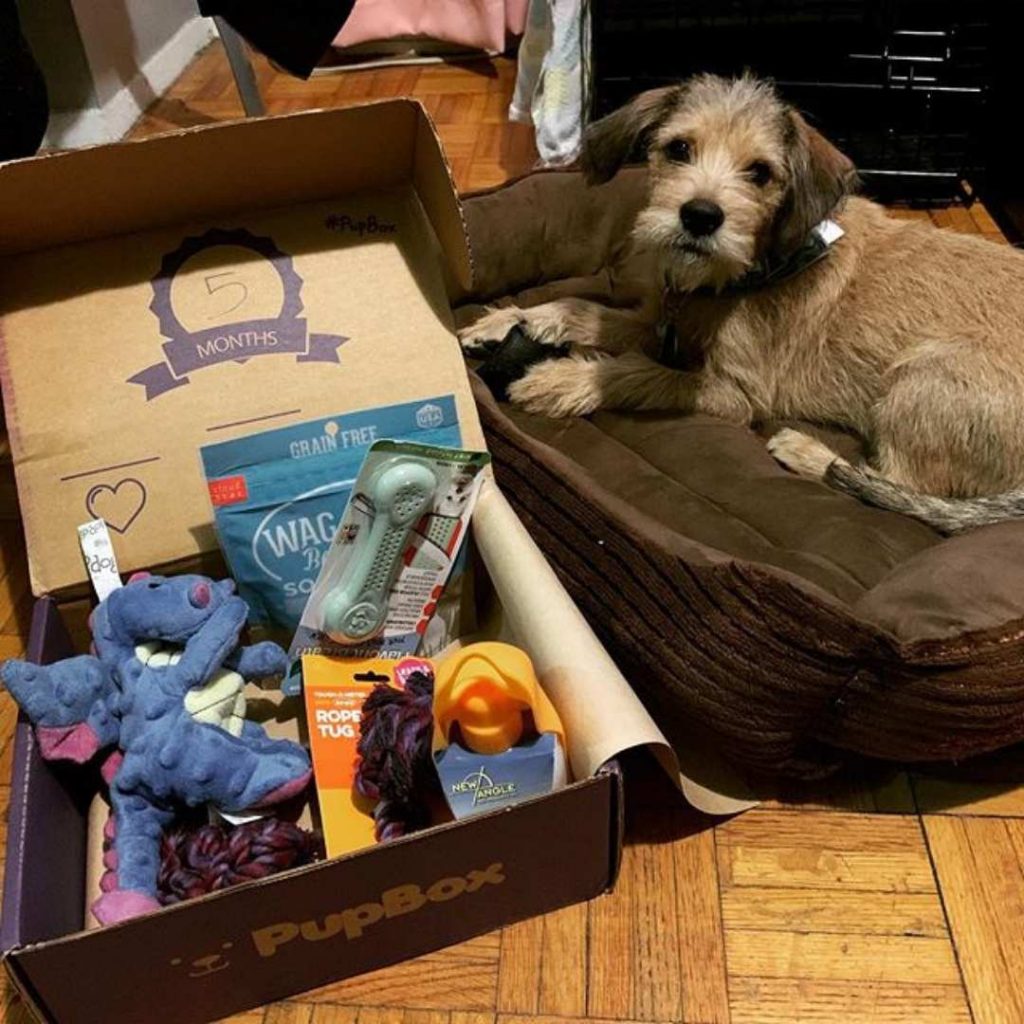 #3 You can save money too
Subscription box content can be cheaper than buying each of the included items separately when you pick the right vendor. Some subscription services might even have their own production line set up.
So you'll end up purchasing things that you will never be able to find in the store at a more fair price. As the company doesn't have to spend on marketing pushing forward individual products. 
#4 Forget about analysis paralysis of decision making 
Sometimes, even after spending hours researching to discover that perfect toy for your pup, you might end up feeling fatigued and not finding out anything that you particularly like.
Save your decision-making capacity to more critical tasks rather than shopping. After all, if you don't like something you'll find inside your box, you can always contact the support and voice your concerns.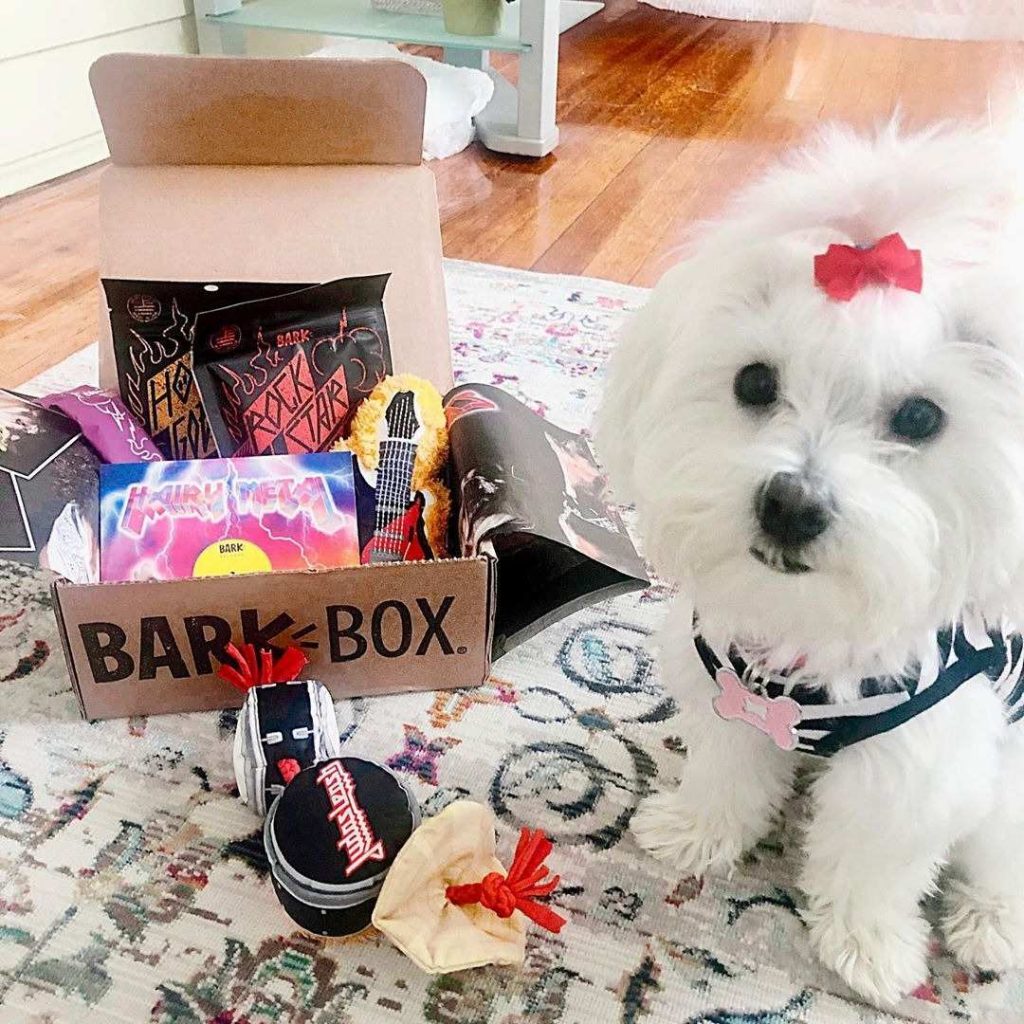 #5 It makes you feel happy. Literally
Another reason why we tend to love subscription boxes lies in undergoing of how our brain functions. We have that monthly anticipation of the surprise, and it always appears, making us experience a rush of dopamine. And this hormone is known to play its crucial role in how we (both you and your pup) feel pleasure. 

Compare dog subscription boxes

PupBox subscription review
What is PupBox? 
As the PupBox website claims, it's core focus is on being "a development box" for new puppy parents. All subscribers receive a box that includes information from a real celebrity dog trainer as well as premium products that are tailored to your puppy's age.
E.g., if your pup is 2 months old, you might find information on how to puppy-proof your house and how to make your dog feel like a part of the family. 
Treats are sourced from the US, chews can come from the USA, Canada, South America, Australia, and New Zealand, and toys can be from anywhere. 
The company has pretty robust marketing, so after you feel in the details will be sending you a bunch of special offers (e.g., in my case, it was 50% off my first box).
Although I do have an issue with an excessive amount of emails, I was receiving. After all, if the prospect doesn't react to emails, the marketer supposed to stop sending promo emails.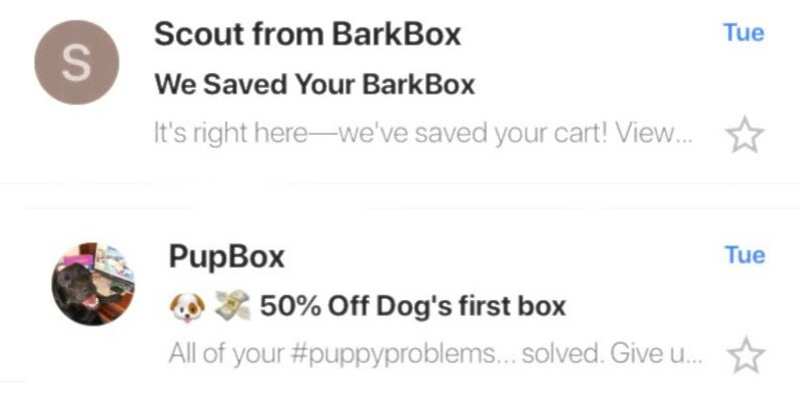 PupBox cost
At the moment of working on this research, the cost of a 1-month subscription is $39, and it can go down to $29 per month if it's a 12-months plan. The company claims that shipping to the US is free (and $5 to Canada).
However, after digging deeper and registering the account, I've found out that shipping is free for orders from $50.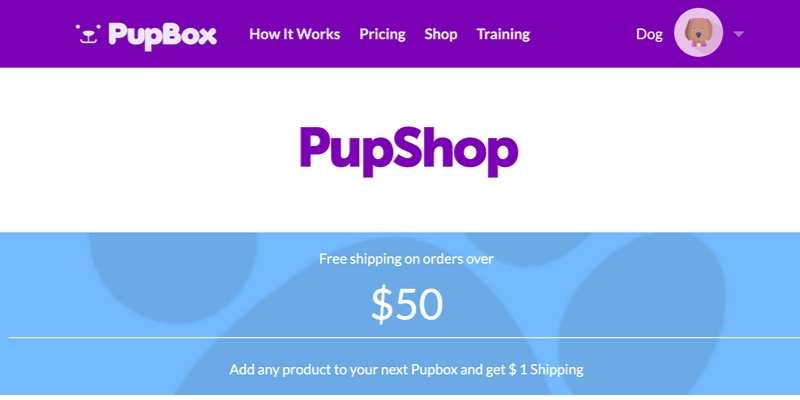 So the company forces you to add extra items to your cart to qualify for a free or $1 delivery. That's a bummer. Unfortunately, I wasn't able to figure out the US delivery price in case I am ordering just one monthly box. This information apparently only gets available after placing the payment details. 
What comes in PupBox?
Each box has 5-7 "premium" products: 1 bag of US-made treats and 4-6 additional products age-appropriate for your puppy. All training and development information is approved by celebrity puppy trainer Andrea Arden!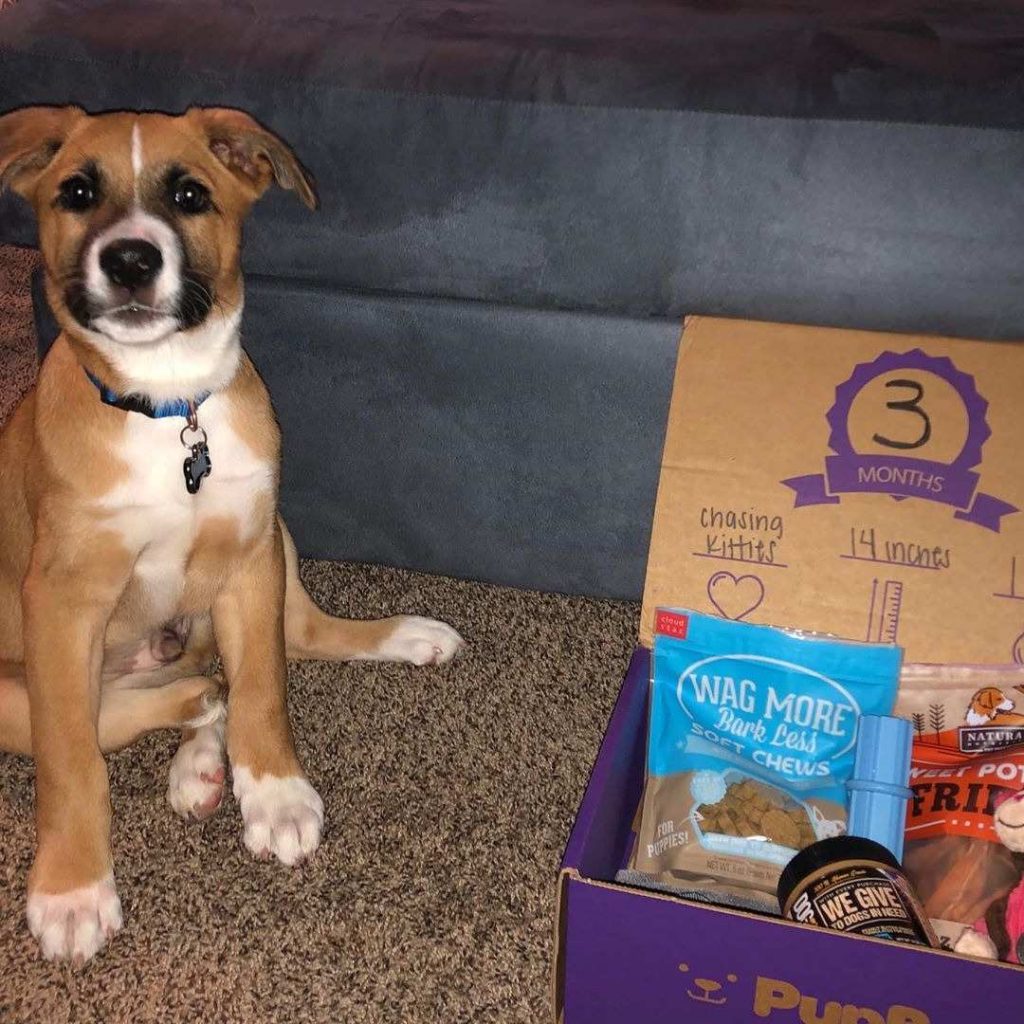 This dog subscription box doesn't offer refunds or any substantial customization. Even though they claim in their FAQ that all the allergies would be easily taken care of, during the registration process there's no question about that (at least at the moment of writing this article).
So I'd say there's a pretty decent chance that some of the items won't suit your pup after all.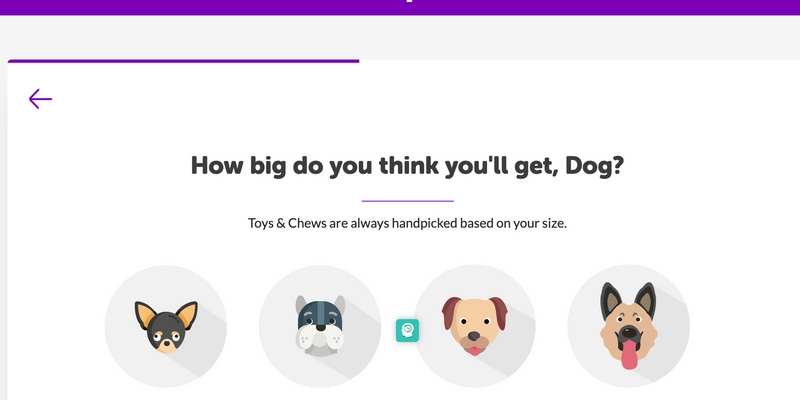 PupBox. Pros and Cons
Is PupBox worth it? 
As the company claims, each of their boxes "has a retail value of over $40."
And let's forget that we are paying more than that if it's a 1-month plan ($39 + delivery, whatever that number is). 
I've analyzed the content of PupBox from the pictures I've seen on Instagram and found all (or similar) items from it. 
The exemplary set included: N-Bone Puppy teething rings, Wag more bark less soft chews, ZippyPaws milk and cookies toy, Bully spring, Chewit lil stick dog toy . I can't place the exact price of each product since it fluctuates. However, at the moment of writing, the total value for the set was about 30% lower than the claimed amount.
Prices are fluctuating on a daily basis, but you can go ahead and try to figure out the total as of today by checking the current prices of the products from the set.
[content-egg-block template=offers_list hide=img]
All in all, maybe this box worth it, especially if use the 50% discount the company is offering to first-time subscribers. But in all other cases, I believe it makes sense to consider other options too. 
If you are feeling adventurous, you can give it a try and order it here. 

BarkBox subscription review
What is BarkBox? 
BarkBox is probably one of the most established subscription boxes on the market. They have great marketing, customer service, and also produce (co-produce) many of their items themselves. Their pricing is quite fair, and I am personally in love with their Instagram account. 
BarkBox customization is also decent. You can even change the assortment if you want more or fewer toys, treats, or chews by contacting their "happy team."
So, I think it's quite an excellent option to consider when you are picking a dog subscription box service to try.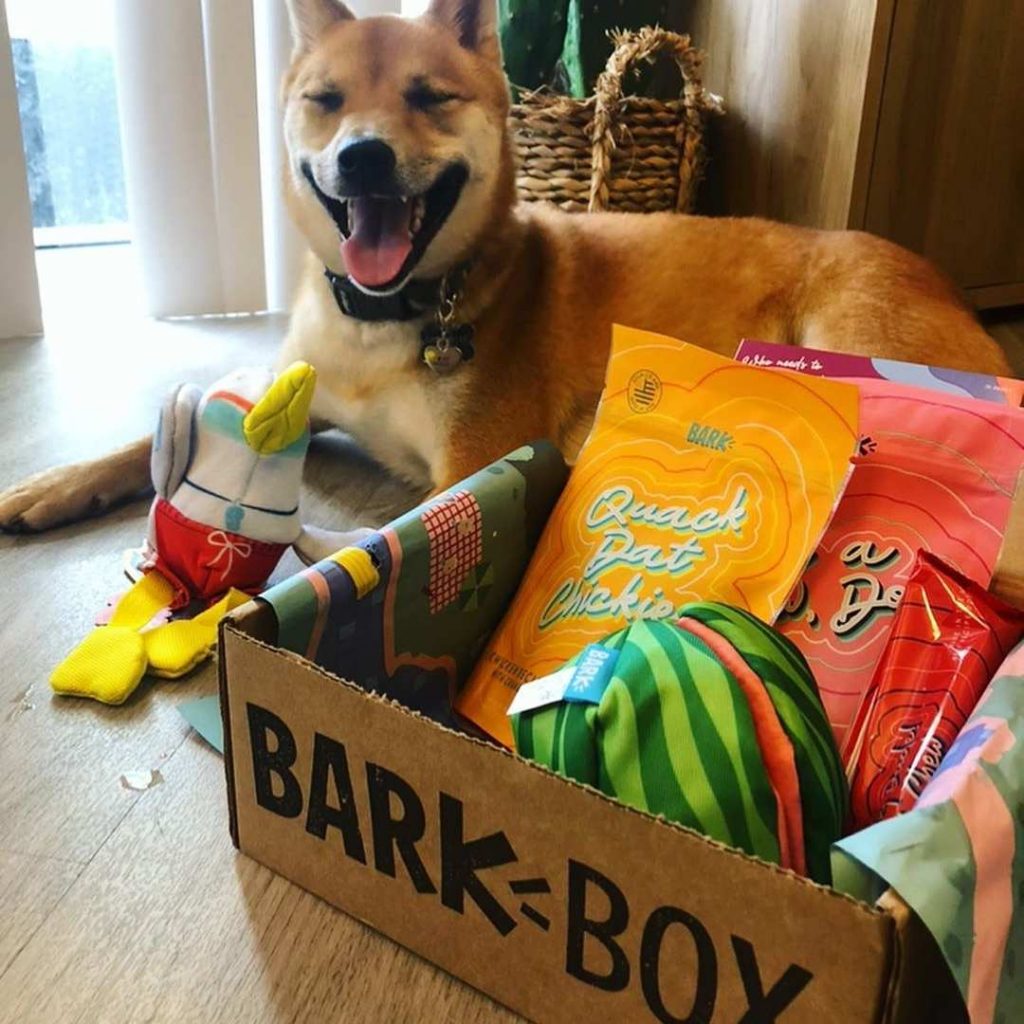 BarkBox cost
At the moment of writing, the cost of a 1-month subscription is $29, and it can go down to $22 per month if it's a more extended plan.
The company also offers REAL free shipping to 48 states. And you can also benefit by registering an account with them and receiving a bunch of first order offers.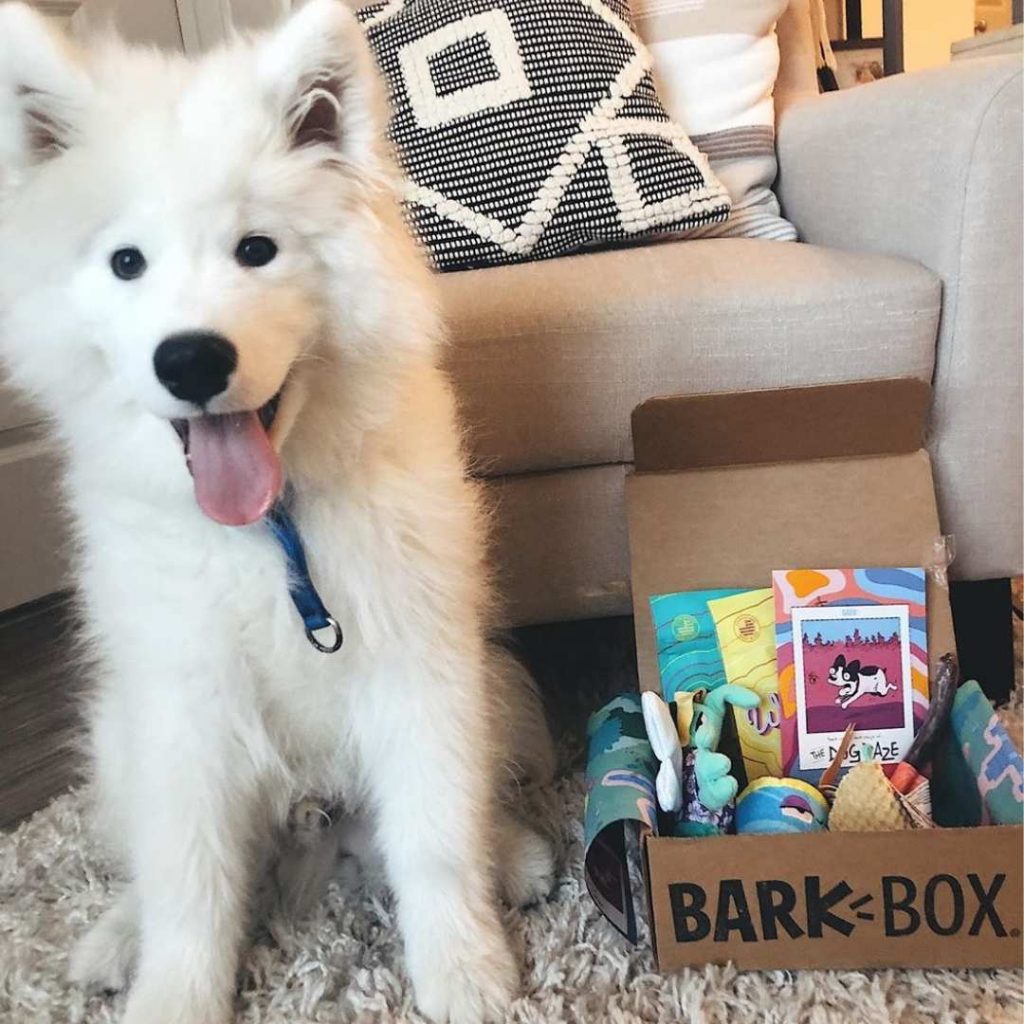 What comes in BarkBox?
As stated by this dog subscription box brand: "Every BarkBox has at least 2 innovative toys, 2 all-natural bags of treats, and a chew, curated from each month's unique themed collection."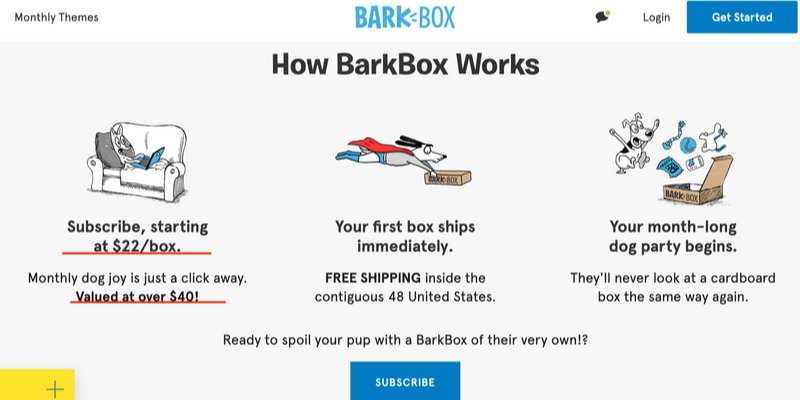 The claimed value for the products is "over $40!"
I went ahead. I tried to analyze what the company's offer really worth if you decide to buy all the items separately by yourself. Which is a bit tricky since some items are produced internally and can't be freely purchased everywhere. But I did my best to look for the most similar alternatives. 
I took a New York-themed box as an example. So let's say that squeaker Chinese takeout by ZippyPaws is a suitable substitute for Andi's Famous Plush Dumplings. Lady Liberty Ball is a less fancy squeaker ball. Let's imagine that Chester's Pigeon is pretty much the same as this cool duck, and Central Park Pizza Treats equals pizza-flavored treats. Deer chews that are easily digestible and great for teeth and gums really resembling crunchy deer chew like this one. Again, the price of all those products is fluctuating. But as for today, the total value of all those "substitutes" was about 7% lower than $40. However, it's still a pretty good deal price-wise.
Prices are fluctuating on a daily basis, but you can go ahead and try to figure out the total as of today by checking the current prices of the products from the set.
BarkBox. Pros and Cons
Is BarkBox worth it? 
I'd say yes. It has all the advantages of subscription box services, saving you time and money. And it's a safe bet since it's an established brand. 


Dapper Dog pet box review
What is Dapper Dog Box? 
The unique selling proposition of Dapper Dog Box is NOT quite unique. At least if to judge by the company's answer to the relevant question in their FAQ. "We are the only subscription box for dogs that includes a gorgeous bandana in each box for less than what you will pay for one bandana from a shop."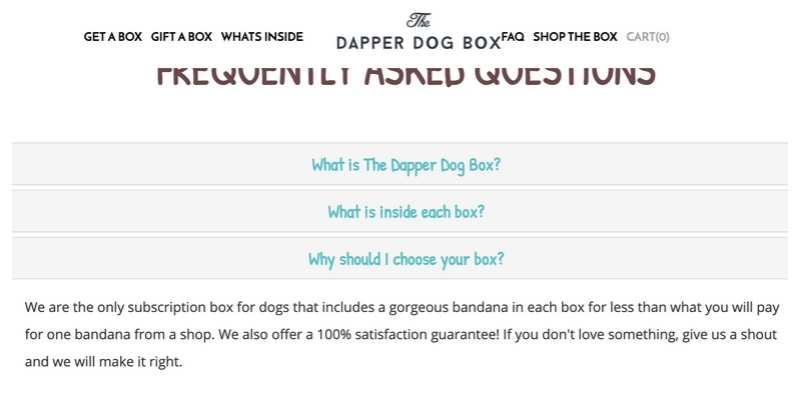 To be honest, that can be hardly a distinctive feature.  
I'd say there's another clear distinction for me: the company tries to build a socially responsible business.
That's why they claim to source their treats "from small business owners in the USA and from really cool companies who care about dogs."And those businesses are often donating money for a dog-related cause too. That's pretty great.  
Dapper Dog Box cost
At the moment of writing, the cost of a 1-month plan is $35, and it can go down to $25 per month if it's a longer subscription. Free US shipping is included.  
And you can get a considerable discount if you subscribe to this dog subscription box using Cratejoy. It's an aggregator of similar products.
And practically in all the cases, they give a decent discount with any purchase. At the moment of writing, they offer 30% off Dapper Dog boxes. Check the current rate here.  Or you can read more about all the terms in the box's website here.
What comes in Dapper Dog Boxes?
Every month with Dapper Dog, you'll receive two toys, two treat bags + a beautiful bandana, all curated around a fun theme, as described by the brand creators.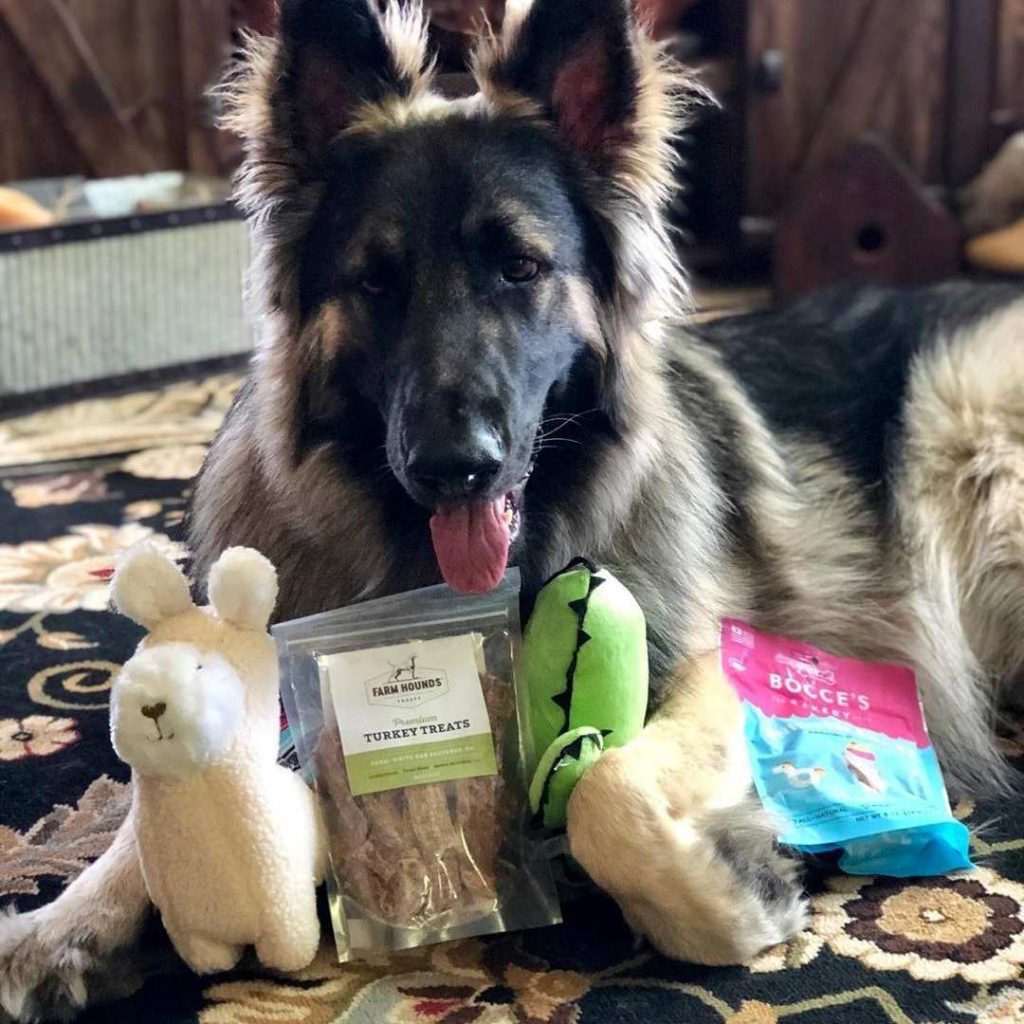 I went ahead and analyzed the content of a box I've spotted on Instagram. It included Farm hounds turkey treats, Bocce's biscuits, Petlou Cactus toy, Llama toy by ZippyPaws, and a bandana. The combined value at the moment of writing was 7% higher than the actual price of the box, which is quite a good deal. 
My only concern about this box, however, was some extras they are offering before the checkout. For instance, they were upselling this Milk and Cookies toy at quite an inflated price.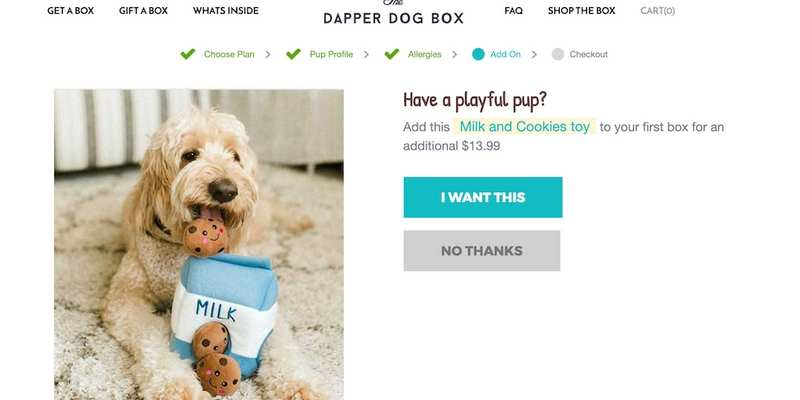 But you can stick with the box, and you are going to be fine (especially if ordering from Cratejoy). 
Dapper Dog Boxes. Pros and Cons
Is Dapper Dog Box worth it? 
Overall, I think its a strong contender amongst all the other dog subscription if your main goal is to stop shopping for dog toys and treats and get it all in bulk at a fair price. And also help small businesses on the way. You can check the current deals for this box here.

Dog Mom subscription box review
What is Dog Mom Box? 
The concept of this box is pretty awesome: not only your four-legged furry baby got to be spoiled every month. Dogs' moms deserve some nice perks too. So each box comes with 3-4 dog items and 3-4 surprises for you too.
And they also donate $1 of every subscription box purchased to Floyd County Animal Rescue League. 
Dog Mom Box cost
Each box costs $37.99 + $5 for US delivery. You can get a better deal + some discounts on top of it if you subscribe through Cratejoy here. 
What comes in Dog Mom Box?
As mentioned earlier, each box has up to 4 items for dog moms and up to 4 perks for a doggo. 
I've examined the content of one such box using the superpowers of Instagram. 
Here's what you could have found in it: Squeaky fox, Sweet potato treats, Kong ball, Pawprint silicone tray, Pawprint earrings, and a T-shirt. The combined worth of all that as for today is 20% more than the what you are charged for the box, that seems like a terrific value to me.
Prices are fluctuating on a daily basis, but you can go ahead and try to figure out the total as of today by checking the current prices of the products from the set.
Dog Mom Box. Pros and Cons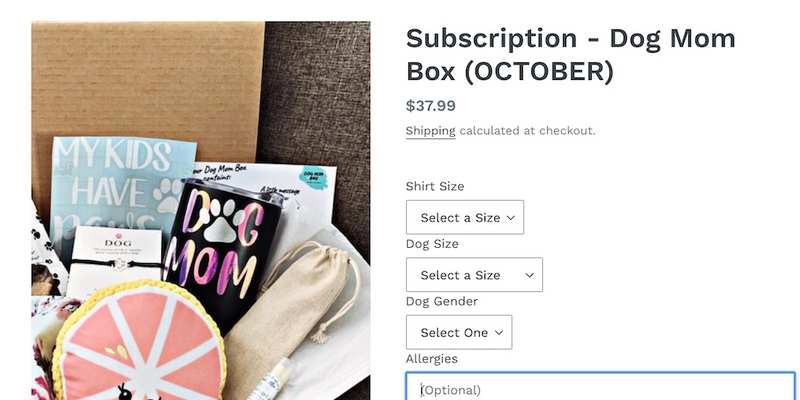 Is Dog Mom Box worth it? 
I believe that pup's moms also deserve to be treated and surprised on a regular basis. And since this subscription is quite an impressive value and you can cancel any time at least you can give it a try. Check current deals for Dog Mom Box here.

A sneaky trick to get a dog subscription box for $10
If you are looking for a budget version of subscription box fo your pup, I must admin, many ads and headlines promising an option within that sum are often misleading. But I've found a little trick that can still help you to save big time and get yourself a full size box for $10, $5, or even $1. The secret is to stick with big brands with good marketing, like Pupbox or Barkbox.
As soon as you create your account you'll start receiving all sorts of marketing promotions with opportunity to get the goodies at the lowest price. E.g. look at some subject lines and offers below: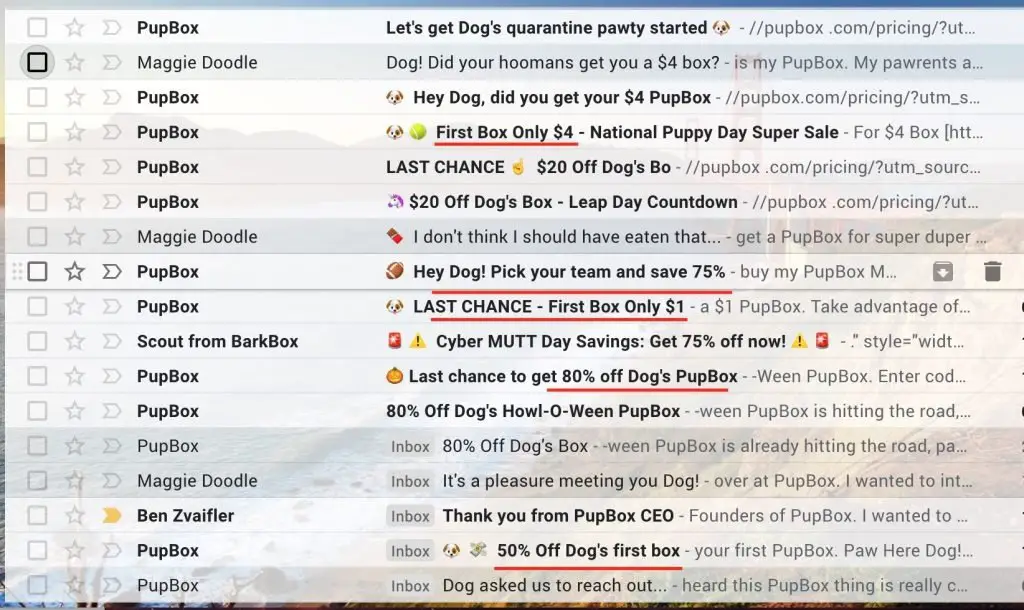 I'd still go for BarkBox though. But hey, if it's a bargain price, why not get both a spin. As long as such cool offers are available.
Credits: thanks for the photo to Canva and awesome pups and their parents: @catladysimmer, @odinofbrooklyn, @aye._aye._captain, @franklin_floof, @_kinsleythecorgi, @stella_maltese, and@brock.the.gq.shiloh.