One of the most difficult aspects of having a new dog home can be housebreaking a puppy. Potty training is tough, and the pet owner puts some effort and determination to succeed. Training is as straightforward as following a pet to the toilet and rewarding the right action with treatments and love. And good potty training spray might be a good help during this process.
Accidents occur in puppies up to the age of one year. The causes might include anything from incomplete home training to a change in the environment of the puppy. If your dog has an accident, continue to train him, don't get discouraged. Then if it doesn't seem to work yet, ask a veterinarian to exclude a medical problem. But can you get some other help in that seemingly impossible quest to speed up the process of housebreaking?
 Some pet owners confirm that potty training sprays are among the methods that should be tried.
Do you have a specific question about dog potty training sprays? Then use the table of contents below to jump to the most relevant section. And you can always go back by clicking on the black arrow in the right bottom corner of the page. Also, please note that some of the links in this article may be affiliate links. For more details, check the Disclosure section at the bottom of the page. 
How does dog training spray work?
Well, the potty training sprays themselves can consist of chemical and natural ingredients that bring the pup to the area where it was sprayed. Ideally, the puppy ends up going to the bathroom in this specific area only. These products are generally intended for puppy potty training and prevent pets from urinating or defecating in certain areas of the house.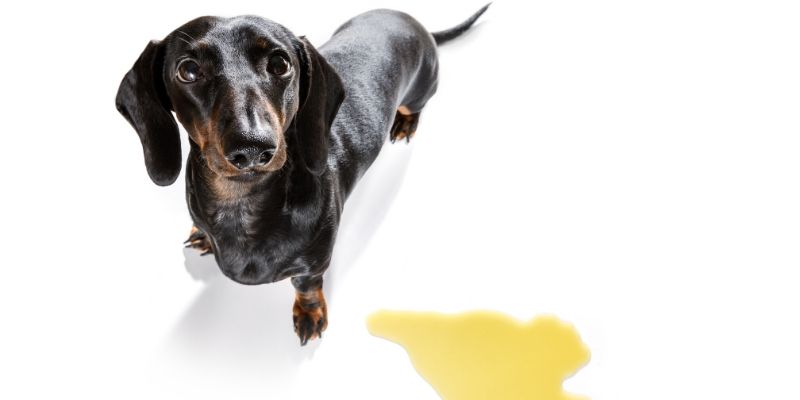 You might also like:
Are housebreaking sprays efficient?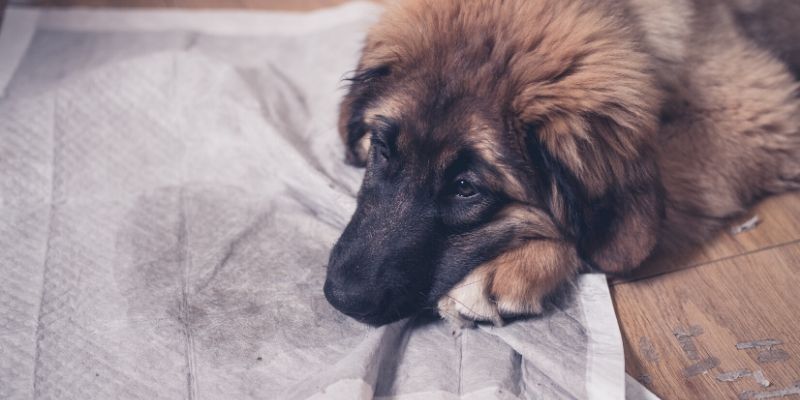 There are mixed feelings among proud puppy owners for potty training sprays. Some would say that none worked, some have a huge success with it. It is worth mentioning, however, that housebreaking spray is not a magic wand, and it is necessary to set up and continue the proper training process.
However, we have identified several products which can be called Best Homebreaking Sprays (including the worst). You may wish to shot it because the product is not that expensive and can save you a few months (and also a lot of cleaning and odor removal efforts).

Best puppy training spray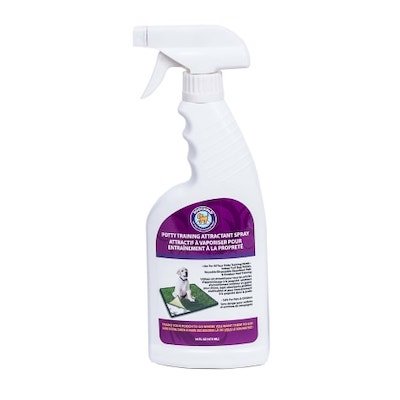 This training spray by Pooch PadsThis is by far one of the most authoritative domestic sprays. (And it's hard to find "THE ONE" because of all the products in this category might work for some pups and don't do anything for others).
For use, spray beds, sofas, chairs,  waste cans, rugs, and other prohibited spots and ask the pup to stay away from this area. As one pet owner described his experience the product was only used once, and the dogs no longer pee. Yes, it's on a pricier side, but from all available housebreaking sprays, this particular product has the highest success rates. So you might want to give it a shot.


Multipurpose dog potty training spray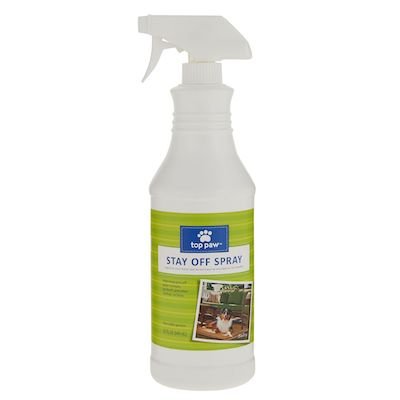 This is an upcoming product that worth a shot. Developed by Top Paw this spray won't only work for potty training purposes, but for correcting dog's behavior in general. Each application should last for up to 3 days. And it's water, rain, snow and dry weather resistant.
And in the worst-case scenario, if the spray doesn't work and accidents continue to happen, you may want to protect yourself by using the super powerful pet urine remover like Wee Wee by Four Paws.


Dog pheromone spray for potty training: Nature's Miracle House-Breaking Spray
[content-egg module=Amazon template=custom/image product="us-B003RH2C2W"]
This product seems not to work perfectly for all the pet-owners. However to explain how pheromone-based potty training sprays work we've included it in this list.
Nature's Miracle Housebreaking Go Here's spray is specially developed to help train pups to potty, where you wish them to go. It transmits the signal that can only be perceptible by the dog's senses and informs the pet that it is fine to go potty at the place you've sprayed.
Dog pheromone sprays for potty training simply work because of the stress relief features it has on animals.
Pheromones are a chemical interaction between species, and they are received by the sensory organs (between the mouth and the nose). They have soothing capacities and help to reduce stress so that animals are drawn to them naturally.
Click here to check the current price on Amazon.
Or you can also check more reviews and current price at Petco or Petsmart.

Puppy pad training spray solution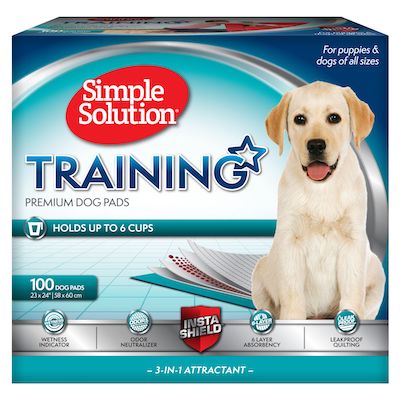 Whether or not these pheromones or everything else is going to work for your dog – you must test yourself. However, the pheromon's spray smell is powerful (some referred to it as something that "smells your entire house like an elephant pee").
But, whatever spray you are going to use one tricky method to keep your floors dry is to combine it with Puppy Pads with lasting absorption. These ones seem like a terrific option, so you might want to try this hack out.


Puppy potty training spray DIY: just a vinegar
Dogs are highly sensitive to vinegar's smell. So just spray around the prohibited places, and you are good to go. You can mix the vinegar with water, remembering even the slight smell of vinegar suppose to put your pup off.  
The great thing about this treatment is that it's completely dog-friendly! Even if your dog may hate the smell, he/she will not get hurt. The smell is not too pleasant to humans, although you must be used to part of your garden or a house with a small fragrance of vinegar for a while. What would you choose to choose between the toilet of the vinegar and the dog? Get the main ingredient for "homemade potty puppy spray" here.

Potty training sprays. Summary.
A good dog training spray is pretty difficult to find. Many sprays promise high-quality results at meager prices. But the reality is, things like this can be challenging and difficult to endure–and because of the small potty training accidents we never want to get rid of a favorite rug or couch.
If you give those sprays a shot and none of them worked for your pet (or you don't want to risk your money in the first place), there is the last resort: super-powerful odor eliminators by Live Pee Free. It helps to get rid of ANY pee odors naturally without enzymes, fragrances or detergents, thanks to positive ions technology.
And it works with ALL the surfaces – carpets, fabrics, wood, you name it. The product identified by happy customers as "magic in a bottle," and perhaps it won't be able to teach your pup how to potty, but at least it will help save your favorite carpet or expensive mattress. And the best thing: it's absolutely natural and totally pet-safe. Check them out here.
Photo by Daniël Maas on Unsplash