Squid is a Mollusca and belongs to the shellfish family. It comes in four varieties – i.e., red, hard shell, white, and black. It is a rich source of protein and minerals that are also low in calories. This makes squid a highly nutritious meal for your dog.  
Squid contains a high number of essential nutrients such as Zinc, Magnesium, Copper, Iron, Potassium, vitamin B12, E, C, and I am just getting started.
All these nutrients help in the health and performance of the immune system, bones, and blood cells. You may be wondering if your dog can eat squid. Well, let us find out!
Do you have a specific question about dogs eating squid? Then use the table of contents below to jump to the most relevant section. And you can always go back by clicking on the black arrow in the right bottom corner of the page. Also, please note that some of the links in this article may be affiliate links. For more details, check the Disclosure section at the bottom of the page. 
Is squid good for the dog?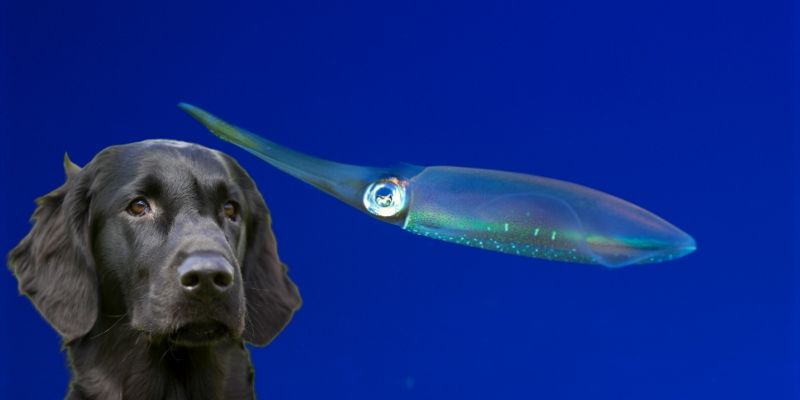 Yes, you can feed your dog with squid in moderation as long as it cooked in a dog-friendly manner. After all, it is a fantastic source of nutrients essential for the proper functioning of practically any bodily function of your pet. 
According to the food database compiled by the U.S. Department of Agriculture, 100g serving of raw squid has 92 calories, 15.58 g of protein, 1.38g of fat, and 3.08g of carbs.
And an unbelievable amount of nutrients too: 32mg of Calcium, 33mg of Magnesium, 221mg of Phosphorus, 246mg of Potassium Copper Zink Selenium Vitamin C, Niacin, Folate, Choline, just to name a few.
The only downside, it's quite high on cholesterol – 233 mg per 100g. 
Although squid is safe for your dog, still, you should consult with your vet before giving it to your dog. It won't cause problems, but just for the safe side, it is good to confirm.
Or if you are not a fan of queuing, commuting, holding the line, and overpaying the vet you might try asking the certified vet your question online.

Can squid be poisonous for dogs?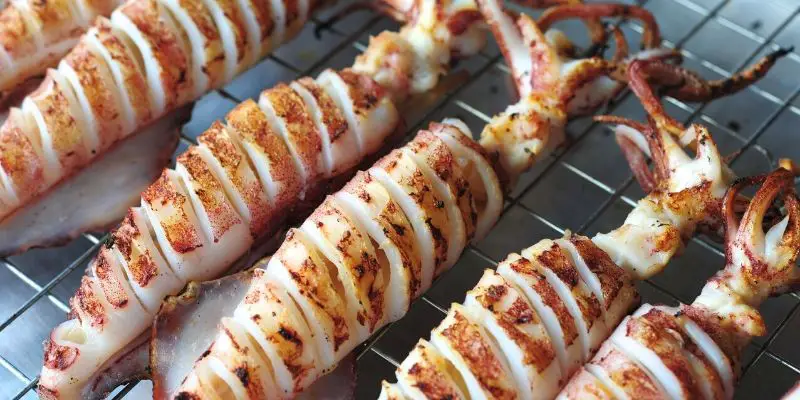 No, squid is not poisonous, but your dog potentially can have an adverse reaction to a new food. Especially if you feed more than the recommended amount and if you haven't tested this source of protein before.
Although, as with any other food, overfeeding is highly discouraged. If your dog has liver or kidney issues, consuming too much squid can escalate the workload on a pet's organs. And ruin the balance of essential nutrients, which can further intensify the disease.

You might also like:
Can dogs eat dried squid?
No, dried squid is not suitable for your dog. Salty food can cause stomach upset, increase the amount of sodium content in the blood. That potentially could lead to various health issues, from vomiting and diarrhea to seizures and coma. 
Let's take this popular brand of shredded dried squid, for example. 
[content-egg module=Amazon template=custom/image product="us-B001QD1UI6″]
It has 540mg of sodium per 30g of the product, and it's more than 5 times higher than the recommended daily intake for an average (20-30 pounds) sized dog. 

Can dogs eat raw squid?
Yes, your dog can eat raw squid, but only if you 100% sure in your supplier. And many cases, uncooked fish and seafood (as well as meat) can contain various bacterias and pathogens, and you don't want those to infest your dog's body.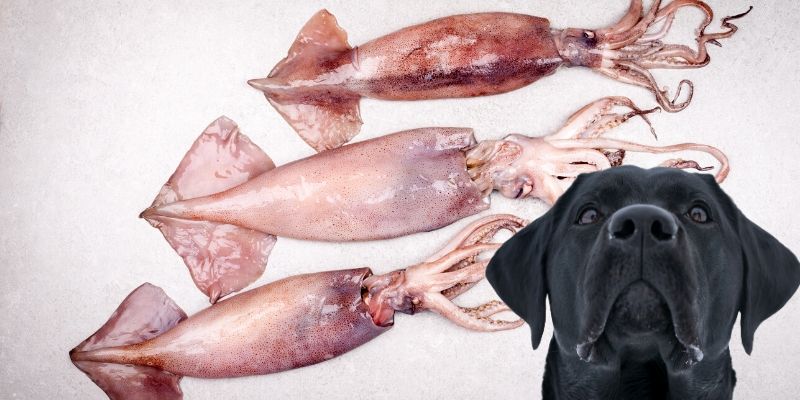 Other than raw squid is great – it can be helpful for cell repair, cell growth, healthy blood, and skin.
It can also strengthen your dog's muscles because of the essential proteins in natural form.
Raw squid has healthy HDL fats, which provides energy to your dog, helps in the proper functioning of the brain, as well as keeps the skin and hair coat of your dog healthy and shiny. But if you are unsure, the best way to cook the squid for your pup is to boil it with no seasoning added. 

Are you a pet parent? Do you love your dog but wish it was less of a trouble-maker? Eliminate bad behavior and Create the obedient, well-behaved pet of your dreams…Follow these tips from one of the most successful dog experts.
Can dogs eat fried squid?
Fried food, in general, fried squid included, is a bad idea for dogs. Anything fatty and greasy can lead to diarrhea and stomach pains in dogs. And if your pet consumes too much, it can even cause the pancreas inflammation and production of enzymes that can potentially damage your dog's intestines.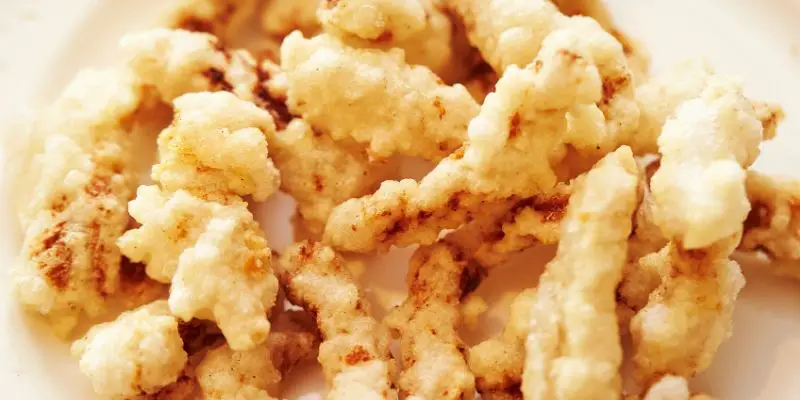 Can dogs have squid? Conclusion
Squid can be a delicious treat for your dog as it is so rich in proteins and vitamins, it literally has dozens of it. It's also one of the best sources of Omega-3 for dogs.
All of these promote the healthy functioning of your dog's body. At the same time, it is advisable not to feed your dog with fried, dried, or seasoned squid – as it can cause severe health issues. And, of course, you shouldn't overfeed your dog with that new human product.
If you want to keep it safe while introducing this new protein to your dog's diet, you might want to go for dog food containing it. 
One of the best options I've found is this squid recipe by Earthborn Holistic Venture. 
[content-egg module=Amazon template=custom/image product="us-B075TBQMJF"]
Squid recipe by Earthborn Holistic Venture on Amazon. More details here.
It's a limited ingredient formula, and most of its protein comes from the squid (65%) (also a bit from chickpeas and pumpkin).
So you get high-quality protein and lack of any junk fillers. It works miracles on the pup's digestive systems. And proven to bring amazing results for improvement in any skin sensitivities your pet might have and coat condition too.
So, that would be my personal preference in the range of dog-friendly kinds of squid. 
Thanks for the blog graphics: Canva.com

Thanks for the blog graphics: Canva.com
Doghint.com is a participant of several affiliate programs. The list includes (but not limited to) the following: VigLink, Refersion, ShareASale, and Amazon Services LLC Associates Program, an affiliate advertising program designed to provide a mean for us to earn fees by linking to Amazon.com and affiliated sites. Doghint.com does not intend to provide veterinary advice. All published articles are meant for informational purposes only and not substitute the professional veterinary consultation.