In this report, you'll find in-depth insights, pros and cons, and safety corks that are relevant in case you are shopping for a dog cooling mat. 
If you are here because you want to find the best option as soon as possible, check the comparison table below (I've researched all available options to come up with this shortlist). 
Otherwise, keep reading. 

As humans, we tend to love the summer months and relish the heat. However, our canine companions are not so comfortable with those temperatures soar.
Their fur coats and their inability to freely sweat can leave your dog feeling uncomfortable in the summer heat. And may even end up suffering from heatstroke if they get too hot. 
This is why you often see your dog abandoning his bed and lying on a tile or cement floor when temperatures climb. 
However, those hard floors are not great for your dog's joints and won't keep him cool out of doors. A cooling mat can provide your dog with a comfortable and fresh place to lie on those days when the heat is a bit more than they can bear.


What is a cooling mat?
A cooling mat is a rectangular mat that is designed to draw heat away from your dog's body, leaving your dog cooler and more comfortable. These mats have the added advantage of providing at least some cushioning. Which is especially important in dogs with arthritis or suffer from hip dysplasia.
Most cooling mats are designed for both indoor and outdoor use so your dog can stay cooler wherever he happens to spend time the most.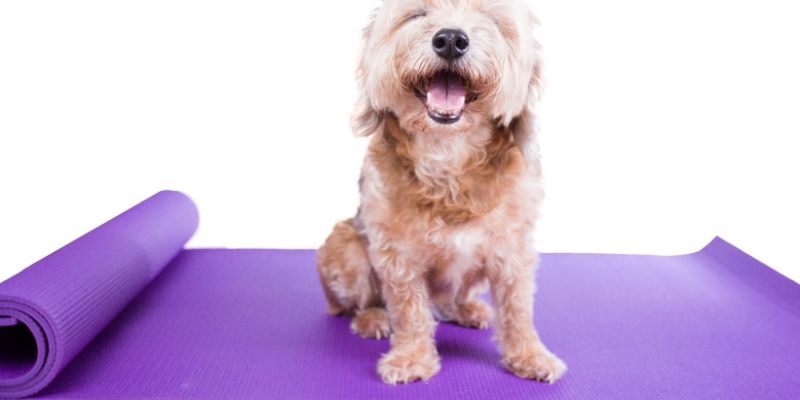 How does it work, and what is it made of? 
Cooling mats work by absorbing some of your dog's body heat so they feel colder than they would without the mat.
Various cooling mats are made of different materials.
The outside of most cooling mats is made from nylon, vinyl, or mesh. The last being the most breathable.
The cooling part of it is either plain water that you fill the mat with a special gel that is activated when your dog lies on it or special cooling packs that you fill the pad with. 
Each type of cooling pad has its own advantages and disadvantages, and some are more convenient than others.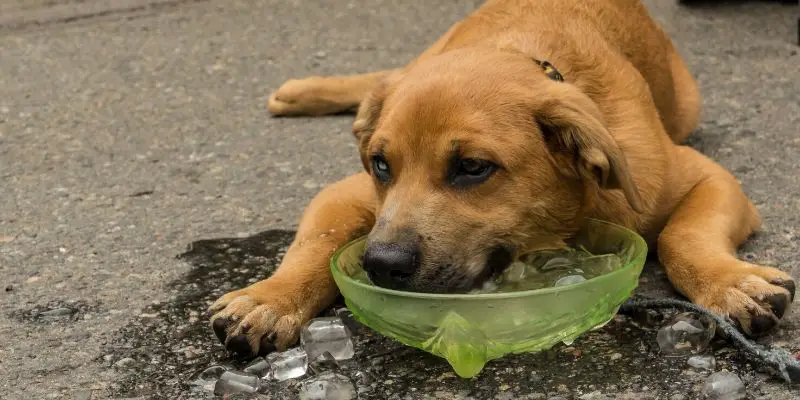 Most common types of cooling mats
The two most common types of cooling mats are those that you fill with water and those that are filled with gel and are activated by pressure. These common types of cooling mats are even more popular if they are portable and can fold up fairly small for easy transportation or storage during the colder months. 

Are cooling mats safe?
Overall cooling mats are safe for both dogs and people. However, water-filled mats can spring leaks, spill, or develop mold. And a leaking product can ruin your damage flooring if used indoors. While the outside of these mats usually is durable, you will need to supervise any dog that is a chewer.
And if we are talking about gel insides, there have been numerous incidents where dogs have gotten sick by chewing on the gel from the mat. It may make sense to avoid gel cooling products altogether if there's a risk that your pet may chew on it.


Why might you need it?
You may need a cooling mat for your dog if your dog is a breed with long hair.
Or you live in an area that has scorching temperatures.
You also may need it if your dog spends a lot of time lying on the floor, and you want to provide him with a more comfortable and padded place to sleep.
So with that being said, the cooling mat is a must for any responsible pet parent.
Now let's jump into our best dog cooling mats report. I hope it will help you to find the one that is tailored to your specific needs, whether it's your budget, dog size, age, etc. 

Best value for the money cooling mat
[content-egg module=Amazon template=custom/image product="us-B07CTJ4LJ2″]
Cooling comfort bed by K&H on Amazon
If you are looking for a cooling mat that provides you excellent value for the money, check this cooling comfort bed by K&H.
It's on the pricey side, but it acts as a mat and as a bed! And it has orthopedic support too!
So, this product is the perfect mat to keep your dog fresh and provide support. That can be extremely handy for those dogs who suffer from hip dysplasia or arthritis.

 This bed comes in 3 sizes small 17″ X 24," medium 22″ X 32″ and large 32″ X 44."
This pad is made from tough nylon/vinyl and contains no chemical gels that may make your dog ill. You simply fill the dog bed with water to provide your pooch with a cool, comfortable, and supportive place to sleep.

Best large dog cooling mat
[content-egg module=Amazon template=custom/image product="us-B07NRBRGYD"]
Reversible dog cooling mat by AKC from Amazon
If you have a large dog that suffers from hot temperatures, then this reversible dog cooling mat by AKC may be worth considering.
It comes in dozens of colors and four sizes. So even the largest pup will find it comfortable.
And this pad is 100% safe for both dogs and people. 
It also keeps dogs from suffering from heat stress and dehydration, providing them with a cool place to lie when the weather is hot.
It is especially helpful to older pets that tend to be more affected by the heat. 
It is both water and tear-resistant, reversible, and easy to clean. The mat stays cool thanks to non-toxic cooling gel beads inside it. It is easy to fold and can be used both inside and outside. 

Best cooling mat for dog crate
[content-egg module=Amazon template=custom/image product="us-B07DC6XY23″]
 Self-cooling mat by Pannow from Amazon
Are you looking for a mat that is small and portable enough to fit into your dog's crate? If so, then the self-cooling pad by Pannow may be the ideal choice.
This product is actually more of a cooling blanket than an actual mat. It is made from thin, breathable mesh self-cooling fabric. It stays about 3 degrees cooler than conventional materials. 
It's lightweight, portable, and machine washable and can keep your pet from dehydration and overheating. 
This pad neither needs water or relies on a gel to keep your dog cool. The fabric alone serves to keep your dog slightly colder on those hotter days. 
It can be easily thrown on your pet's bed, on the sofa, the floor, and is perfect for the kennel.
However, you need to keep in mind this blanket doesn't provide much cushioning for your dog's joints. 

Best outdoor cooling mat
[content-egg module=Amazon template=custom/image product="us-B07NQQ9KK2″]
CoolerDog pad from Amazon
Some dogs get overly heated when spending any time out of doors during the hotter weather. If you want a great outdoor cooling mat that really keeps your dog fresh during the hottest days, then this invention by CoolerDog may be just what you are looking for.
This product combines a waterbed cushion, FlexFreeze ice sheet (with 88 ice cubes), and a thick layer of insulation for long-lasting cooling for any dog that is heat sensitive. 
This mat contains no harmful chemicals or gels since this mat only uses pure water. 
Although this mat only comes in one size, it does have snaps on 3 sides so that you can connect several together to make it suitable for larger dogs. You can purchase a single pad or get a pack of 2 or 4. 

The ice cubes for the FlexFreeze ice sheet are reusable. So it can be folded and placed back in the freezer. In addition to cooling your pooch, this pad provides cushioning and support for your dog's joints. 
It may be wise to purchase extra ice sheets so that you keep one in the freezer and one in the dog's pad. 

Thanks for the blog graphics: Canva.com