Are you thinking of bringing your furry friend to your next vacation? Are you pondering over which is the most effective and safest way to travel with a dog? Do you want to ensure a comfortable trip for everyone, including your four-legged friend? 
While some might think that all those questions are easy – you just grab your pup and go, in reality, things might quickly go out of hand.  
There are multiple modes of transportation through which you can travel, including car, bus, motorcycle, etc. Some means of travel require stressful paperwork. Some are more straightforward.  
But don't worry! By the end of this article, you will get to know the most convenient ways to travel with your four-legged companion, safe, and stress-free. The one that suits you and your family the best. 
Are you interested in a particular topic about traveling with your pup? Then use the table of contents below to jump to the most relevant section. And you can always go back by clicking on the black arrow in the right bottom corner of the page. Also, please note that some of the links in this article may be affiliate links. For more details, check the Disclosure section at the bottom of the page. 
Air traveling with dogs
Many pet parents I've talked to while conducting this research shared the opinion that taking a dog on a plane is next to impossible.
But in reality, its something that needs proper planning and well-informed decision. But, once you know all the rules and regulations, you would be able to carry your pet on a plane without facing any challenge. 

Indeed there are various benefits of flying with a dog. E.g., you don't have to worry about feeding your dog, need not carry pet-friendly commercial carriers, entertainment, security, etc. But on the contrary, air travel can be risky for your dog at the same time. 
For instance, if your dog is having a pushed-in face, such as pugs, bulldogs, etc. then he might go through heat stroke and oxygen deprivation.
Also, you need your dog passport, health certificate, understand airport security regulations, etc. Along with this, you have to reserve a seat in advance by paying extra bucks.
According to the data published by Forbes in 2019, if you are traveling with your pet by plane, you might expect to spend a lot. About $125 for a one-way in-cabin place for your pup and anything from $50 to $500 for one way ticket for furry cargo passenger.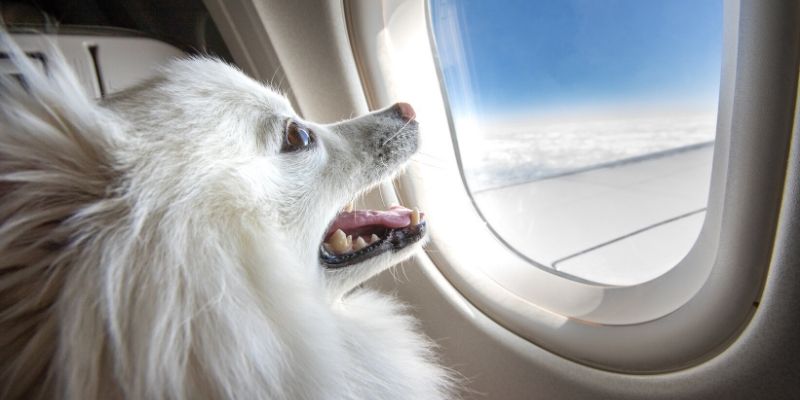 In 2018 Ozy.com published an article quoting the data from National Pet Owners Survey, conducted in 2017-2018.
It was established that 68% of the US households own a pet, and 37% of pet owners travel with their furry babies each year. So the problem in question is real. 
If you want to travel long distances with your dog, you have to opt-in for flying. And in this case, you have to make sure you go through the do's and don'ts and decide whether the plane is the right choice or not. 


Best airline to travel with a dog
No matter whether you want to fly cross-country or just one state over, choosing the best airline is essential. If you successfully pick the most effective airline, then you would be able to travel with a dog safely and without any hassle. 

Indeed, there are hundreds of airlines that allow passengers to travel with their dogs. But, below are some of the top airlines that are most popular and allows the pet owners to get ensured that their furry friend is traveling comfortably. 

Even for short trips within the US, there are numerous options. Hawaii Airlines, Spirit Airlines, Frontier Airlines, JetBlue, United Airlines, American Airlines, Southwest Airlines, Delta Airlines, the list goes on. 

Before choosing one of these, make sure you know the rules and regulations of each airline. Click here to have an in-depth understanding of each airline and select the best (Spoiler alert – #1, according to this report, is Delta). 


Papers needed to travel with a dog 
If you have decided to travel through the plane, then make sure you carry all the documents along with you. Because without pet documents, you would not be able to fly.
As every state has its own rules; therefore, each airline has different rules and regulations. But, I have jotted down some of the papers that are must and commonly needed. 

Pet passport
Certificate of ownership
Rabies vaccination document
Acclimation certificate
Veterinary inspection certificate/Health certificate
Thus, once you have decided to travel, don't forget to carry these documents along with you.
Well! No Documents, No Fly!!!

Is it safe to travel with a dog in cargo? 
Traveling with a dog in cargo can be the most dangerous and worst decision.

In cargo, pets are loaded into the pressurized compartment, which is separated from the luggage. It is the only compartment that is loaded onto the plane at the last and first to get out. Therefore, your pet will not get any supervision which might be stressful for both you and your dog. 

But, if you still want to make your pet travel this way, make sure you read the before and after traveling tips in cargo. 


Travel with a dog on a train
If you are confused about whether you can carry the dogs with you while traveling on trains or not, then the answer is a big YES. But, there are still some rules you have to follow.
If you choose a train as a source of transportation rather than a plane, then firstly, you do not need any passport. You just need a booking ticket and have to make a reasonable payment based on the size of the dog. 
Moreover, you can also keep your dog close. But it can only be possible if you are traveling by first class AC.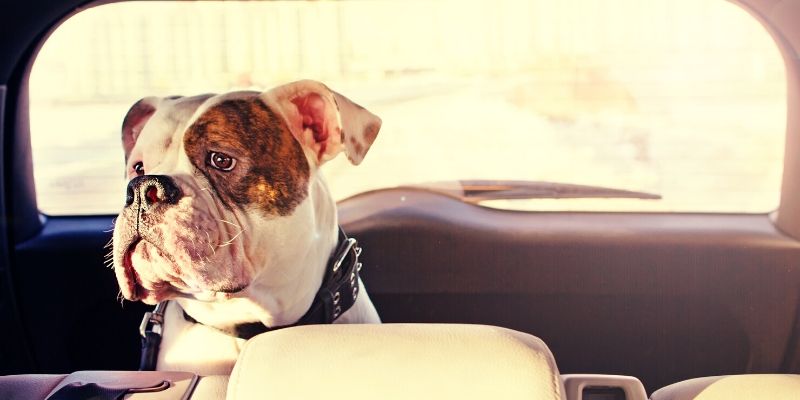 Still, you need the consent of fellow passengers and make sure your pet does not create any non-sense. Because if your fellow passenger makes an objection within the journey, then there are chances that your dog will be immediately removed to the guard's van. 
If we talk about the pet's safety, then, to be honest, dog boxes are not so great. The compartment in which the dogs are kept does not have any air conditioning facility.
Due to horrible conditions, your dog might be dehydrated. In some extreme cases, a dog can even die due to excess heat, And also though the chances of it are slim, you don't want to risk it. 

The pet owners who cannot afford to fly in-plane and want to keep their furry friend along with you on a train, then make sure you know the requirements to travel by a dog on the train.

Requirements to travel with a dog by train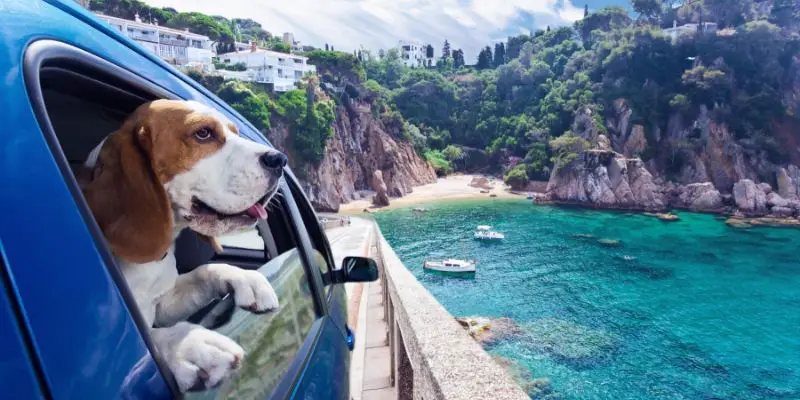 Below are some of the things that one needs to consider while traveling with a dog. 

Don't forget to carry your dog's vaccination paper along with you.
Make sure you carry the xerox copy of all the documents for identification purposes. 
Don't forget to carry a muzzle to prevent fellow passengers from dog bites. 
Carry some entertainment to keep him busy.
Feed your dog with his favorite treats. But try not to provide in excess as he might vomit. 
Do carry a first aid kit to provide your proper pet medication in case of urgency. 
By keeping these requirements in mind, both you and your pet can enjoy a safe and comfortable journey without experiencing any issues.  


Travel with a dog in a car
Traveling on the road by car is one of the safest decisions to take. It will not only put the least amount of stress on your dog, but also he will enjoy traveling by car. 

One of the biggest advantages of traveling with a dog in a car is that you can make halts at any time anywhere to keep your pup refreshed. Also, you don't need any legal documents to carry while traveling in a car.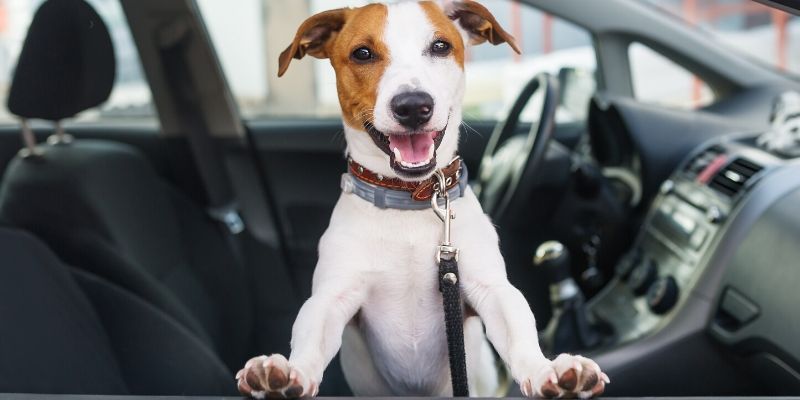 Moreover, you can spend quality time with your pet. Besides, you don't have to worry about your four-legged friend's health as you can provide good food and care anytime during the journey. 

But, still, there are some things that one needs to look while traveling with a dog by car. Like you should not forget to carry a well-ventilated crate or carrier. It will keep your dog secure and safe. 

Also, make sure you never leave your pet alone in a car as it might cause the dog to die. You have to look after your dog on the entire journey and make sure your furry friend does not put his head outside the window as he might get injured by flying objects. 

By taking the points mentioned above into consideration, you would be able to experience happy traveling with your four-legged friend in a car. 


Bus travel with a dog 
Most of the individuals have the question of whether they can take their dogs on buses or not. Yes! Traveling by bus is a great way to save money and keep the dog healthy and fit.
Also, by choosing bus travel, you can easily cut down personal carbon emissions, which is good for the health of both passengers and dogs. But, it is not a convenient way to travel, especially with dogs. 
One needs to carry various items like dog food, treats, toys, rabies vaccination certificate, animal health certificate, etc. Also, you need to get permission from the bus driver and people sitting next to you. 
If you still want to travel by bus with your furry friend, I recommend you to sit at the back to avoid disturbance and book the tickets after taking permission. Also, try to keep an alternative way of transportation because these are chances that the driver may not accept your dog at the last moment. 

Bus lines that allow dogs in the US
If you want to delight your dog on a road trip via bus in the US, then it's time to go!
But before you give it a try, you have to make sure that the chosen bus company won't mind if you will travel with your pet. And that you follow all the regulations from the specific transporting company. 
Here are some of the US bus lines and bus companies that allow you to travel with your four-legged companion. 
MBTA (Boston and surrounding suburbs). May allow non-service animals during off-peak hours. For more rules, read on section "Pets" of their Rider Etiquette. 
Some small non-service animals are allowed on board of Sacramento Regional Transit service vehicles in properly secured carriers. Read more in the company's rules. 
RTD from Denver, CO, welcomes pets aboard as long as they are not blocking the aisle and carried on the customer's lap or on the floor. Read more in the company's policies. 
Non-service animals are also allowed on local buses of Community Transit (headquarter in Everett, WA). As long as they are on a leash and wearing mouth covering muzzle. Read more in the company's pet-related rules.
The list goes on.
Of course, if you are a happy owner of a certified service dog, your life will be so much easier. As service pets are much more welcomed on pretty much any bus line. And your life as a pet owner is so much easier in general.
But if your pup is just a non-service furry pet, you still have a chance with buses. Just browse the websites of local bus companies depending on the state/country you are intending to travel to, and you will surely find a sound option. 

Can a dog travel in a camper?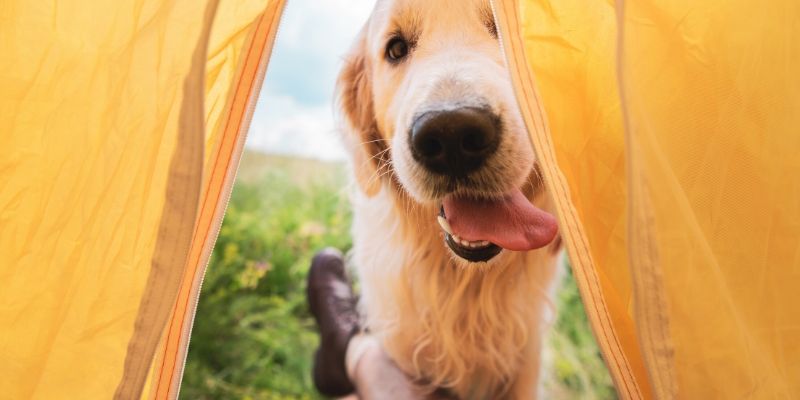 Camper is basically a type of van that provides the comfort of home and allows you to navigate from one place to another along with your dog. 
By vacationing in a camper, your dog can enjoy the great outdoor and home comfort both at the same time. Most of the dogs easily accept camper trips as hanging out in another home. Hence, it is one of the easiest ways to travel with dogs and provide him companionship. 
No doubt, a dog can be carried in a camper or a fifth wheel. But, if you want to be a responsible pet owner, never allow your dog to stay alone in a camper or trailer because he can get nervous and scared. 
If you are not an owner of a vehicle, before booking a camper, make sure you research the pet policies and bring food and pet documents.
Also, before starting your journey, you need to introduce your dog with the camper, so that he does not cause anxiety. Moreover, there are chances that your companion can run away from the camper and get lost. 
So, make sure you keep all these points in mind before traveling in a camper with a dog. 


Motorcycle travel with dogs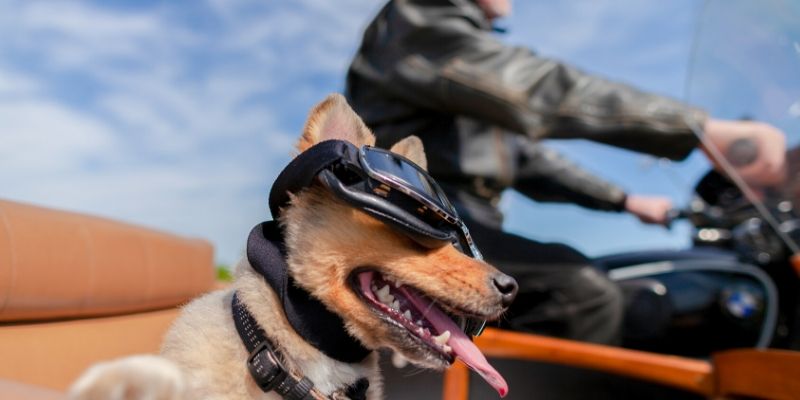 If you are a motorcycle enthusiast and a dog owner, then taking both together is not always the best way to choose. It doesn't mean that it's impossible; it's just about your dog's safety. 

Traveling on a motorcycle could make your journey more enjoyable. But, while choosing a bike as a mode of transportation, one needs a safe motorcycle pet carrier and look for various things.
Although if you are a motorbike (and dogs) enthusiast, there's a product that you might appreciate.
It was created by a couple from Australia. Once upon a time, they decided that they wanted to travel all across the globe: both Americas, Europe, Africa, and Asia.
And yes, you've guessed it right. They are pet owners, and their chosen mean of travel is a motorcycle. 

 Starting off their journey with touring with all 7 states of Australia, they've come up with the safest way to take your dog on a motorcycle, called Pillion Pooch. But you might want to check out their story in the product's listing yourself here. 
[content-egg module=Amazon template=custom/image product="us-B07VYKGMHW"]
The safest way to take your dog on a motorcycle, Papillion Pooch

Can you bike with a dog? 
Absolutely yes, having a dog on a motorcycle is legal. One can bike with a dog without any hassle, only if we consider the below mentioned dog care tips.

Firstly you need to get assured that your pet is a good fit for a motorcycle. For this, you can visit the vet and get updates on shots and vaccinations. 
Make sure you use the safest carrier or sidecar.
Start driving slowly and train your dog well, especially if you are planning to take a long-distance trip. 
Make sure you dress your dog with protective dog gear, including protective helmet, booties, jacket, canine motorcycle google, etc. 
Don't forget to carry plenty of pet supplies like food, water, leashes, toys, first aid kit, etc. 
By considering all these tips, you can bike with your dog and experience a safe and fun adventure. 


So what is the best way to travel with your pup?  
Vacationing with a dog can be stressful and enjoyable both at the same time. But, if you choose the mean of traveling that fits yours and your pup's temper chances are you both will be thrilled with your journey. 

No matter which transport you choose, if you are calm and well prepared, then your pup will also behave the same. Hopefully, the information mentioned above will help you to choose the most comfortable and safest way to travel with your dog. 
Thanks for the blog graphics: Canva.com