Depending on your dog's size, grooming (which has to be done regularly) may cost you anywhere from $10 + $100 + tips. That's a lot of extra money to spend each month. 
But brushing, nail trimming, and bathing are easy to learn, so if your dog requires only that, it's easy to do. 
Mastering dog grooming shears is more challenging and takes longer than watching one youtube video, but you still can learn it. And let's face it you'll even have an advantage over even the best groomer in the world – your pup will feel way less stress around you. 
Proper tools might be pricey, of course. Still, overall you can save hundreds and even thousands of dollars per year with little upfront time and money investment in decent dog shears and practicing your new skill. After all, grooming might also become your little side-hustle. 
When it comes to buying grooming shears for dogs, there are a lot of factors to consider. E.g., the thickness of your dog's coat, how curly it is, and the kind of look you are going for. 
For example, shorter grooming scissors are best for small dogs, while longer shears are ideal for trimming large dog breeds, but that is just the beginning.
If you don't feel like reading and looking for a quick suggestion, I'd say look at this option. Those are great for beginners and professionals. And very versatile too: they work well for trimming around the head, ear, eyes, fluffy legs, etc.
Otherwise keep reading. I've spent a good 12 hours trying to find the best grooming shears for any potential situation. And I hope you'll find this list useful. 
Do you have a specific question about dog grooming shears? Then use the table of contents below to jump to the most relevant section. And you can always go back by clicking on the black arrow in the right bottom corner of the page. Also, please note that some of the links in this article may be affiliate links. For more details, check the Disclosure section at the bottom of the page. 
Best dog grooming shears
[content-egg module=Amazon template=custom/image product="us-B07ZWVYL5G"]
These dog shears are made of durable stainless steel, solid to keep edges for a long time and sharp to cut hair quickly.
Its design allows you to grip them very comfortably and reduce pressure from your shoulder.
And since those are curved, they are versatile too – you can use it for trimming around the head, ear, eyes, fluffy legs, and paws. Anybody can handle these scissors with ease and make the job done efficiently.

Professional dog grooming shears
[content-egg module=Amazon template=custom/image product="us-B01J5ABII8″]
These shears are made of high-quality 6CR stainless steel with high hardness so that the scissors are durable and sharp.
The ergonomic design makes them very comfortable to hold. The cutting is smooth and stable thanks to the edge line of the blade that is evenly polished. Also, the thinning scissors are sharp and do not clip the hair.

Best thinning shears for dog grooming
[content-egg module=Amazon template=custom/image product="us-B07R2L4LC2″]
These dog grooming shears are made of high-end Japanese 440C carbon stainless steel. And it's actually a set, not just one pair of scissors. It includes 7 Inch thinning shears, 7 Inch dog grooming curved scissors, 7 Inch dog grooming chunkers, a comb, and 7 Inch straight cutting grooming scissors.
While each piece you get with this set works amazingly well, the thinning shears are just brilliant. These even have a muffler between the handles, which means quiet grooming for your sensitive pup, making the whole process less scary. 

Cheapest dog grooming shears 
[content-egg module=Amazon template=custom/image product="us-B00XB1G4U0″]
These shears are made of the highest quality 420c Japanese stainless steel. They are professional, and its sound quality provides a smooth, fast cut. 8 In Straight Blade is sharp and easy to handle for groomers or home use. These also have removable comfort rings that ease the stress on hands while grooming. And come at a bargain price!

Best dog grooming shears set
[content-egg module=Amazon template=custom/image product="us-B07VP4756X"]
This is perfect pet grooming 4 pieces set for personal and professional use.
Premium dog grooming scissors are crafted from the highest quality Japanese 440C steel. All items are ultra-sharp and feature concave blades for smooth cutting and durability. 
The adjustable tension screw makes it easy to adjust the dogs grooming scissors to match the needs and ensure a smooth scissoring action time after time. Love this set!

Best blending shears for dog grooming
[content-egg module=Amazon template=custom/image product="us-B07DNTN135″]
These 6.5″ dog blending shears are made of 440C Grade stainless steel, which makes them durable, functional, and very strong. The blade is very sharp and smooth, with the best cutting angle of 45 degrees.
Engineering structure design allows you to grip them very comfortably. And thought through design ensures the minimum risk for repetitive motion injury.

When it's better to use dog shears VS scissors
Shears have more of a space between the blades, so it can slice through the hair quickly. And those are particularly efficient when you are dealing with a thicker coat.  
Straight edge scissors should better be used to cut around delicate areas, e.g., face, around the paws, and tail. They're also working well for cutting out the stubborn knots.

How much does dog grooming shears cost? 
Whether you would like to buy one scissors or set of scissors, the price varies from 7$ to 150$ for the kit. You can pick up a fairly decent pair of shears for around $15-$25.

Can I use dog grooming shears on human hair?
Tools for human hair have thinner teeth. Both hair and pet clipper blades come in fine-tooth or skip tooth varieties. Dog clippers and shears are generally a lot sharper to get through thick, coarse dog hair, so you can still use it on a human's hair if you don't mind sharing grooming tools with your dog.  

Types of dog grooming shears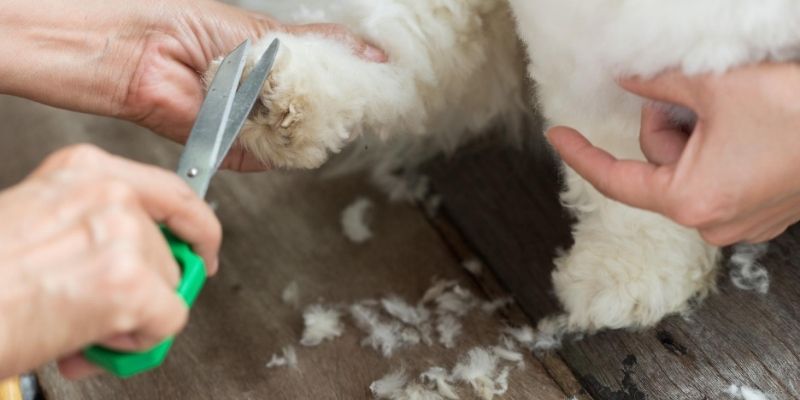 Some of the most common types of dog grooming shears include:
Thinning Shears
Thinning shears are helpful when it comes to flattening the root of the hair. You can also use it to blend a trimmed face and make it more natural.
Chunkers
This type is ideal for dealing with heavy curls faster and more efficiently. However, you have to be careful because you can get too passionate about the process and cut too much.
Rounded-Tip Shears
These dog shears are suitable for trimming those hard-to-reach and delicate areas, especially on your dog's face. The rounded tips prevent damages to pets, especially around the eyes, ear hair, lip line, and hair on foot and claw.
Curved Scissors
Curved scissors come in different lengths from 4 to 10 inches. Some find it easier to use these shears due to better angles that can cut hair faster.
Straight-Cutting Scissors
These scissors are most common to use for trimming your dog's hair. The 8-inch shears are best on curly coats like those Poodles and Bichons. 
Thanks for the blog graphics: Canva.com