Any dog owner knows how much of a struggle it can be to keep all that shedding hair under control. The tool called Magic fur brush has been generating quite a lot of buzz lately. As much as some pet-owners firmly believe that it's arguably the most efficient pet deshedding tool. They're known for being easy to use, functioning efficiently without leaving a mess, loved by pets, and being very eco-friendly.
Since I tend to be skeptical, I decided to dissect the whole category into pieces and find out (once and for all) what's so magical about "magic" fur brush. 
Do you have a specific question about the magic fur brush? Then use the table of contents below to jump to the most relevant section. And you can always go back by clicking on the black arrow in the right bottom corner of the page. Also, please note that some of the links in this article may be affiliate links. For more details, check the Disclosure section at the bottom of the page. 
What is a magic fur brush, and how is it made?
Magic Fur Brush is a pet deshedding tool. It is typically made up of 4 inches stainless steel, and amazingly, it does not hurt our pets' skin. What makes the magic fur brush 'magical' is that even though it's very effective, it is designed to make the deshedding process fun and soothing for your pets.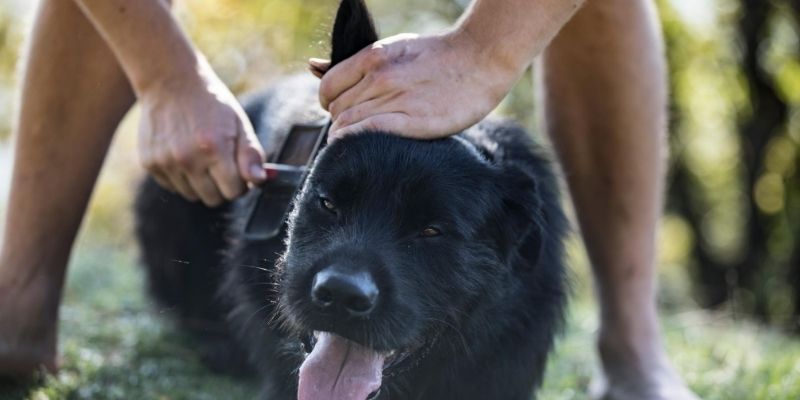 Does the magic fur brush really work?
Whether I am skeptical or not about this product, but the majority of pet owners reported that this design works for practically any breed and coat. The decrease in shedding is often noticeable after just one or two uses.
After regular use of a magic fur brush, you will no longer get a handful of hair when petting the dog. To make things even better, the amount of hair buildup on floors, furniture, and dog beds can get noticeably reduced as well. The icing on the cake is that many dogs enjoy being groomed with a magic fur brush.

How to use the magic fur brush?
Before you use the product, it's recommended that you wash your pet and dry its coat. If your pet's coat has tangles, remove those first before bathing. Make sure that your pet is relaxed during the process. Keep pups favorite treats around to reward good behavior during the brushing. 
 When your pet is ready, take the ergonomic non-slip handle of Magic fur brush and press it to slide and clip the comb into place. The comb itself has four-inch rust-resistant blades that will effectively reach deep down to the undercoat.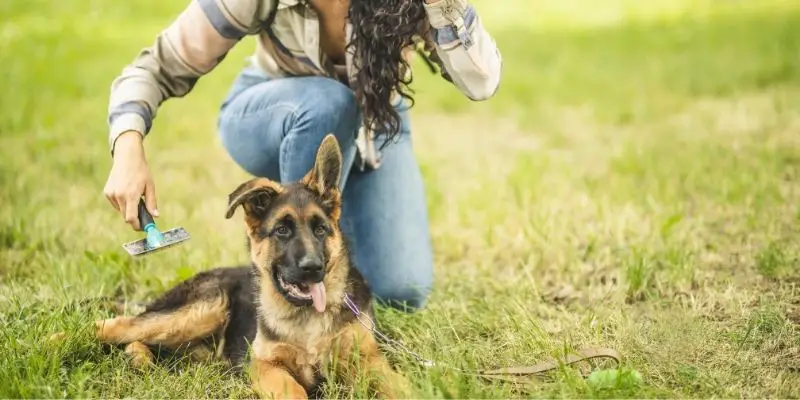 Start brushing your pet with smooth strokes toward the direction of the hair growth.
The Magic fur brush is perfect for all shedding breeds of dogs of any size. So whether your pet is super furry or has short fur, this can be an appropriate brush choice. 
Using this brush can be a good bonding exercise. Pets love the feeling of being gently brushed. However, it's recommended to avoid using the brush on sensitive areas.
Use the Magic fur brush 2 to 3 times a week for ten to fifteen minutes, depending on the pet's size. Regular use of a vet-approved brush will save you hundreds and even thousands of dollars of pet grooming costs per year.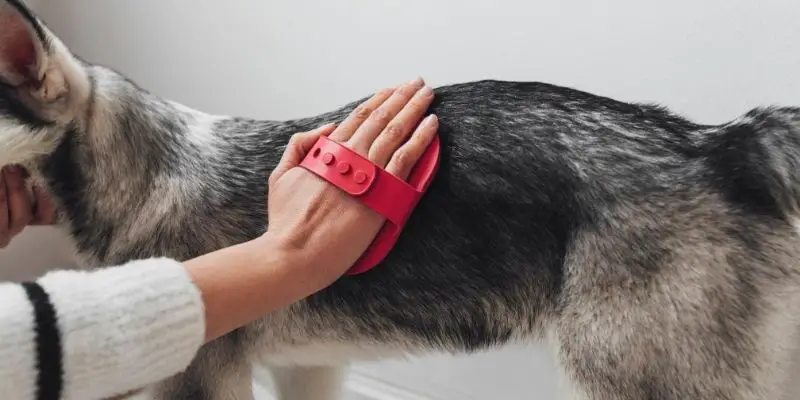 When will dogs benefit from magic brush the most?
For general understanding, if your dog is an outside pet and you live in a colder area, you should expect the winter coat to shed around March and complete by June. Then, the cycle repeats itself from September to November.
However, when dogs live inside the home, things may get complicated. Exposure to artificial heating during the winter and air conditioning during the summer, causes the dog's normal shedding cycle to get interrupted with the end result of more moderate shedding during the year.
So all in all, your best bet is to have your magic brush available all year round.

Magic fur brush vs. Furminator
Many would compare magic fur brush with Furminator – another pet grooming hit. But there are some differences between those two. 
[content-egg module=Amazon template=custom/image product="us-B0040QOYZ2″]
One of the unique features of Furminator is the FURjector button. By pushing it, you eject the plastic strip underneath the brush's teeth, so you can get rid of all the fur you've collected easily.  
The l brush head is designed in a way that allows the teeth to reach down into the deeper layers of dog's coat to remove as much loose hair as possible. It is similar to the magic fur brush in this regard.
The drawback to this deshedding tool is that it is rather heavy. And also cost about twice as much as a magic fur brush. You can check the current price here. 

[content-egg module=Amazon template=custom/image product="us-B00DM1DDBW"]
The magic fur brush is easier to use than the furminator. It is a better product overall (apart from lacking that FURjector feature). It is more gentle and won't harm dogs with even the most sensitive skin. Not to mention the price difference.

 Magic Fur Brush Review
There are dozens of products referred to as magic fur brush available on Amazon. Some of them are good, some – not so much. And just taking advantage of marketing themselves as a part of this category of deshedding tools. 
As far as my research goes, my favorite option is this one by MIU COLOR. 
While most magic fur brushes are easy to use, they lack the MIU COLOR's sensitivity as a primary feature. It's super light and gentle on a pet's coat, so most dogs are actually getting excited about upcoming grooming. It is easy to handle and has a soft grip that makes use over a long time comfortable. Finally, it is very eco-friendly. 
This tool also features a detachable comb head, that can be removed and installed effortlessly. It also comes with a safe blade cover that protects the blades and ensures that the tool will last longer. 
Thanks for the blog graphics: Canva.com