If you have a puppy or a dog that is not yet potty-trained, it won't be out of the ordinary for the dog to occasionally soil their bed. It can take 4 to 6 months for house training for untrained dogs, but sometimes as much as a full year. This can also apply to older dogs who may start having incontinence in their old age.
With a regular dog bed, every time one of your pets wets the bed, you'll have to leave it out to dry in the sun and give it a wash if it starts to smell. This can be very stressful to do, particularly if your doggy is wetting the bed a lot.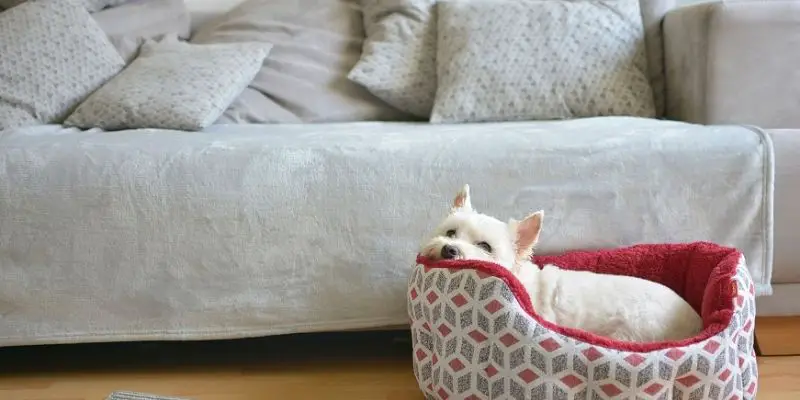 So there's no doubt you'll benefit a lot from a waterproof dog bed for your furry buddy. One thing to notice those, these are never 100% waterproof, no matter what the marketers will claim. Still, you will certainly notice a massive difference between them and a regular bed. This difference will be enough to save you a whole lot of stress and cleaning up.
If you only came here for a quick suggestion, my best choice for a water-resistant dog bed is this one from Dogbed4less. It comes in 7 different sizes, so matter how large or small your dog is, you'll find a suitable option. It has an internal waterproof liner over the memory foam, and it comes with two external covers that can easily be removed and tossed in the washer. 
However, if you have time to read through this whole guide – stick around. I spend 15 hours on my research, preparing the list below, so you don't have to. 
Do you have a specific question about choosing the perfect waterproof dog bed? Then use the table of contents below to jump to the most relevant section. And you can always go back by clicking on the black arrow in the right bottom corner of the page. Also, please note that some of the links in this article may be affiliate links. For more details, check the Disclosure section at the bottom of the page. 
Best waterproof dog bed
[content-egg module=Amazon template=custom/image product="us-B00V7E840Q"]
This bed for your best bud ranks top on my list if you're looking for a dog bed that just gets the job done right. In fact, I'd say it's the best waterproof memory foam dog bed that you can get. It comes in seven different sizes, so you'll find a fit for the smallest breeds and the biggest dogs. Orthopedic memory foam means that this will be super comfortable for your dog, and it'll do a lot of good for their joints and for comfort. The liner that goes over the memory foam is waterproof. You'll also get two external covers that can easily be washed and replaced.
Pros
Size options make this easy to buy for any dog
Memory foam doesn't flatten over time
Machine washable covers are easy to clean
Cons
Needs a day after the purchase to decompress from the packaging
A little pricey
Waterproof dog mattresses
[content-egg module=Amazon template=custom/image product="us-B087PZKB9C"]
If you're on the prowl for a waterproof dog bed cover or a pee pad for your dog, then this might be what you're looking for. These can be laid plain on the floor, or on top of a mattress to provide a waterproof cover. The 4-layer pad can be peed on up to 20-30 times, making it perfect for training puppies, especially if you have more than one. The silicone gel bottom won't slip around and is bound to stay in one place. Have I told you that this pad is machine washable? You'll never need a disposable pad ever again.
Pros
Machine washable means you'll save money over disposable pads
Large size, so it will work for any breed of puppy
Absorbs pee well and doesn't leak
Cons
Mesh material on the top layer holds dog hair
Waterproof orthopedic dog bed
[content-egg module=Amazon template=custom/image product="us-B088BNNM6L"]
For puppies that move around a lot while they sleep, or for bigger dogs that like having a place to rest their heads, a sofa is always appreciated. The raised edges that a sofa like this has will always come in handy in those regards. A comfortable waterproof cover lies over the extremely comfortable orthopedic foam within. If your dog could speak, it'd thank you for how comfortable this sofa is. This waterproof, washable dog bed is a very easy one to recommend.
Pros
Anti-slip base means it'll stay in place even if your dog jumps on it
Raised edges give great head support
Cons
May be too small for bigger dogs
The edges could be more supportive
Large waterproof dog bed
[content-egg module=Amazon template=custom/image product="us-B0861GQGRH"]
If you've got a huge dog, then you'll be looking for a waterproof bed that can hold it without any limbs hanging off the bed. This one comes in three sizes, up to an XL variant, so it'll hold your dog just fine. The liner is waterproof, though the outside cover is not. Luckily, it is machine washable, so your big dog's drool or pee can easily be washed out of it.
Pros
Will be sufficient for very large dogs
Cover and filling are soft
Easy to clean pet hair off of
Cons
Not orthopedic foam
Takes 72 hours to decompress
Dog bed with waterproof liner
[content-egg module=Amazon template=custom/image product="us-B0103GBM2K"]
This water-resistant dog bed is the way to go if you're looking for a mattress that comes in many shades and dimensions while consistently providing excellent support for your pet. This comes in 7 sizes and 10 color options. It's a bit pricey, but the foam's quality makes it worth it, particularly for older dogs with joint trouble. The external cover isn't waterproof, but the internal one is.
Pros
Quality memory foam is used
Numerous options make it perfect for any dog and any home
The external cover is soft and smooth
Best cheap waterproof dog beds
[content-egg module=Amazon template=custom/image product="us-B085RMPX35″]
For a dog bed that won't cost an arm and a leg, this might be the one that you're looking for. It is not entirely waterproof, but for the price, you will definitely appreciate what it does. It comes in 4 different sizes, up to an XXL, and is lightweight and soft, so your dog will have a good night's rest. The cover is machine washable as well.
Pros
It is relatively inexpensive
Multiple size options for any breed
Cons
Waterproofing isn't as good as other options
Foam is not memory foam or orthopedic
Best outdoor waterproof dog bed
[content-egg module=Amazon template=custom/image product="us-B07BT9CRHL"]
If you take your dog camping or backpacking with you, then you'll love to make sure that it has a nice place to rest. This large waterproof, washable dog bed will definitely be loved by your dog when you go on a hike. It's easy to clean from all the stains that the outdoors will bring, and washing is as easy as throwing it into the machine.
Pros
Waterproof, and stains can be cleaned easily with a wet wipe
Comes with a carry bag for easy storage
Affordable
Cons
It is rather flat and provides little support
When you might need a waterproof dog bed?
For puppies that are still learning toilet training, or perhaps dogs new to your household, you will need a waterproof dog bed for the accidents they will have on the bed. For older dogs that have begun to have issues with their urinary continence, this will also be a good thing to consider.

How much does it cost?
Depending on what you're looking for and your dog's size, the price will vary. You can get the most basic waterproof dog beds for around $30. However, if you'd like orthopedic foam and high-quality material, it may go as high as $80.

What materials does it use?
Depending on the type of dog bed, they are made of different materials. Some will opt for waterproof outer covers made of suede or polyester and backed with waterproof material. Some use these materials but don't back them, relying on a waterproof inner lining. They are then filled with foam or cotton filling.

How to clean a waterproof dog bed?
The external covers for most waterproof dog beds can easily be taken off and washed in a washing machine for cleaning. Some can be wiped down with a wet wipe depending on the material.

How to waterproof a dog bed yourself?
Waterproofing your existing dog bed is easy. Remove the cover to expose the foam underneath. You can then put the foam into a new garbage bag to keep water away from it. You can add an additional layer if you want to be safer. Simply replace the cover, and that's all you'll need to wash if your dog has an accident.
Thanks for the blog graphics: Canva.com