While it is recommended that you don't allow your dog to share your bed, sleeping night after night on the cold hard floor can be hard on dogs' joints, especially as they age.
Providing your dog with a dog bed that gets them up off the ground, while at the same time giving them a comfortable place to sleep may well keep your dog healthier longer. While as pet parents, we want the very best for our dogs, sometimes a cheap dog bed may be better suited to your dog than an expensive one.
Are you interested in a particular question? Then use the table of contents below to jump to the most relevant section. And you can always go back by clicking on the black arrow in the right bottom corner of the page. Also, please note that some of the links in this article may be affiliate links. For more details, check the Disclosure section at the bottom of the page. 
How to Choose A Cheap Dog Bed 
When choosing a dog bed, whether it's expensive or not, there are several things you need to consider including:

Your dog's needs and sleep habits. Pillow type beds are best for dogs who enjoy stretching out when they sleep. However, dogs who like to curl up my like bolster better. So make sure that you know your pet's sleeping habits when choosing a bed for your dog.
Look for an item that goes well with your decor. If you are going to place your dog bed in a room where the family spends a great deal of time, you are going to want a dog bed that matches or at least looks good with your décor.
Budget. Don't go broke on shopping for your pup's sleeping area. Choose one within your budget since your dog probably won't be able to tell the difference between a high priced bed and a cheaper one. 
For more considerations, you can check our guide, "What to look for in a dog bed?"


Can Cheap Dog Beds Be Good?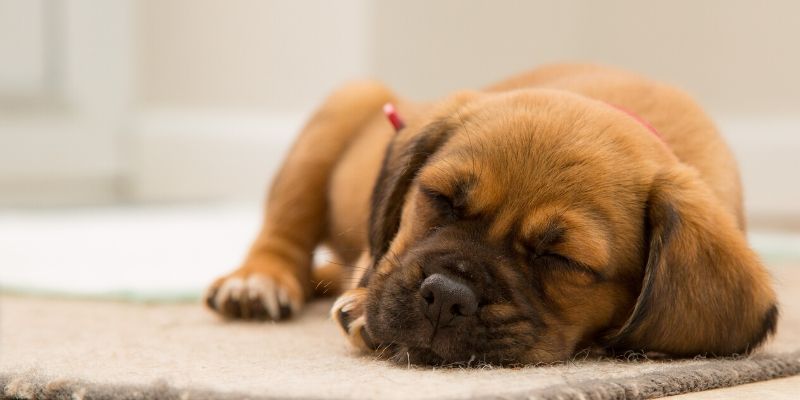 A cheap dog bed can be worth considering for your dog, especially under certain conditions. For instance, when we are talking about a puppy.
The bed has to be a proper size for pooch comfort. But does it make sense to buy an expensive unit, knowing that it won't longer be working for your growing puppy in a few months? A cheap item that is the right size for him now may be better than an expensive one that will seem to gigantic until the pet grows into it. 
Also, a cheap dog bed may work for dogs that don't tend to chew or have accidents. In all the other cases carefully chosen cheap dog bed can work just as well as an expensive one.


Best Overall Value Cheap Dog Bed
[content-egg module=Amazon template=item product="us-B07QKZNVF2″ disable_features=1 ]
This bed offers great value as well as comfort for your pet. It's made for either small or medium dogs and has an inner pad that can be removed for easy cleaning. This dog bed is machine washable and is easy to clean and dry.

Best Cheap Small Dog Bed
[content-egg module=Amazon template=item product="us-B0093Z7L78″ disable_features=1 ]
If you are looking for a cheap small dog bed for your miniature size dog, then this Petmate Pet Bed might fit the bill. This dog bed measures 20 inches by 16 inches and is made for small breed dogs. It's great for little puppies as the bolsters are on all sides. This bed is machine washable and easily portable.

Best Large Dog Beds for Cheap
[content-egg module=Amazon template=item product="us-B07MLF5SPF" disable_features=1 ]
If you have a larger dog that likes to stretch out, then this option might be an ideal choice. This dog bed comes in three sizes, 36 inches, 42 inches, and 47 inches. It has a soft fleece plush cover and is 100% washable with an anti-slip non-skid bottom.
Medium-Size Dog Beds for Cheap
[content-egg module=Amazon template=item product="us-B07J262FYR" disable_features=1 ]
This one is more of a cushion and less of a bed. But it is cozy and squishy and quite durable. It is also hypo-allergenic with anti-slip dots. Those keep it from slipping on the bottom of the crate or on the floor. It is machine washable and measures 30 inches by 24 inches.
Best Cheap Orthopedic Dog Bed 
[content-egg module=Amazon template=item product="us-B073PZQWS1″ disable_features=1 ]
If you have an older dog suffering from arthritis or other joint problems, then this bed may be just what you are looking for to relieve your pet's pain. This contoured bed has a soft faux minky surface and an orthopedic foam base. It also comes in several sizes, making it a suitable unit for most dog breeds.
The Best Cute and Cheap Dog Bed
[content-egg module=Amazon template=item product="us-B01FJVKNQA" disable_features=1 ]
Whoever said a dog bed couldn't be both cute and cheap and has never seen this super adorable corner lounger. Made for the smallest of dogs, this rectangular dog bed with pinched corner design and a Leopard print outer shell. It also features a hot pink interior. All of those features are making this bed both cheap and super cute.
Thanks for the blog graphics: Canva.com