When it comes to pup's health, many dog owners show concern about dental disorders. If you are one of them, you must be thinking about the dental care of your dog. Toothache in the upper teeth of your dog is coming from the sinuses, which are small air-filled cavities located behind your pet's forehead and cheekbones.
 Are you worried about your dog's toothaches? Do you want to know how you can find if he is suffering from teeth pain? We answer some of the basic questions you have in your mind. Read on! 

Are you interested in a particular topic about dog tooth pain? Then use the table of contents below to jump to the most relevant section. And you can always go back by clicking on the black arrow in the right bottom corner of the page. Also, please note that some of the links in this article may be affiliate links. For more details, check the Disclosure section at the bottom of the page. 
Do dogs get toothaches?
Maybe. It won't be easy to tell when your dog suffers from a toothache because he can't express his discomfort like human beings. So, it is better to identify the signs or symptoms of dog tooth pain. 
According to Pets WebMD, your dog can suffer from toothache. However, this does not affect the normality of his activities. Your pup will continue to eat as usual, and he will rarely show any signs of dental pain. 
Here's one example of what to look into. The infection can cause inflammation in the area that surrounds the tooth, which can likewise be extended to the other parts of the face. Sudden swelling in the front and eye area is also a sign of getting toothaches. Read further, and I'll share more examples.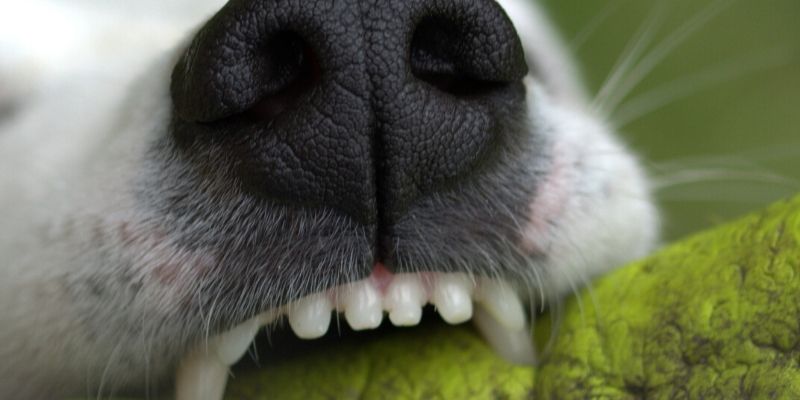 Common reasons for toothaches in dogs
Your dog can develop tooth pain for many reasons. Some of them are:  
swollen or infected gums,
building up of tartar,
broken teeth,
or formation of cavities. 

Pet dental spray to fight tartar and bad breath on Amazon

Dogtooth pain symptoms
Some of the common symptoms that your canine is suffering for the tooth pain can be the following:
He won't chew frequently. Instead, your pet will do it only when necessary – for instance, during eating time.
He will also avoid playing with chew toys. And in general, your pet will be less prone to engaging in any playful activities. 
If your dog has nasty breath, it means the pet is suffering from a painful tooth infection.
If you notice that he is dropping more food than he eats, it might be a sign of severe tooth pain.
Look inside your dog's mouth, there will be redness and inflammation. 

What can I give my dog for tooth pain relief?
If you want to reduce your dog's tooth pain, Dogster recommends OCT pain relievers and NSAIDs – which are non-steroidal anti-inflammatory drugs. Here are some you might use:
naproxen
ibuprofen
baby aspirin
regular aspirin
These medications will reduce the severity of pain. If you give the drugs properly to your dog following all of your vet's prescription, the inflammation and redness caused due to toothaches will disappear in a couple of days. 


Dog tooth pain relief home remedy
As such, there is no home remedy for treating your dog's teeth pain directly. However, According to Homeo Animal, you can reduce inflammation, swelling, and redness by combining Aloe Vera gel with only three percent of hydrogen peroxide. 
Organic Aloe Vera gel by NaturSense on Amazon
Once combined, apply the mixture to a cotton swab or gauze. The next step is to rub the cloth along the teeth of your dog. Hydrogen peroxide has incredible antibacterial and antiseptic properties.
And those will be helpful to fight dog tooth pain. At the same time, the Aloe Vera ingredients will remove sore gums. However, when it comes to your pup's health, you should always consult your vet first before taking any actions. 
Thanks for the blog graphics: Canva.com