Brushing your dog's teeth is essential to your dog's dental and overall health. While cleaning your dog's teeth with just water does provide some effect, to do the job right, you have to use safe dog toothpaste. It will not only get your dog's teeth cleaner but will also freshen their breath and, in many cases, will help you to prevent pup's tooth pain.
Are you interested in a particular recipe? Then use the table of contents below to jump to the most relevant section. And you can always go back by clicking on the black arrow in the right bottom corner of the page. Also, please note that some of the links in this article may be affiliate links. For more details, check the Disclosure section at the bottom of the page. 
Can dogs use human toothpaste?
No, don't give human toothpaste to your dog. Human toothpaste is made to be rinsed out of your mouth, not ingested. Dog's will ingest any toothpaste put into their mouth, so if you give your dog human toothpaste, they will swallow it. And there are at least 3 typical ingredients in human toothpaste that are dangerous to your dog.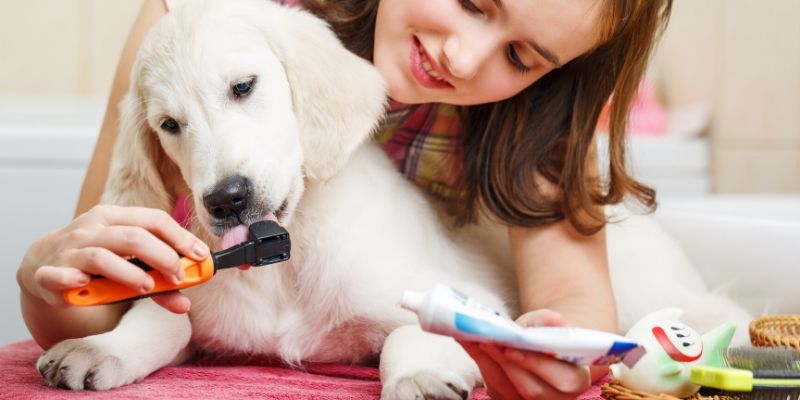 The first ingredient is Fluoride, which, over time, can poison your dog. Signs of fluoride poisoning include discoloration of your dog's teeth and periodic limping. 
Another ingredient that is harmful to your dog is Sodium Laurel Sulfate (SLS). It can cause gastrointestinal upset in your dog.
The third ingredient that is harmful to dogs is Xylitol, a substitute sweetener, which can cause low blood sugar and liver damage in your pooch.

How to make doggie toothpaste?
You can make safe toothpaste for your dog from ingredients in your own kitchen. There are several different recipes you can use and many of these recipes you can find on the Internet.
Your dog toothpaste should include some flavoring your dog will like, baking soda to clean the teeth, healthy oil that will do the binding and some herb, or spice that is safe for your dog to eat. The latter will help to freshen their breath. To make the paste, you will have to mix all the chosen ingredients and store them in a secure container.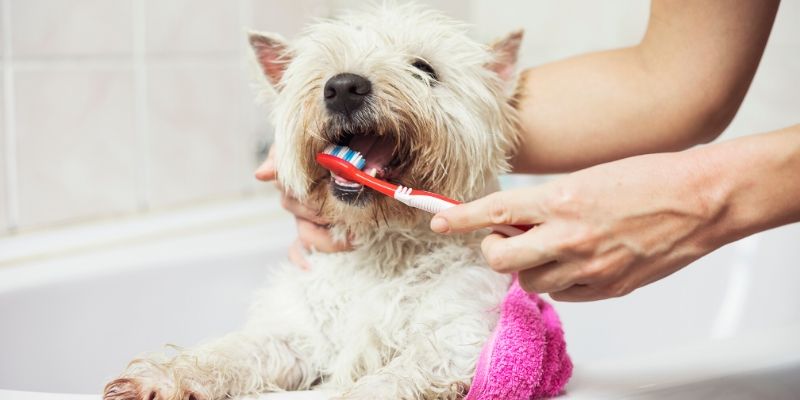 What can I use in dog toothpaste? 
There are many different ingredients you can use when making toothpaste for your dog. Some of these include cinnamon, parsley, mint, fennel, ginger, thyme, unsalted chicken or beef stock, coconut or vegetable oil, baking soda. 

Dog toothpaste recipes
Here are some simple dog toothpaste recipes that you can make from ingredients that you have at home. 
DIY dog toothpaste with parsley
Here's what you'll need:
1 Tablespoon unsalted chicken broth with no additives
1 Spoonful parsley (dried or fresh will do)
Mix all ingredients together and store in a sealed glass container. This toothpaste is good for 5 days when refrigerated.
Homemade toothpaste for dogs with mint leaves
For this recipe you will need: 
2 mint leaves finely ground
1Tablespoon unsalted beef broth
½ tablespoon coconut or vegetable oil
Mix the ground mint leaves and baking soda together in small jar or container, add beef broth and oil, and whisk it into a paste. 
Baking soda toothpaste for dogs
Here are your basic ingredients for the recipe: 
1 to 2 Tablespoons of water (start with 1)
1 Tablespoon sodium-free beef bouillon powder (dissolve in water) 
After dissolving the bouillon in water, add in the baking soda and cinnamon and stir into a paste. If needed, add an extra tablespoon of water. 
Homemade enzymatic dog toothpaste
Enzymatic dog toothpaste contains an enzyme called glucose oxidase. When combined with oxygen, it turns into hydrogen peroxide and helps remove plaque from your dog's teeth.
Adding a drop or two of 3% food grade hydrogen peroxide to your homemade dog toothpaste just before brushing your dog's teeth will make for enzymatic dog toothpaste.
Here's what you'll need:
Your homemade dog toothpaste 
3% food grade hydrogen peroxide
One tip: hydrogen peroxide degrades rapidly when subjected to light and air. So it makes sense to add the peroxide to the toothpaste on your dog's brush just before brushing his teeth.
To do that, put your usual amount of dog toothpaste on your dog's toothbrush. And then use an eyedropper to add a drop of hydrogen peroxide. Proceed to the brushing normally. 
Homemade dog toothpaste with coconut oil
11 new from $10.17
Free shipping
as of September 25, 2021 9:40 pm
For this recipe dissolve 1 Tablespoon of sodium-free Chicken or Beef broth in 1Tablespoon of water.
Add ½ tablespoon cinnamon and 1 Tablespoon baking soda, ½ Tablespoon softened or melted coconut oil, and stir well.
Refrigerate the mixture in a tightly sealed container until everything sets. 
Homemade dog toothpaste without coconut oil
2 new from $24.95
Free shipping
as of September 25, 2021 9:40 pm
While coconut oil may be good for your dog, too much of a good thing can result in diarrhea, so you may want to try a toothpaste made without coconut oil. 

Here's a great alternative recipe.
You will need: 
1 Tablespoon unsalted chicken broth (without onion or salt)
½ Tablespoon vegetable oil 
To make this paste combine all ingredients together in a resealable glass container. You can store it in the refrigerator for up to 5 days.
Homemade toothpaste without baking soda
Ingesting too much baking soda can be harmful to your dog. So having an alternative recipe that does not contain baking soda may be something that you want to try too.
This homemade dog toothpaste requires the following ingredients: 
2 tablespoons of coconut oil
½ teaspoon crushed kelp or Nori
Warm coconut oil in a bowl over hot water (set aside). In another bowl or resealable glass container, dissolve chicken cube in a small amount of water (about 2 or 3 tablespoons).
Add cinnamon and crushed mint leaves to the flavored chicken water. Add crushed kelp or Nori and mix together. Add in coconut oil and mix everything together into a paste.
Just as most of the other recipes, you may store this paste in a fridge for up to 5 days.

Thanks for the blog graphics: Canva.com