In this day and age, anything, including dog collars, comes in practically infinite varieties. So sometimes making a choice is challenging even if you need a new one for your pup like yesterday. Leather is an excellent material choice as it's beautiful and durable. And the rolled leather dog collar is an option that might work only in particular cases. For instance, you might want to give it a try if your pet has long fur that tangles easily or prone to various skin conditions. 
But more on that in the FAQ section. Read on to learn if this type of collar might work for you and your dog. 
Do you have a specific question about choosing the right rolled leather collar? Then use the table of contents below to jump to the most relevant section. And you can always go back by clicking on the black arrow in the right bottom corner of the page. Also, please note that some of the links in this article may be affiliate links. For more details, check the Disclosure section at the bottom of the page. 
Best rolled leather dog collar: Doghint's top choice
[content-egg module=Amazon template=custom/image product="us-B07Q5SZ4R4″]
Great collar option: durable, waterproof, works for dogs of all sizes, holds up well, doesn't stain, and is pretty affordable too. Not to mention the fact that it's aesthetically pleasing and looks more like a fashion statement rather than a tool to discipline a pooch. If your pet has long hair and wearing a traditional collar always turns out to be a painful nightmare, don't look further and give this thing a try. 

Rolled leather dog collar with nameplate
Having a nametag with your pup's details on the collar is a simple but pretty genius invention. You never know when your fur baby might get scared and run away. So sharing your contacts will increase your chances that you'll get your pet back right away ten folds.
However, due to the design specifics, it's not an easy task to find a personalized rolled leather dog collar option.
But this one comes closest since you can attach the nameplate to it (although you have to purchase it separately). Other than that, this piece looks really sleek, the craftsmanship is exquisite, and the quality of the leather is phenomenal too. 

Best rolled leather collar for small dogs (and giant dogs too)
[content-egg module=Amazon template=custom/image product="us-B018W2CYPQ"]
This padded collar works for dogs for all sizes. But since it's so soft small sensitive pups might especially enjoy it. For the same reason, it might not be as durable for stronger pullers, but will work just fine for smaller dogs). 
The leather is of good quality and specially treated to be extra comfortable. And it comes in many colors too – you can get several to go for different occasions or with different pup's outfits (if you love to dress him or her up). A great sturdy collar that won't cut and damage your pet's hair. 
Softest rolled leather collar
[content-egg module=Amazon template=custom/image product="us-B07XQJD894″]
This one comes in many sizes and is made with genuine crazy horse waxed leather for enhanced durability and softness. Round shape and lightweight prevents the tangling and damaging of dog's fur and provides comfort to your pets. 
The piece is handcrafted and has a distinctive rustic finish and vibrant color. It is soft and luxurious to the touch. The perfect rolled leather collar at a steal of a price.

Best handmade rolled leather dog collars
[content-egg module=Amazon template=custom/image product="us-B004LODEQI"]
This handcrafted collar offers a touch of fashion to any pooch's life. It's strong, durable, and ideal for everyday use. The leather it's made of is treated in a way that ensures the piece will become more comfortable with age while maintaining its appearance.
Many pet parents found that after a year of daily use, it still looks great. It holds well and even gets softer over time (hence getting more comfortable for your pup to wear). Good leather, exceptional craftsmanship, amazing price. 

Cheap and good rolled leather collar
[content-egg module=Amazon template=custom/image product="us-B07QR6G85W"]
The great thing about this collar (apart from the price) is that it comes in many gorgeous shades (from Mustard to Dark Blue) and can be a good fit for dogs of practically all sizes. The round shape prevents tangling and damaging the dog's fur.
Overall the piece is beautiful and appears to be sturdy too. Leather is thick and soft, comfortable to wear at the same time. Very well worth the money (although don't expect that it will last an eternity, considering the price point). 

Rolled leather collars. FAQ
What is a rolled collar?
Rolled leather collars are constructed of real leather that has been bent and sewed together to create a rounded shape instead of the typical flat one. They can be soft or stiff, depending on the quality and thickness of the leather. These collars tend to be around half an inch in width.
You might also like:
Rolled collar vs. flat leather collar
Rolled collars are sturdy. Most people prefer a rolled leather dog collar because they don't want to rely on a click closure. If you need a collar that will hold up to your dog's strength, a rolled leather dog collar might be a good choice.
They look amazing too. When compared to regular dog collars, rolled leather dog collars are more fashionable and comfortable to wear. The rolled part tends to disappear into your dog's coat, while the small flat part carrying the tags looks charming against your dog's body. You can choose from a variety of shades and styles and between brass and silver fixtures.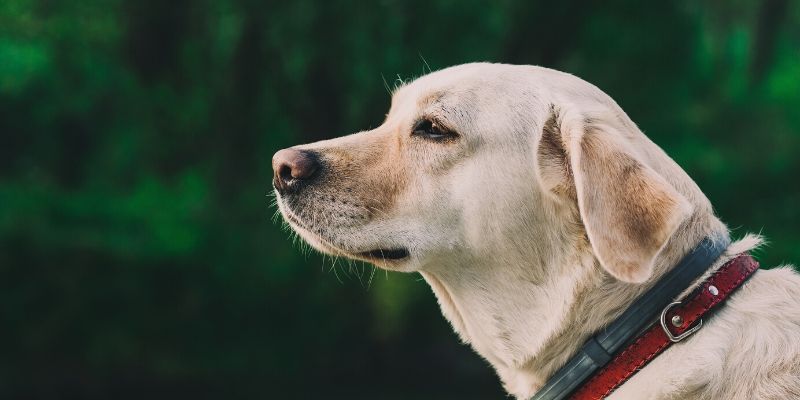 Flat leather collars have a tendency to leave a ring or flat spot around the neck or even lead to fur breakage. That's another good reason why you may be looking for a rolled leather dog collar.
It also feels more comfortable in your hand as well as on your dog's neck.
Are rolled leather collars good for dogs?
Aside from its high-quality and long-lasting material, this dog collar is intended to stop dogs with long fur without damaging their coat. This makes a rolled leather version an excellent choice for any long-haired breed, for instance, Golden Retrievers, German Shepherds, and Huskies.
If your dog is a puller, however, you won't want to use a rolled collar since it puts too much stress on the throat. Flat leather collar more evenly spreads the pressure and works better for strong fluffy friends.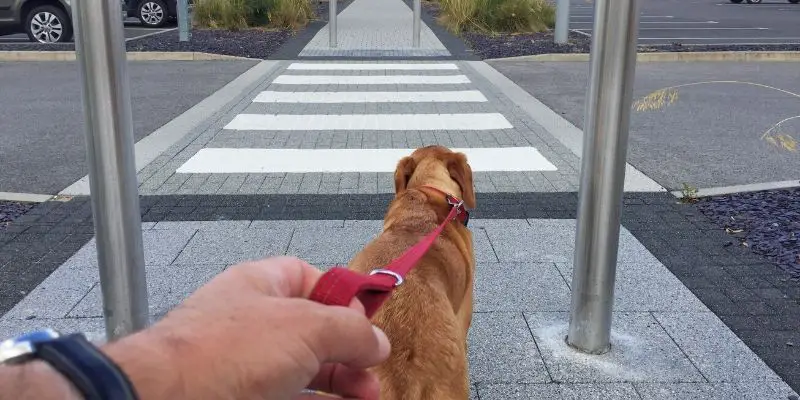 Cons of rolled leather collars
As mentioned above, since rolled leather collars are much thinner, you might be at risk of damaging the trachea. Flat collars distribute the pressure, so they are less dangerous.
So please never put rolled collars on puppies (or hard pullers), they are a choking hazard. And also, try to keep the rolled collar a tad loose and opt-in for the softest options possible.
How to choose the best one for your dog?
When choosing a dog collar, make sure that you buy genuine leather. It is a sturdy and long-lasting material, and it can usually be great even for active everyday wear. Cheaper collars are not likely to be durable.
Keep in mind that many pups would find collars that are soft and padded more enjoyable, as they offer more comfort.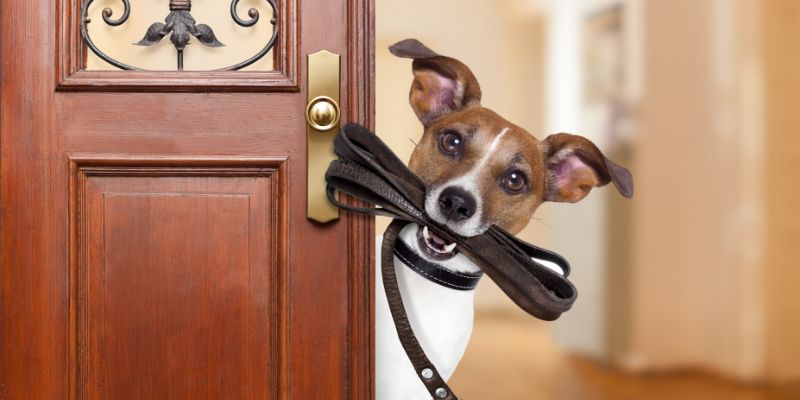 How do you clean rolled collars?
You need to look at the look of the leather to establish whether it is finished or unfinished leather. While finished leather is somewhat shiny, unfinished leather has a "dull" appearance.
For cleaning finished leather, use a damp cloth and soap to wipe off dirt and mud with a circular motion. And then let it dry.
Finished leather is more likely to show wear and tear. When cleaning it, use a safe soap and soft and slightly damp cloth. Airdry it when you are done. Then apply oil or preservative that is made particularly for leather. Generally, it's not recommended to wet leather products. But you should also pay attention to any specific guidelines provided with your purchase by the manufacturer. 
Thanks for the blog graphics: Canva.com