Many pups enjoy spending time in their crates and dog houses. However, some may feel anxiety. And in this case, you'll have to secure your eardrums from all the barking and howling. And the question "How to soundproof dog crate?" might get particularly important during thunderstorms or when fireworks are exploding. And even when your pup is simply whining for attention, asking you to come to play with him.  
If it sounds familiar and you've ever wondered how you can hear less of those heartbreaking cries and howls, I've put together the list of ideas that might help. 
Do you have a specific question about soundproofing the dog's crate? Then use the table of contents below to jump to the most relevant section. And you can always go back by clicking on the black arrow in the right bottom corner of the page. Also, please note that some of the links in this article may be affiliate links. For more details, check the Disclosure section at the bottom of the page. 
5 tips for soundproofing a dog crate
You can't actually 100% soundproof a dog crate. It would require the crate space to be airtight. And in this instance, your poor pooch won't be able to breathe. 
Here are some tips that will allow you to greatly reduce the sound coming from the crate. I am sure some of the options will work for you. So go ahead and test at least a few.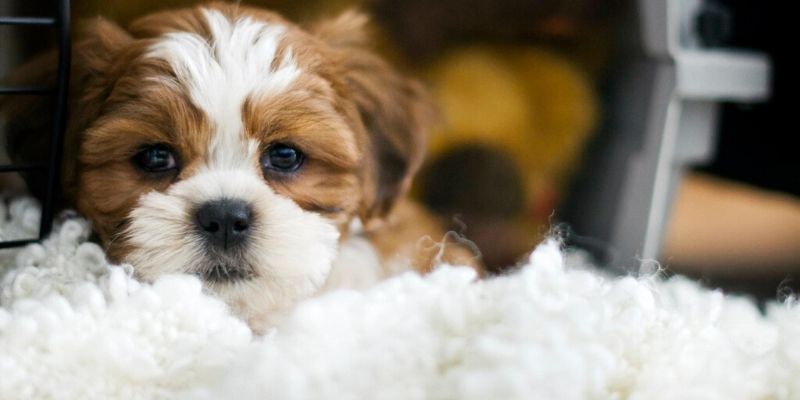 1. Create white noise
To reduce the sounds produced by your puppy, you can create some white noise. While this noise will not necessarily result in a quieter home for either you or your dog, it can be more pleasant. And it might also soothe the confined dog and relieve the pet's anxiety (and that's what's causing the barking and howling in the first place). 
2. Apply padding around the crate
Another way to minimize both entering and coming from your dog crate is to use some old rugs – to use as the padding around it to help reduce sound. You can also put a dog bed or blankets at the bottom of the crate and stand pillows from old furniture around it. And you might even cover it with an old quilt. But don't be too aggressive with all those layers: remember, your dog still has to breathe. 
3. Use soundproof dog crate cover for that sound reduction
[content-egg module=Amazon template=custom/image product="us-B074XKXBTC"]
Designed specifically for the occasion, a padded dog crate cover, like this one, can help to reduce sound. And works even better than any old quilt you might find. So dogs, depending on the personality, will feel more secure. Therefore they won't be whining, barking, or crying while in the crate. And while it won't eliminate the noise completely, it definitely decreases it and puts many pups at ease.
4. Try soundproof blanket for dog crate
You might also have to get creative if you are willing to spend a little extra money for better sound reduction properties. E.g., you can opt-in for this absorption sheet. 
[content-egg module=Amazon template=custom/image product="us-B07M8YP677″]
This particular product is mainly used in rehearsal spaces and recording studios. Still, many dog owners reportedly found quite some success in using it to a soundproof dog crate. Please note, the sheets are designed for sound absorption and not sound blocking. And if placed over a dog crate cover, this product will really help to dull the noise. 
5. You can use soundproof foam
Another secret soundproofing weapon than any dog owner can borrow from the music industry is this foam pad. Mainly if your dog is not a chewer. 
[content-egg module=Amazon template=custom/image product="us-B076JNCQ39″]
You will find this foam is very easy to use to create soundproofing panels to help reduce the sound either entering or leaving the crate as this foam can dull sound a good deal. On top of noise reduction benefits, these are actually super comfy too.
These are firm but still warm and cozy surfaces to lay on, especially if your pet has any back pain issues. To keep them clean for longer, it makes sense to cover it with a blanket. It also prevents your pup from chewing on it.

Best way to soundproof a crate
We don't want dogs' crate piled sky-high with blankets and pillows and leave a corner of your home looking a mess like a homeless camp. So the very best way to soundproof a crate is to use a crate cover. You may also lay it out with foam, and then place a soundproofing blanket over it. Combining all of those will help to insulate the crate from sound both inside and out. It will serve to reduce a bit more noise than the soundproof blanket itself and providing a comfortable cushion your dog can lay on as well.

You might also like:
How to get rid of the cause for soundproofing dog's crate?
While soundproofing your dog's crate might not seem like an impossible task, you might ask yourself: "Why does my pup make all those noises in a crate in the first place?"
And in most cases, the answer is anxiety (all sorts of it). Whenever possible, it is better to help your dog feel less anxious than to simply mask the sounds of their discomfort. It not only ensures your peace of mind but also maintains your pup's health and happiness in the long run. So how can you fix it? 
Use a dog crate for anxiety
If your dog gets overly anxious due to fireworks or thunderstorms and barks, you may be able to make your poor pet feel more at ease with tools like ZenCrate. It's a pretty unique product and reportedly seems to be quite efficient for a significant share of dog owners. 
This solidly built wood crate comes equipped with sensors that activate soothing music and a fan. Those will create a relaxing breeze and white noise to help block out the sound of fireworks, thunder, and other noises that sets your dog on edge. This crate has noise dampening feet and automatically shuts off when your dog leaves the crate and reactivates when they get back.
Opt-in for calming treats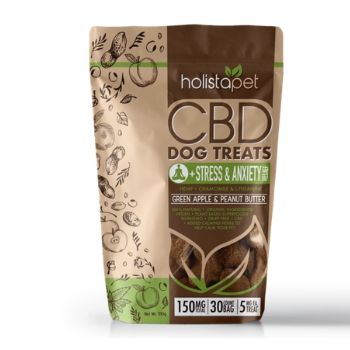 In some cases, it can be helpful to use flavorful calming treats, like innovative recipes by Holista. E.g., this one with peanut butter. Using it along with the crate will help relax your dog a little more. These treats contain various natural calming ingredients, including chamomile and CBD oil to help relax your dog.
Take time to crate train your pup
It takes the time to adequately crate and train your dog to help relieve a good deal of their anxiety and help them enjoy spending time in their crate. Sooner or later, your dog will begin to see the crate as a safe haven rather than a prison.
The key to crate training your dog is to start the process when your dog is young (if possible) and create a comfortable, safe environment that your dog views as a den. Like all other training when crate training your dog, you need to take small steps and offer your dog praise rewards so that he knows he is pleasing you.
Do something about separation anxiety
If your dog creates a ruckus in his kennel due to separation anxiety, there are many different things you can do. Training your dog to spend certain amounts of time alone will help alleviate some of the stress. And it will reduce some of the barking and whining occurs.
[content-egg module=Amazon template=custom/image product="us-B000C9YHFS"]
You can also give your dog an anti-anxiety toy like this cute little puppy with both heat and heartbeat that will help your pooch feel less alone. We know how much dogs love stuffed animals. Young pups will feel like they are laying and sleeping with one of their littermates, while older dogs will feel nurturing towards this little buddy.
Thanks for the blog graphics: Canva.com