Beagle is amongst the most popular breeds in the US. If not number one popular, but definitely in the top 10. And one of the cutest things about those smart and cute pups is their voice: they have all types of sounds for any occasion – they will bark, yowl and howl. So, in a way, you'll always have something to talk about. 

Beagle mixes that come from cross-breeding two pure-bred pups will open up the whole new world of furry friends' personalities, looks, and habits. 
Fans of designer breeds claim that new mixes are most likely to decrease the number of health issued experienced by many purebreds. Whether or not it's true, there are many Beagle Mixes that worth being discovered. Here are 12 most loved of them: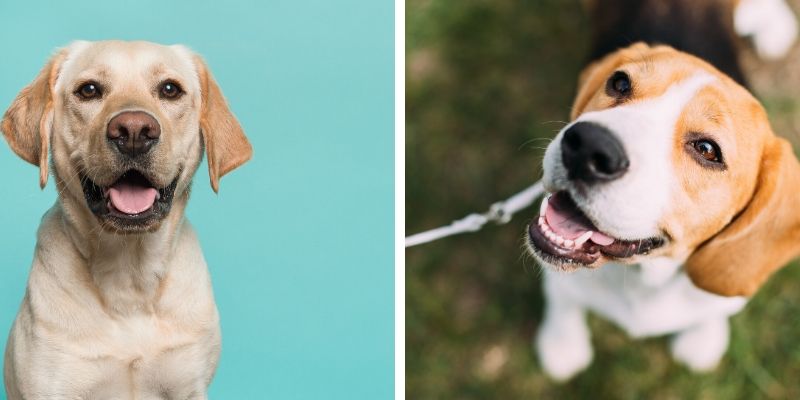 One of the most popular mixed breeds, also known as Beagador or Labbe, is a friendly, enthusiastic, and playful family dog with the sweetest personality. This dog is a perfect combo of love, joy, loyalty, and energy. But it won't only play but also protect your home from intruders. 

You can read more about Beagle Lab mix here.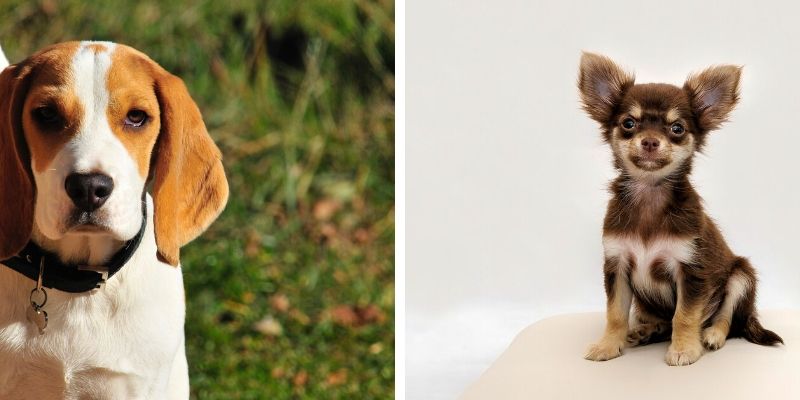 Chihuahua and Beagle Mix also goes by the nickname Cheagle. Thanks to the Chihuahua side, the Cheagle tends to be smaller than the Beagle. Which makes it a joy to be around. And If you don't mind a curious and playful pup, then this mix is excellent for your family. One thing to keep in mind: this dog can become rather stubborn, but the right training from the early puppyhood will fix that.

Learn more about Cheagles in our guide.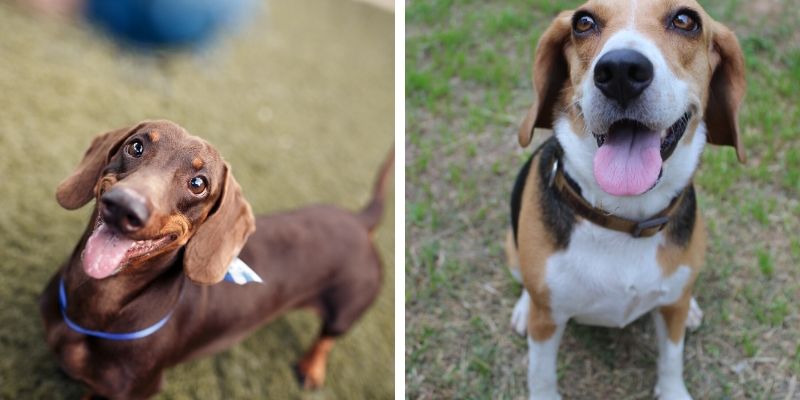 Two of the most common names for a Beagle Dachshund Mix are Doxie and Doxle. The two breed names are combined to call them Beaschund, as well. This mix is a cute and fun companion to have, but it does have its grooming and training needs. On top of that, the dog has a habit of biting. So, it is not ideal for a family with small children also. Other than that, it's a great dog willing to keep you entertained for as long as you are eager to watch him. 

You might also like: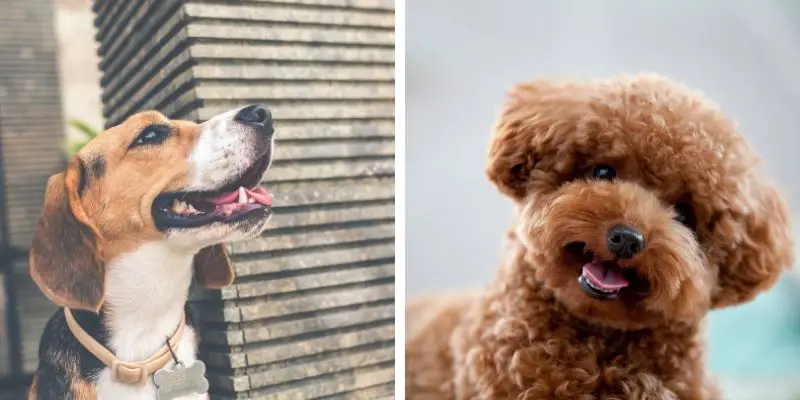 The cutest mix of Beagle and Poodle also goes by the name Poogle. Along with Beagapoo, Poogle Hound, Beapoo, Beagledoodle, and Beaglepoo. If you are looking for relatively small and intelligent dogs, then they are the best choice. Your children will love them because of their friendly and calm nature too. So, all in all, it's an excellent pet to have. 

Find more information about Poogles in our full guide into this mix.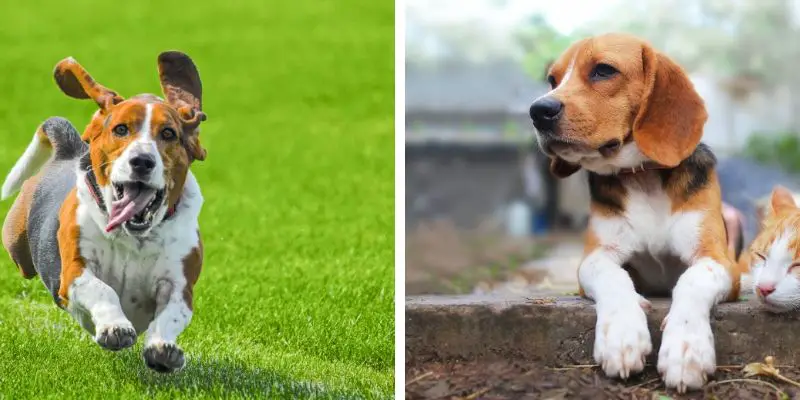 Beagle Basset Hound Mix also is known as Bagel. This dog is super sharp and can even solve puzzles! It is a pleasure to have around your house too, as they are very friendly and gentle. On top of that, they get along with kids, and that on its own is a huge advantage. 

You can read more about Beagle Basset Hound Mix here.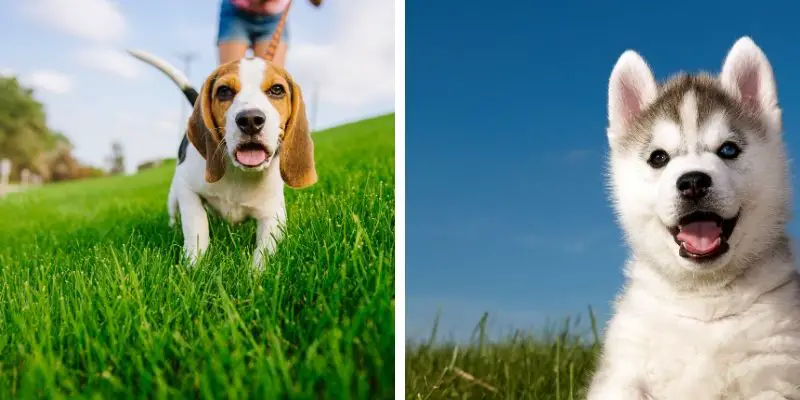 Beagle Husky Mix also goes by many names, including Beaski, Busky, Beagle Husky, and all the similar variations. This mix is way easier to take care of compared to a Husky, that's why it's getting its share of popularity.
The Husky Beagle mix appears to be a perfect pet for families. But if you are too busy, it can be a problem. This pet is active and needs a lot of attention. So if you are up for a cute and energetic pet challenge – Beaski is about perfect. 

Learn more about Beagle Husky Mix in our guide.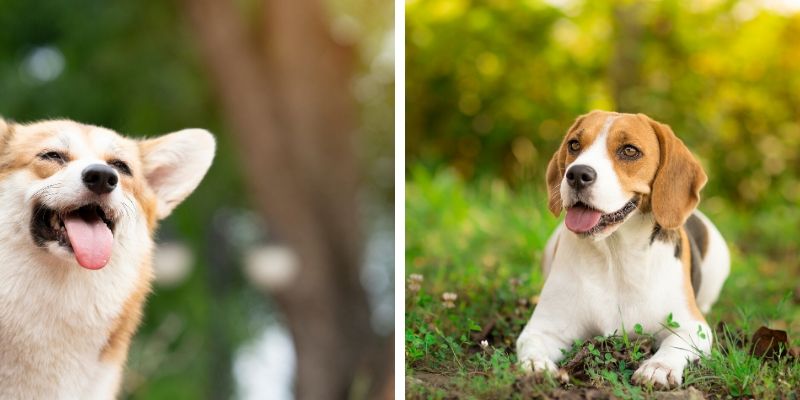 This mix, sometimes also referred to as Beage and Corbea, is a cute, social, loyal, and caring pet. The biggest concern with a Beagle Corgi Mix is that this mix needs constant attention. This pet is very energetic and moves around a lot.
It will practically follow anything that moves! So someone in your family has to play with this dog virtually at all times. But if you like to be active, Beagle Corgi will make a great addition to your family.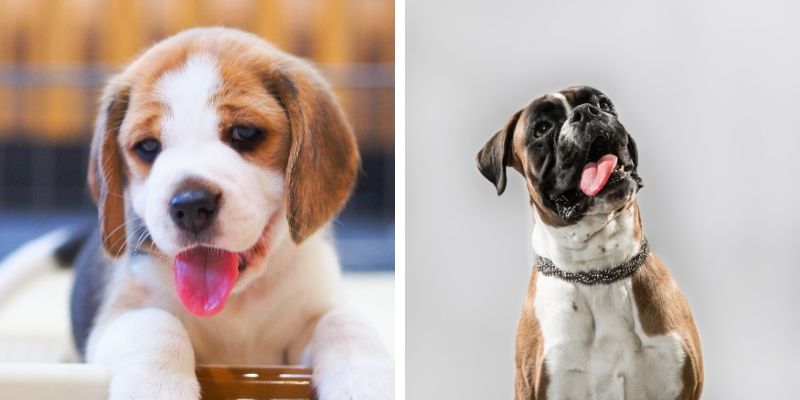 A Boxer Beagle mix comes by many names, for instance, Bogle (or Boggle), Boxel, and even Beagle Box. This mix is generally friendly, has very moderate grooming requirements, and needs a minimum of an hour of daily exercise. It is very active around the house. If you can handle this, Bogle is definitely worth looking into. 

Find more information about Boxer Beagle in our full guide into this mix.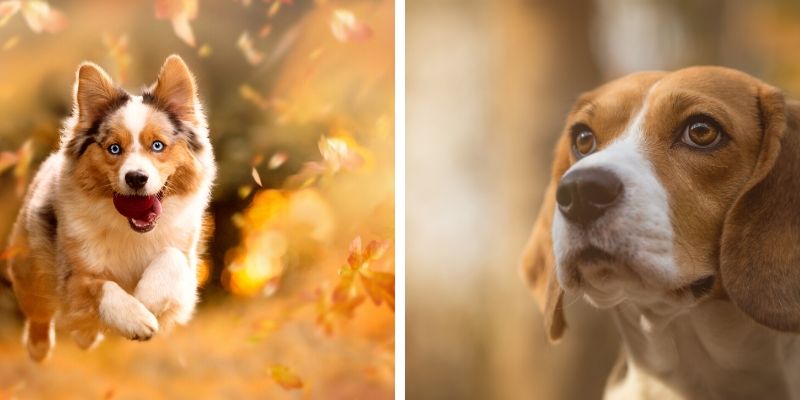 This designer dog sometimes goes by Aussie Beagle, Baussie, and, of course, Sheagle. If you are looking for a cheerful and outgoing pup and also willing to dedicate enough time to play with the pet, then the Australian Shepherd Beagle mix is worth considering.

Learn more about this Beagle mix here.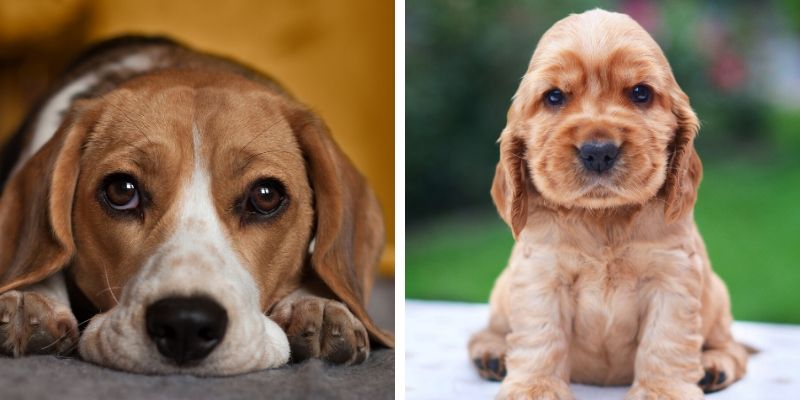 One of the most common nicknames for this mix is Bocker. Sometimes you can also meet Coagle. The combination of the sweet-natured and mild-mannered Beagle and Cocker Spaniel results in the perfect companion for practically anyone. This pup will be happy to cuddle and snuggle all day long. Those are loyal, affectionate, smart. And they don't need that much of the space and shed quite moderately. A perfect dog if you ask me!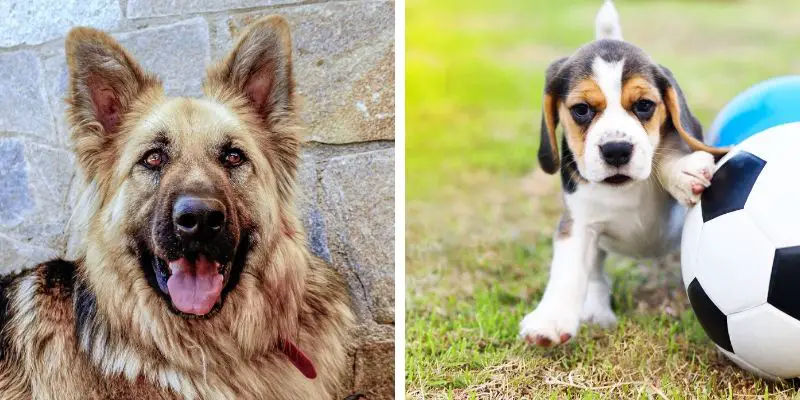 Beagle Shepherds are highly intelligent and faithful dogs. Like with German Shepherds, they're also excellent watch or guard dogs for your home because of their inherent protective instincts.
The mix is ideal for those families that are OK with regular exercises and playing. German Shepherds can get bored quickly and are not quite happy to be indoors all the time without any toys and games. Willing to play with Beagle Shepherds? Then you'll get yourself the best friend. 

You can read more about this Beagle mix here.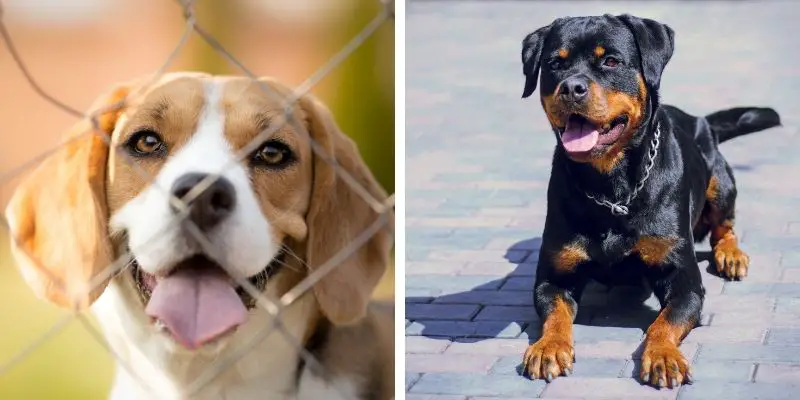 Rottweiler Beagle Mix is also known as Reagle. And also can be commonly called by various combinations of its parent breeds, e.g., Beagle Rottweiler mix, Rottweiler mixed with Beagle, etc. Reagles are an excellent option if you are looking for a family pet. Besides their adorable puppy look, Reagles are loyal and loving dogs who enjoy spending time with families. 

Learn more about Beagle Rottweiler Mix in our guide.
Thanks for the blog graphics: Canva.com