First of all, thank you so much for being on this page! 

If you are here just to find out what's the best pet carpet cleaner, then Doghint's top choice would be this one by PowerDash. It picks up an insane amount of dirt, debris, and hair. And the difference in how much your average carpet is cleaner after using it is flabbergasting. 

Otherwise, keep reading: you can use the table of contents below to quickly jump to the section you find the most interesting right away. (And you can always go back by clicking on the black arrow in the right bottom corner of the page).
I put 14 hours of research in an attempt to figure out the perfect pet carpet cleaner for various purposes, so I really hope it will be helpful. 
Pet carpet cleaners comparison
And now let's jump into details.

Best pet carpet cleaner: PowerDash
This little machine is an absolute must-have if you have a pet and not willing to overpay for a carpet cleaner. It's lightweight, but very powerful, quickly going through all the pet's messes and delivering antimicrobial along the way. It's easy to assemble and use. And you can't deny the results when cleaning out the dirty water tank either. The only downside is that the water tank is pretty small. However, the outstanding cleaning quality still makes it worthy, especially considering the price you pay.
Additional details and more reviews from Amazon buyers can be found here. 

Best carpet shampooer for pets
 This is a small, more compact type of shampooer- not your typical heavy thing you have to drag around. But it might be the best investment you've made into a cleaning device ever. It's light and easy to maneuver. It's equipped with 2 tanks, conveniently separating clean and dirty water. And it sucks up water like magic. It's capable to bring even a totally ruined carpet back to a respectable level. And works miracles on those dog odors as well. 
Additional details and more reviews from Amazon buyers can be found here.
You might also like:

Best carpet steam cleaner for pets
This upright carpet cleaner engineered for quick removal of deep-embedded dirt and stains while being gentle on your carpet. Boasts with Quick Clean feature to ensure your carpets will dry in 45 minutes. Also has that Deep Clean for super thorough cleaning an stain removals. VERY EASY to add water & detergent as well as cleaning the old water and the water tank itself is quite large. 
This thing is powerful! And as some users admit they never felt their carpet was cleaner, not even back when they just moved into the apartment accompanied by dog and cat. 
 It stores neatly in any closet. And all you have to do to use it is add warm water to one tank and pet cleaning solution in the other, smaller tank and pick the mode you want to use. It is an incredibly simple, hassle-free experience. 
Additional details and more reviews from Amazon buyers can be found here. 

Best portable carpet cleaner for pets
This carpet cleaner by BISSELL combines powerful suction, big water tank, a long hose, and relatively small size. So it makes the first-class cleaning possible even in a smaller place with limited storage space. It's very portable, somewhat lightweight and makes it quick and easy to clean up spills and pet messes.
And since it's light and has the long hose, you can use it both inside the house and in a car or elsewhere, in case you need it. Saves you a ton, by keeping everything neat and clean, without having professional crews to deal with the pets odors and other cleaning challenges. 
Additional details and more reviews from Amazon buyers can be found here. 


Best vacuum cleaner for carpet and pet hair
This vacuum cleaner is equipped with triple action brush roll just perfect for pet hair pick up. And swivel steering makes it a breeze to maneuver around furniture and take care of those pet hair in other challenging spots. If your pup is a high shedding one you are probably an expert on vacuuming, practicing it excessively. Sometimes, I am sure you wish there was less hair cleaning in your life.  
This carpet cleaner might start the revolution. All due to its construction and accessories. Its brush picks up the fur but doesn't hold onto all of it and become ineffective like many others. Dumping the dust is simple. You can see when it's full. And just separate it with the press of a button. Then take it to the trash can, push another button, and it discharges from the bottom.
Your hands will never touch anything gross again.
All in all, it's hard to imagine a better pet hair vacuum, especially for the price. 
Additional details and more reviews from Amazon buyers can be found here. 

Pet carpet cleaning products
Best deep carpet cleaner for pet urine
If you want to get rid of urine smells, you can't skip enzymes in your cleaning agent, like this one. Enzymatic ingredients will help to break down pet messes and stains. And deodorize your carpets along the way, leaving them smelling fresh. The list includes urine, feces, and vomit.
And for the maximum efficiency, it's recommended to use this product with the carpet cleaning machine. But does a great cleaning job even when used for manual cleaning.
Don't get put off when you smell this concentrated mix, it does not remain after you are done and it really works. As reported by many users, it is actually neutralizing the pee smell.
You can check more reviews about this product on its Amazon page here. 

Best professional carpet cleaner for pet stains
This product by Stuart Pet Supply Co. contains super strong (but safe) bio-enzymatic ingredients to take over any type of pet stains: from feces and blood to vomit and urine. 
The formula boasts with "Encapsulating" technology that surrounds each particle that doesn't belong to the carpet and crystallizes it so it cannot cling to the carpet fibers again.
Super powerful stuff works with almost any cleaning machines and even available by gallons, so you can have a very hefty deal on it. 
You can check more reviews about this product on its Amazon page here. 

Best non-toxic pet carpet cleaner
This plant-powered formula by Puracy boasts to remove all the pet stains and odors. And it's absolutely hypoallergenic, cruelty-free, vegan, biodegradable and non-toxic.
Expect your carpets look very clean, without struggling from chemicals-triggered headaches. And non-foamy product consistency seems to last forever. If you are planet-friendly, look no further, that's the best carpet cleaning product you might find. 
You can check more reviews about this product on its Amazon page here. 
Best pet enzyme carpet cleaner
This formula by Rocco & Roxie is pure magic. And I've already praised it a little in our guide on housebreaking sprays. There I was covering the topic of one and only most efficient product to deal with cleaning during the potty training process. 
But can't stop just yet, since it's really is a fantastic product for the purpose. This spray's main secret is natural enzymatic bacteria. Those are activated when getting in contact with stains. They "devour" on ammonia crystals until they are utterly defeated.
You can check more reviews about this product on its Amazon page here. And they also sell it at Chewy.com. For Chewy's customers' reviews, click here. 
Best pet odor carpet cleaner
This little guy kills 99. 9% of bacteria, including the ones that are responsible for those nasty smells. A miracle cleaner for pet odor formulated not only to get rid of stains odors and bacteria but also allergens. And it also works on various surfaces, not only for carpets but chairs, couches and whatever else you might need to clean and freshen up. 
You can check more reviews about this product on its Amazon page here. 
Best carpet cleaner for pet stains 
This stain destroyer by BISSELL comes with the brush and boasts with permanent stain removal in 30 seconds. It doesn't leave any spots or unpleasant odor, and most stains will come out by just spraying on a solution with no scrubbing at all.
For something more challenging … you only need to leave it there for a few minutes before you clean it with the head brush it comes with it. Considering the price of the product, it's an absolute steal.  
You can check more reviews about this product on its Amazon page here. 

Homemade carpet cleaners 
DIY recipe for pet stains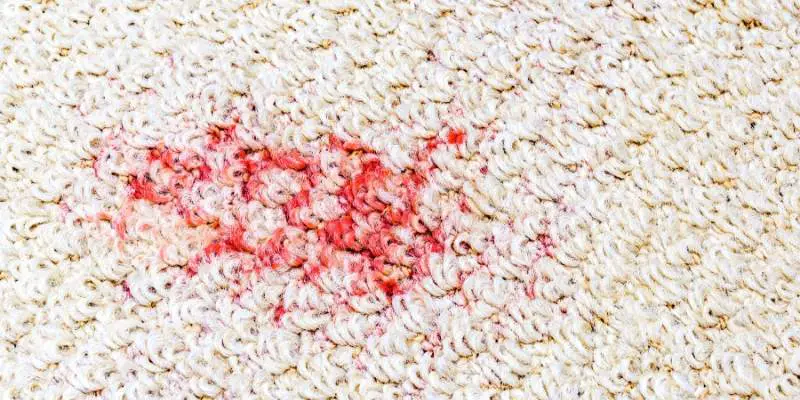 This DIY pet stain remover features baking soda and vinegar and is one of the most straightforward carpet cleaning solutions. It is inexpensive and easy to mix, and it's quite efficient for dealing with challenging stains, blood included. 
Here's how you make it:
Step 1. Combine two cups warm water and two cups of distilled white vinegar in a large bowl.
Step 2. Blot the stain with paper towels.
Step 3. Generously sprinkle the affected area with baking soda.
Step 4. Then pour a bit of vinegar and water on top of it.
Step 5. This will create a tiny eruption that will eliminate the stain.
Step 6. Allow the mixture to sit for 5-10 minutes and then gently rub and blot the area with a soft cloth until dry. 
DIY cleaner for pet odors 
All-natural lemon juice eliminates pet odors in the air and leaves behind a fresh citrusy scent. Just place a small bowl of lemon juice near areas where your pet tends to leave smells. 
DIY cleaner recipe for pet urine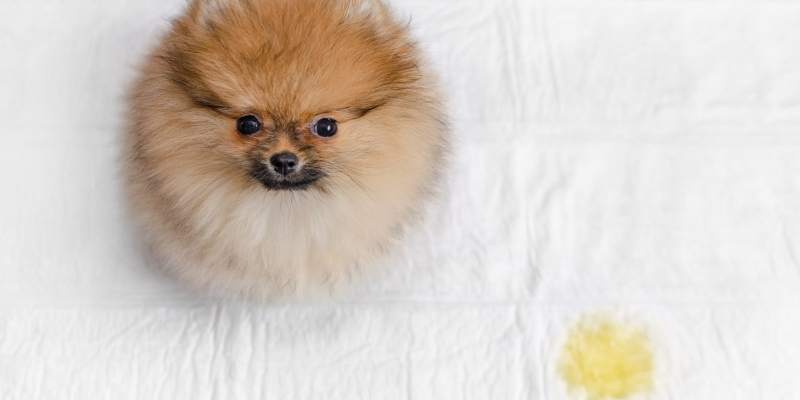 Dog pee will quickly start to stink like ammonia. And this smell can be quite hard to remove. Using a cleaning solution that contains enzymes helps to digest and break down the urine smells and stains at a microscopic level, and you can make it at home.
Here's one of the recipes:
Step 1. mix 1 liter of water, 1 ½ cups orange or lemon peel scraps and 7 tablespoons of brown sugar in a bottle or container with a lid.
Step 2. Shake mix thoroughly, then loosen the cap to release the gases.
Step 3. Let the components sit for three months.
Step 4. When the cleaner is ready, use on pet stains to remove odors and lift the stain from the carpet fibers.
Thanks for the blog graphics: Canva.com